Great facts you need to know about vitamins and their health benefits.......Part 1
Hello guys it's my first post here on biology, and I want to thank everyone that welcomed me to this great platform @aussieninja, @freshfive, @introbot and others. I love you guys and I love this community.
WHAT ARE VITAMINS?
Vitamins are the nutrients our bodies need in order to maintain functions such as immunity and metabolism. They are organic compounds and essential nutrients that an organism requires in limited amounts.
NOTE: An organic chemical compound is called a vitamin when the organism cannot make the compound in sufficient quantities, and it must be obtained through the diet. It's important to know the types of vitamins, they are fat-soluble and water- soluble vitamins.
TYPES OF VITAMINS
Fat soluble vitamin is the classification of vitamins that are stored in fatty tissues and liver. They have toxicity levels associated with them if they are not gotten rid of by the body. Examples are: retinol (vitamin A), ergocalciferol (vitamin D), tocopherol (vitamin E), and phylloquinone (vitamin K).

Water soluble vitamins are not stored in the body. Thus, the body takes what it needs from food and then excretes what is not needed as waste. Because of this, water-soluble vitamins need to be replaced more often than fat-soluble ones. Also, they are easily destroyed by cooking. Examples are: Thiamine (vitamin B), Riboflavin (vitamin B2), Niacin (vitamin B3), pyridoxine (vitamin B6), cyanocobalamin (vitamin B12), Biotin (vitamin B7), Folic Acid (vitamin B9), Pantothenic acid (vitamin B5), Vitamin C.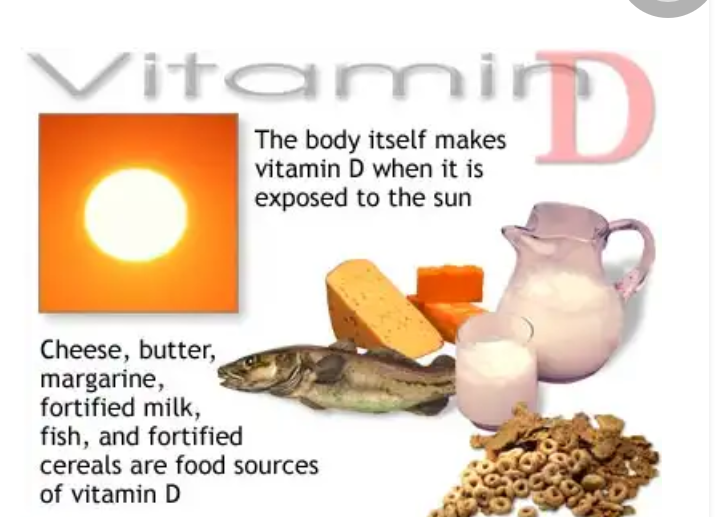 credit
VITAMIN D and it's health benefits.
I will like to start with vitamin D and I believe someone would like to ask why I'm starting this series with vitamin D and not vitamin A. Well, the reason is that Vitamin D is unique compared to other vitamins. It's uniqueness is in the ability of the body to make its own vitamin D when you expose your skin to sunlight but your body can't make other vitamins. You need to get other vitamins from the foods you eat. For example, you need to get vitamin C from fruits and vegetables. Also, vitamin D is unique compared to other vitamins because when your body gets its vitamin D, it turns vitamin D into a hormone called "calcitriol " or "activated vitamin D". This explains the dual function of vitamin D, it functions as a vitamin and also as a hormone. I will explain this better in my next series.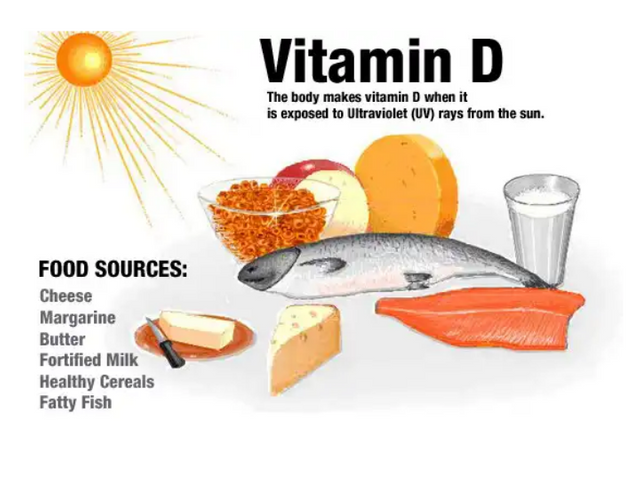 credit
Vitamin D also know as "sunshine vitamin" is produced by the body as a response to sun exposure, it can also be consumed in food such as egg, chicken and cod liver oil. Having enough vitamin D is important for a number reasons, including maintaining healthy bones and teeth, it may also protect against a range of conditions such as cancer, diabetes and multiple sclerosis (multiple sclerosis is a chronic disease that attack the central nervous system. It affect the brain, spinal cord and optic nerves).
Here's the structure of vitamin D i drew using chemdraw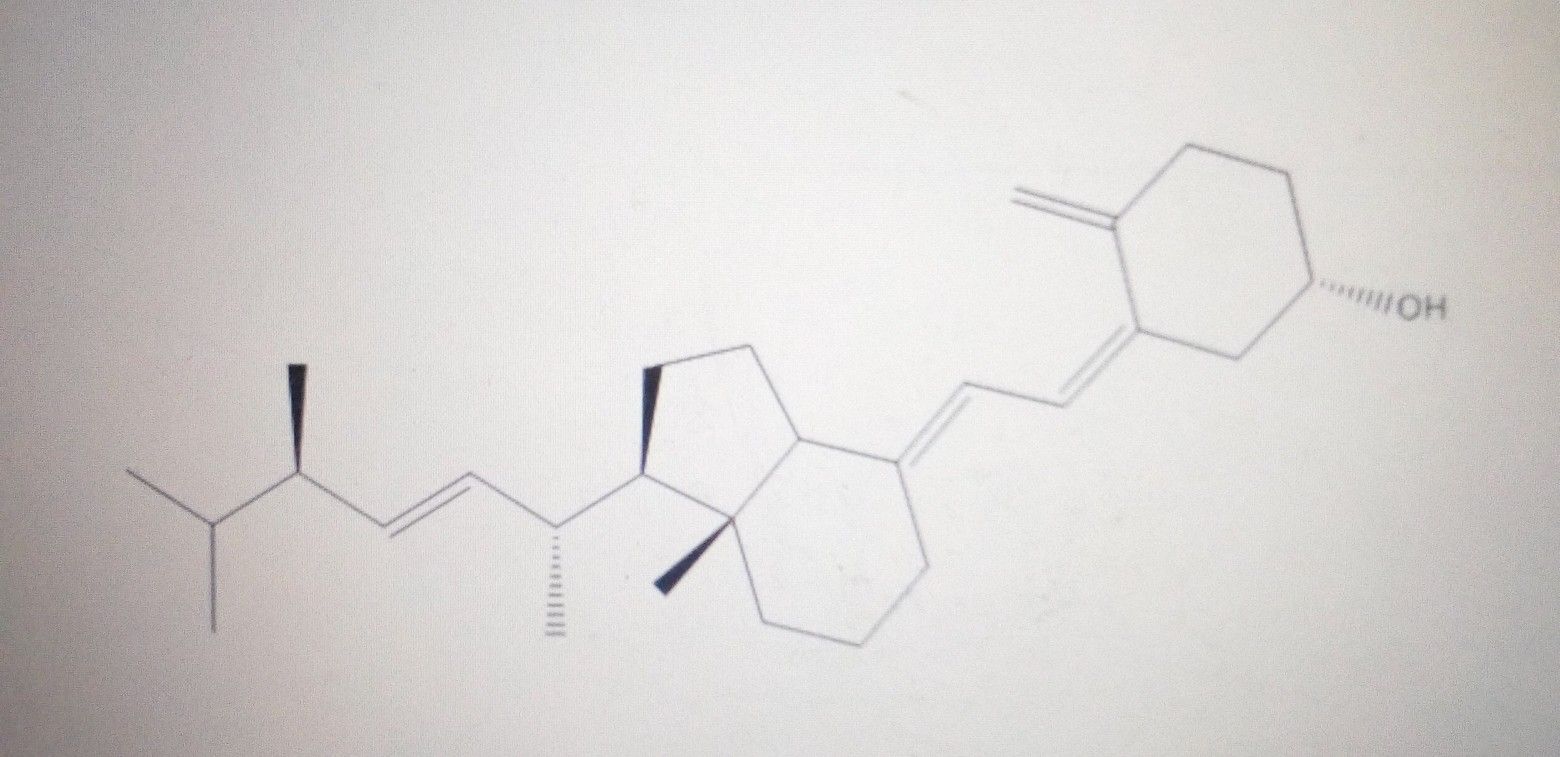 Vitamin D has multiple roles in the body, helping to:
Maintain the health of bone and teeth
Influence the expression of genes involved in cancer development
Supporting lung function and cardiovascular health
Support the health of immune system and nervous system
Regulate insulin levels and diabetes management.
However, vitamin D can be synthesized by our body when sunlight hits our skin. It is estimated that sensible sun exposure on bare skin for 5 to 10 minutes twice or thrice per week allows most people to produce sufficient vitamin D.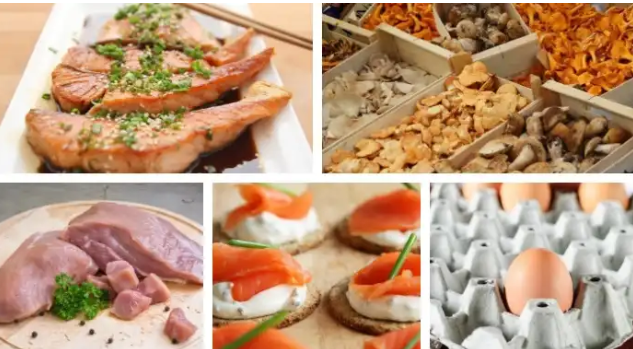 image source
Vitamin D deficiency
Although the body can create vitamin D, there are many reasons for which deficiency can occur. For instance, darker skin colour and the use of sunscreen reduced the body's ability to absorb the ultraviolet radiation B (UVB) from the sun needed to produce Vitamin D.
Symptoms of vitamin D deficiency
Fatigue
Painful bones and back
Depressed mood
Impaired wound healing
Hair loss
Muscle pain.
If vitamin D deficiency continues for a long period of time it can result in
Obesity
Diabetes
Hypertension
Depression and chronic fatigue syndrome.
Thanks for reading......
watch out for the explanation on the dual function of vitamin D as a vitamin and as a hormone in the next series.