Pelargonium of Leaf CS under the Microscope🌿🔬
Today's sample is of a leaf (CS) from a Pelargonium; not sure which particular species it is but there are about 200 of them. Searching up on the different types, they produce pretty flowers of various bright colours and style. Check out the images below.


Left Image: pixabay, by CC0 1.0; Right Image: Wiki Commons , by TheEgyptian, by CC BY-SA 3.0
~~~~🌿🔬~~~~🌿🔬~~~~🌿🔬~~~~
The sample we have is a leaf cross section. If you have a look closely at the right image above, you can see the leaves (even stem) are furry looking. Will we find big trichomes on the leaf cross section here? Let us have a look.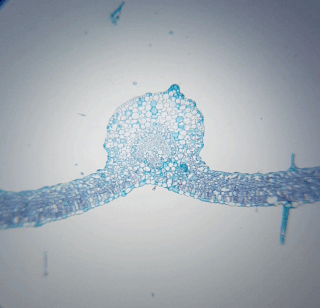 It appears only small sized gif files can be uploaded. Sorry for the small gif. I tried to wait and see if the error would disappear when I tried to upload the original gif file. But I had to reduce it to under 10MB in order for it to upload. How annoying. Kind of pointless now to upload these gif because you can barely see the details.
Anyways, back to looking at the sample. We can see the trichomes do look bigger and thicker than the previous ones we've seen on the Leaf of Ficus Carica. Below are still shots of the trichomes and a closer look at the plant cells.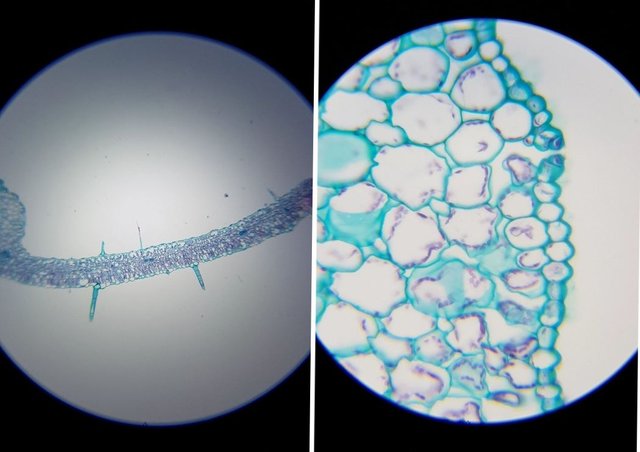 Remember the old post on stomata and types of plant tissue? Check out the stomata on this sample which are open. The two guard cells look like two faces having a face off. We can also see starch granules (stained purple) in the parenchyma cells.
~~~~🌿🔬~~~~🌿🔬~~~~🌿🔬~~~~
I must say, it is exciting when you can spot particular parts or structures clearly on a sample. I just hope next time I post a gif up I won't have to reduce the size like this gif. Anyways, I will be busy for some time so I might look at posting new posts about once or twice a week instead of every day. Hopefully by then the maximum gif upload size has changed.
~~~~🌿🔬~~~~🌿🔬~~~~🌿🔬~~~~
Unless cited, all other images belong to @supersoju
References & further reading:
Pelargonium