Spider & Fresh Web under the Microscope 🔬🕷🕸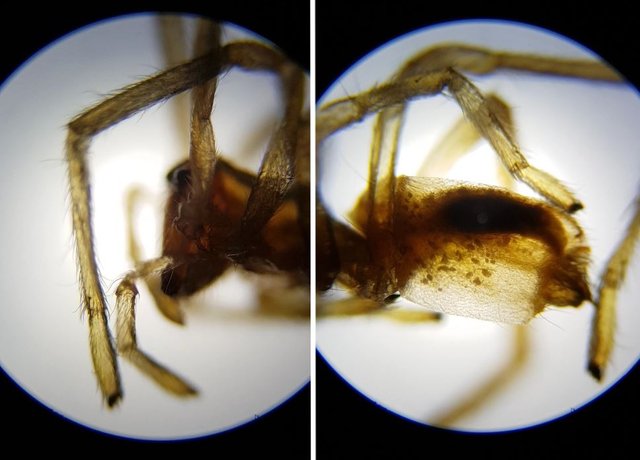 A friend of mine had caught a spider for me to check out under the microscope. I initially wanted to check it out and post about it last week. However the noobie me had placed the spider in a small deep jar and it ended up getting stuck to the jar. So I had to place it somehow into my little relaxing jar for a few days to relax the body before I could move it.
~~~~🕷~~~~🕸~~~~🕷~~~~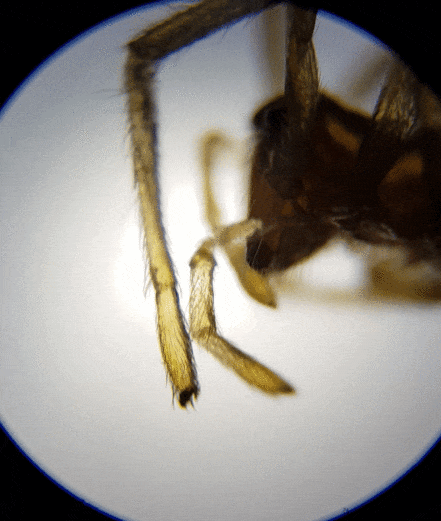 Let us check the spider out first. Here is the spider using the light source from underneath. From first glance it doesn't look like a spider. It sort of reminds me of an ant. Though it has really long legs.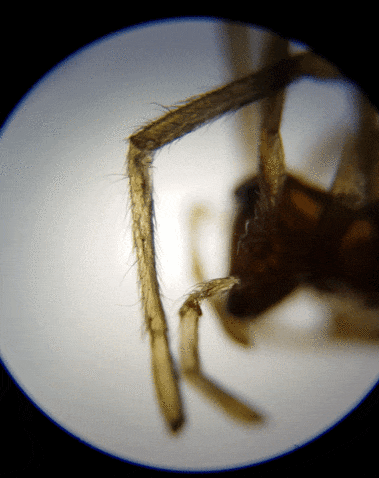 Here we can see through its body. What is interesting is when you compare it to the spider anatomy diagram. You can identify certain parts, such as the intestine and heart.

Wiki Commons, by John Henry Comstock & retouched by Pbroks13 - Ryan Wilson, by CC BY 3.0
I just happened to have my image facing the same way as this diagram, which is pretty lucky. But of course I don't know if my specimen is a male or female; though I'm guess male from the looks of things.
~~~~🕷~~~~🕸~~~~🕷~~~~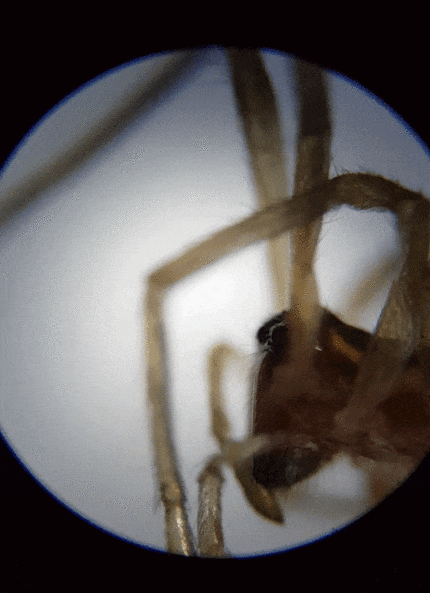 Let there be light. Well light from above that is.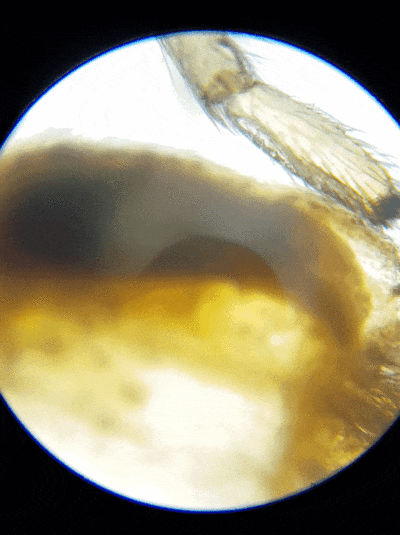 Here is a closer view of its lower anatomy. I must say, the spider is a little hairy, with some areas with longer strands. Oh and on the leg it appears to have thicker hair that is spike like around the joint. Below are still images of it.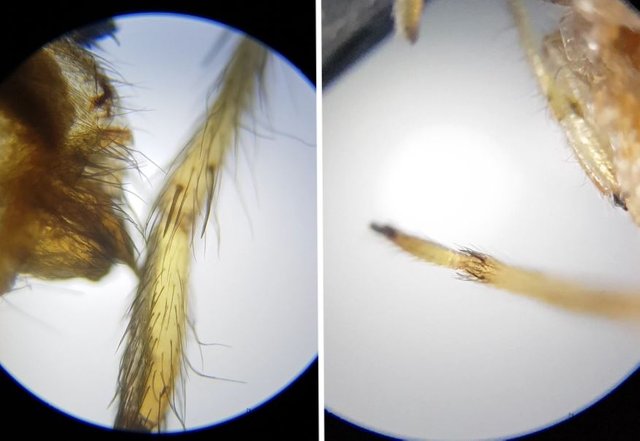 This is very interesting. Different to the other insects we've seen to date. What is also interesting are the toes, if I can call them that.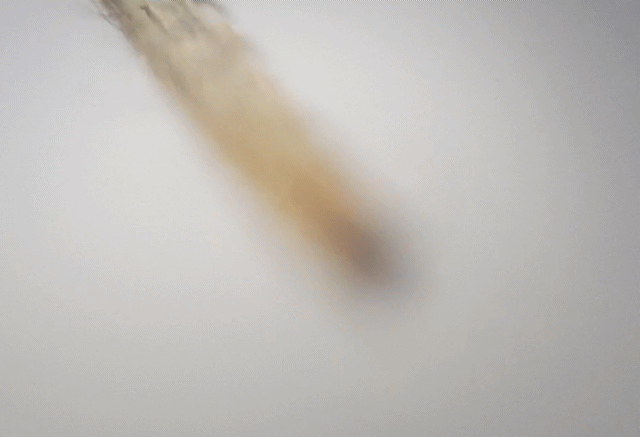 Looking closely at them, they appear gentler looking than all the other insects we've seen. But of course this will allow them to walk along their web without getting stuck.
~~~~🕷~~~~🕸~~~~🕷~~~~
I did try very hard to obtain images of the eyes & mouth. But the spider was small to handle and the legs were shriveled up. Thus making it difficult to obtain nice images. After 13 minutes of checking out the spider and trying to position it properly using tweezers and a needle tip tool. I gave up, my hands were too shaky and I was afraid of damaging the spider. I need a pinning board to prop it in place then dry it. Anyways, here are the best images I could obtain of the eyes and mouth. Actually only the eyes.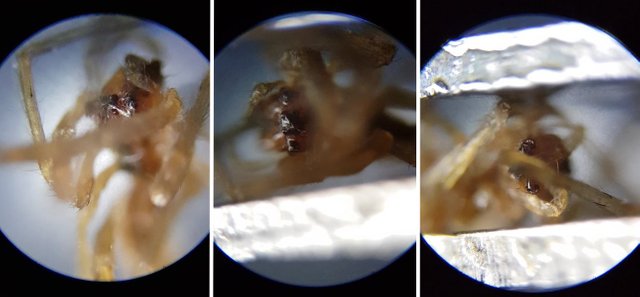 ~~~~🕷~~~~🕸~~~~🕷~~~~
Here are a couple of photos of the spider in the jar my friend had given me. At this point of time, the spider was still alive. I noticed also he had spun some web inside the jar. The web is really fine and different to the past web I had looked at.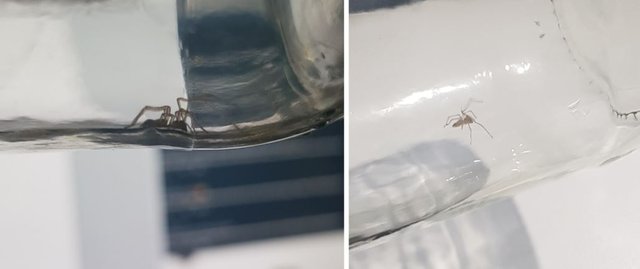 So I decided to collect this web and place it onto a slide for viewing. After I have put the spider to sleep and in its separate jar that is. Here are photos of the web inside the jar. A little hard to see but it is very soft and fine.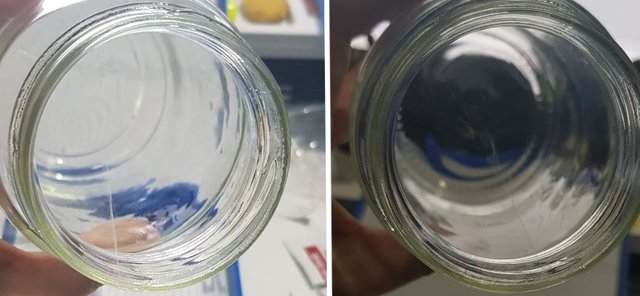 ~~~~🕷~~~~🕸~~~~🕷~~~~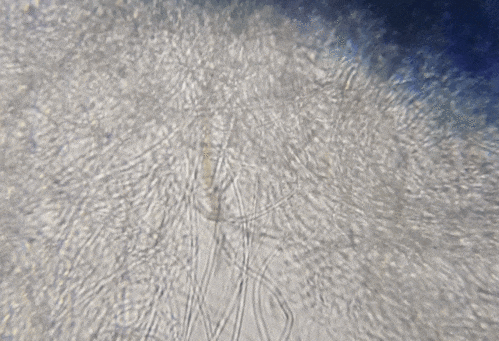 Here is a closer look at the web.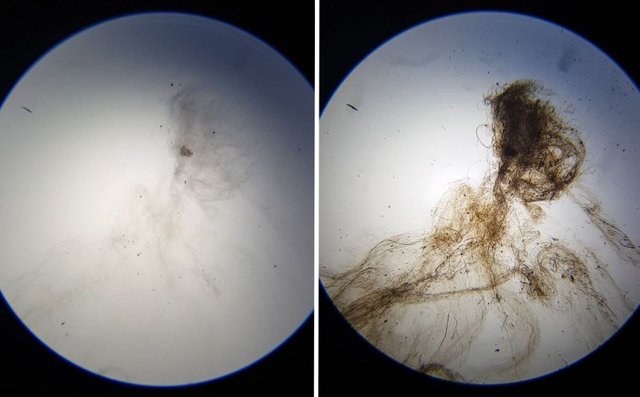 It was so soft and fine that looking at it under my microscope, there really wasn't much to see. Here is an image of what I could see under the microscope. The right image is with the iris diaphragm closed. Doesn't the denser section look like a mini octopus with two beady eyes?
~~~~🕷~~~~🕸~~~~🕷~~~~
Unless cited, all other images & gifs belong to @supersoju