Unknown Insect #4 under the Microscope 🔬
Oh my, it has been a month since my last post. I wasn't expecting that. So much for posting at least once a week. As I write this draft, I hope I do finish it today for uploading.

Today's post I want to share with you a close up view of an unknown insect. I should have checked it out earlier because due to necrosis, the true colours/markings on the insect can no longer be seen. The above middle photo is the unknown insect, however he/she originally had white stripes. In fact it was quite pretty looking. It made the insect look gentle looking. Geez I can't believe I said that, insects give me the creeps.
~~~🔬~~~🔬~~~🔬~~~
This little guy is actually about 2cm long.
Let us start check out the guy's eyes first since they are so big.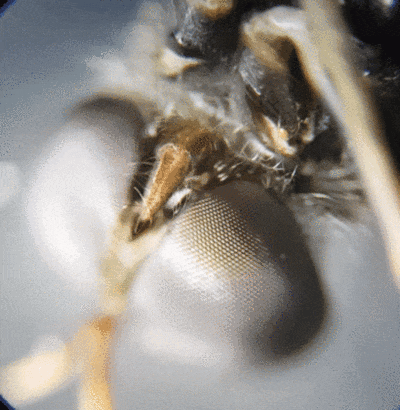 Since I had to resize and compress the gif, I compiled a few still shots of the head and a close up of its antenna for better viewing. What I love about the use of two different light sources on a microscope is the different perspective views you can obtain.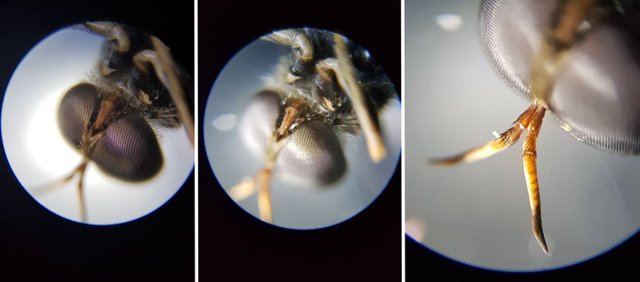 ~~~🔬~~~🔬~~~🔬~~~
But did you see the last thing I focused in the above gif? Here is another view.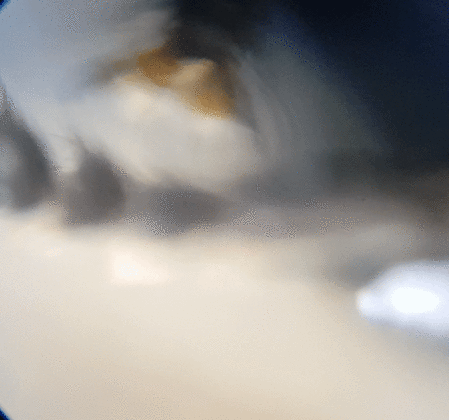 How cool is that. Out of all the insects we've checked out so far, these feet are the best I've seen. Just when I though the last was unique, this is even better. Here are some still shots using the two different light sources.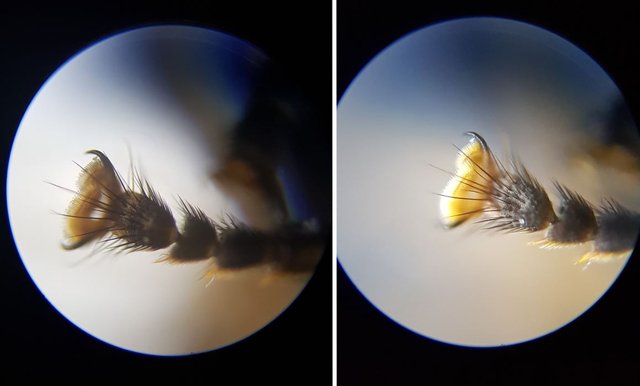 What I find fascinating is the fact that close up, the feet of different insects could vary so much. What I like about this specimen are the segmented parts of the leg which are unusual shaped with what seems to be softer hair compared to previous specimens we've seen. But of course the best part of this specimen is the fan like yellow part between the claws. Using the light source from below, you can see very fine hair like/fur like ends. If I had to guess what this is for, I would say either for sensory reasons or even to help it stand on water/wet surfaces. With so many fine hair like structures on the ends, it means it requires higher surface area for a particular reason.
This reminds of one of the first small organisms found high in the mountain streams which uses fan like/net like hands to filter food that passes by. It then pop its hands into its mouth as though it was licking its fingers. It was actually pretty cute when I first saw it on a documentary.
~~~🔬~~~🔬~~~🔬~~~
Next up, wings!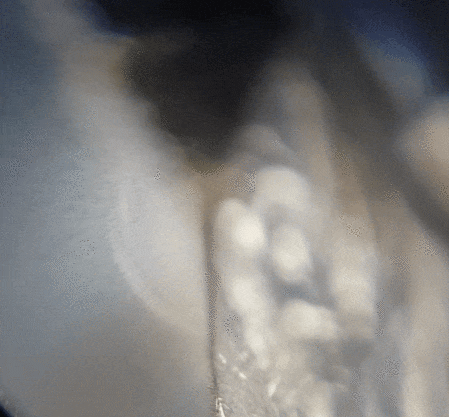 Although this gif quality does not do the image I saw justice. When you look at the first full body photo of the insect, you will notice the wings are shiny and more tough looking. Close up you can really see the shine. Here are a couple of still shots.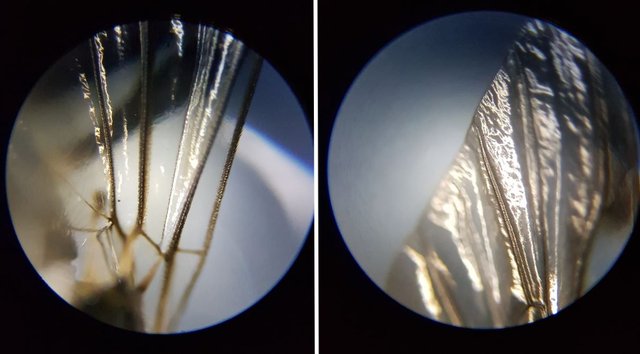 ~~~🔬~~~🔬~~~🔬~~~
Next up is the abdomen. I wanted to show this part because I thought he had a cute bum. Like I mentioned earlier, it is a shame I did not check this insect out before necrosis kicked in. We cannot see its white markings at all. Everything is just black and he/she is all shrivelled up.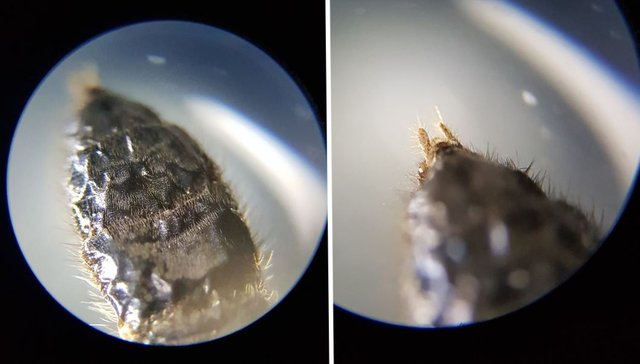 Last but not least, time to turn the insect over.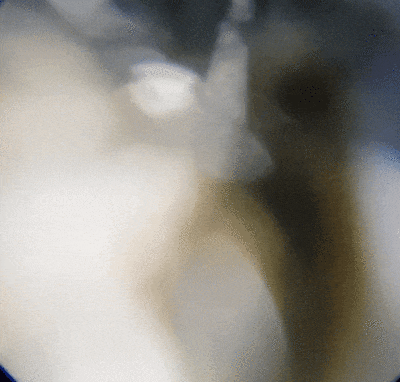 In a way I wish I didn't, because seeing the thorax reminded me of the icky fly. But one thing that was interesting was the head. See how flat the head is underneath? The head is literally like a semi sphere. I wonder why? Is it so it could turn/tilt it's wide head easier to look around?
~~~🔬~~~🔬~~~🔬~~~
All images & gifs belong to @supersoju