Swachhcoin

Hello everyone, dear friends. Today I want to share with you information about a promising new startup called Swachhcoin.
What is SwachhCoin?


I want to tell you about the main problem of mankind which we ourselves also sprouted, these are immense mountains of garbage, a huge amount of waste that leads us to an ecological disaster. A tremendous amount of resources is extracted, a huge amount of goods are produced, but people do not have such purchasing power to buy everything that we produce, and nature is not capable of recovering its resources at such a rapid pace.
Mountains of garbage are buried in the ground, another part is burnt, a whole island has already formed in the ocean of garbage, the ecology is screaming for help. Whales are thrown onto the shores, whole species of animals die out due to the fact that we have not yet learned how to live in the harmony with nature and take as much as we can return. The planet dies under the burden of man-made civilization of thoughtless consumers. You can change the situation only with the help of all the people in the world. People must unite to save the planet from themselves. Recycling is a good idea, but it is useless unless people consciously start at least sorting the garbage and throwing it into containers.
To save the earth from ecological disaster, a company was created called SwachhCoin.
SwachhCoin is an ecosystem built using modern blockchain technology. The company will recycle and collect waste. People will take the garbage for recycling, and for this the company will pay tokens that can be sold on the exchange and exchanged for Fiat.
In order for garbage to be recycled, it must first be sorted into different categories. This is what people should learn. In developed countries, people have long been accustomed to respect the place where they live and throw out garbage in different containers. But there are countries where garbage is thrown out right on the streets, forest belts are being thrown in with garbage, dumping waste into rivers and lakes. The most difficult thing is to teach these people not to pollute the environment. That's why they decided to pay people money, so that they would take the garbage to reception centers.
All recycled waste is recycled and dispersed in production for the manufacture of new goods. Self-sufficiency in the project is high and for this reason prices for new manufactured goods will be reduced. Thanks to the blockchain, it will be possible to completely establish an automated chain for recycling waste, producing recycled goods and paying rewards for waste delivery. The states of many countries need waste recycling, so there will be a lot of support from the authorities in building such plants. The project involves leading experts in recycling and restoring the ecology of the planet, they are interested in working with all who care about the future of our children.
It is impossible to fully rely on people's awareness in questions of saving the world from an environmental catastrophe, because the people themselves have brought the land to this. According to this, the most modern technologies will be used in the management of environmental rescue, artificial intelligence, big data, blockchain, full automation will be set up, which will help with time to fully organize the sorting, processing and production of goods from raw materials.
I want to tell a little about the ICO project in which you can participate.
Total tokens released: 400,000,000
Soft cap = 5,000,000 USD
Hard cap = 18,000,000 USD
Token price: 1 Swachhcoin = 0.075 USD
Will be sold: 69% The
team will leave only: 9%
Consultants and partners will leave: 7%
On the bounty allocated: 4%
Charity was allocated: 3%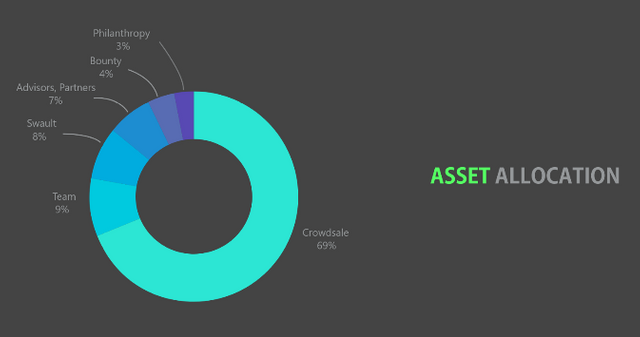 Conclusion
In my opinion, the following reasons may increase Swachhcoin :
Firstly, the project has very practical and practical ideas, at the same time also innovative and unique. High application of the project will bring it a long-term development. Application will also create community, thereby helping the project succeed.
Second, Swachhcoin is used throughout the project. The need to buy, sell Swachhcoin will be the driving force to help it rise. Especially when the brands, suppliers need to buy Swachhcoin to use.
Third, this is not a virtual project. This project comes from real companies, has certain applications and from a real team. This is also an important factor to help Swachhcoin not become a virtual project.
Fourth, the investor community is interested in the project is relatively large, on the telegram channel has about 120k member.
Hope your review provides you with useful information.
And that's what I have. You can learn more about the project by clicking on the links in the description.
Official site - https://swachhcoin.com/
Bitcointalk - https://bitcointalk.org/index.php?topic=3034091.0
Facebook Page - https://www.facebook.com/SwachhCoin-356957991424506/
Reddit Platform - https://www.reddit.com/r/swachhcoin/
In the Telegram - https://t.me/swachhcoin
Project on Twitter - https://twitter.com/swachhcoin
Author: nguyenthachthuat
https://bitcointalk.org/index.php?action=profile;u=2247112
ETH : 0x9fC909f0C91729d8c5440607e23483122D608257