Swachhcoin - INTELLIGENT SOLUTION FOR A HEALTHY ENVIRONMENT


Hello! In the modern world, we observe how actively our planet is developed, high technologies enter our lives every day and are always improving. There are electric cars, flying machines, gadgets, robots, and more. This is all wonderful, but no one notices, but someone does not know that all this development adversely affects our planet.
The more of everything in our world, the more household and other waste is produced, so now it is a severe problem that should be solved as soon as possible, but no one wanted to take it up until today!
Every day I watch the development of Blockchain technology and many projects that are entering the market, and then I saw precisely the project that can solve this problem. I immediately liked the idea and began to study this project in more detail. Let's talk about what this project is and what benefits it can bring to our world, let's go!
What is SwachhCoin?
This is a new project that develops one of the best directions and introduces the blockchain technology, which is so necessary for this area. The project aims to rid our planet of debris and waste, a lot of them all over the earth. We can observe them both at sea and on land. It is not easy for animals to live among so much garbage, and the most exciting thing in a particular time will affect our lives.
The aim of the project is the recycling of garbage and its collection, as well as distribution into various types, as it is done in developed countries. For example plastic to plastic, glass to glass, paper to paper and so on. Each garbage should be distributed on the type should be sent for recycling.
The most exciting thing is that the reward system is thought out here, since the company itself cannot cover the whole world, and with the help of blockchain technology there will be a reward system for the participants of the company. Every person can help our planet using SwachhCoin, people themselves will collect and distribute waste, and for this, they will receive cryptocurrency on a platform that can be exchanged for real money. Isn't that the best motivation? =)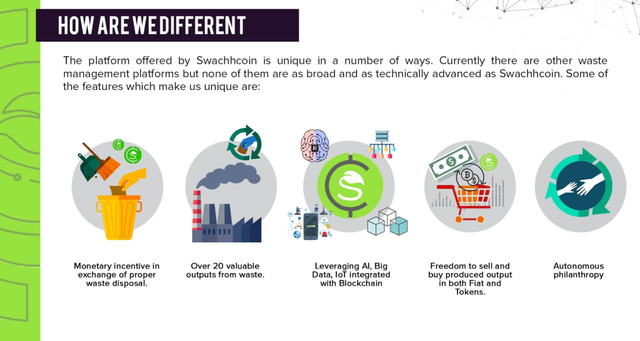 The Swachhcoin Foundation is actually a non-profit organization that have a mission to work extensively to overhaul the waste management sector by expanding with innovative technology and service providers. Outside working with industry, Swachhcoin will develop ecosystems that will make people become aware of the possibility of waste around them so that they will understand their different roles and responsibilities.
All waste around are recycled and dispersed in production for the manufacture of new product. Self-sufficiency is that, the project is high and for this particular reason prices for new manufactured goods will be reduced. With the help of blockchain, it will be possible to completely establish an automated chain for recycling waste at ease, producing recycled goods and paying rewards for waste delivery also. The states of many countries need waste recycling seriously, so I think there will be a lot of support from the authorities in producing such plants in their country. The project comprise of leading experts in recycling and restoring the ecology of the planet, they team are interested in working with all who care about the future of our children and planet!
Token Utility
Swachh Tokens is a 100% utility tokens because of its function on the platform, and the team assures that it will remain that way. The token was designed to provide a lot of functions for the users
Some of the major feature of the token are highlighted below.
a) Its used for receiving reward for any proper waste disposal.
b) The token is also used in Buying output(s) produced by waste in the processing industry.
c) The token is also used in Paying for any advertisement services.
d) as the platform grows famous, the token will be the only accepted payment currency for any micro payment from merchant and industries recycling.
e) Token holder have the opportunity to use their tokens for funds donation to the partnered organisation of Swachhcoin's interest, this is focused on elimination any possible corruption or leakage. And the users can also donate when there is a national disaster affecting a location.
f) the platform was also designed in such a way that Holder will be able to use their tokens to exercise voting rights on the platforms, not just that, also used to participate in higher decision taking of the platform.
Conclusion
In conclusion, I want to add what I found an up-and-coming project and the first in this area. There is no competition, which means 99% that the project will be successful. Moreover, partnerships with several exchanges have already been concluded, I am sure that the token will be immediately available on the exchanges.
I studied in great detail all the members of the team and here we can also be confident of professionalism and that these guys will bring everything to an end!
A project with a great future and a strong team, tokens will be traded on exchanges. The demand for tokens will be great, as the asset will be in order. Accordingly, we can earn big money. We are at the very beginning of this journey, which has a great future!
In conclusion I think that this platform will have a positive effect on our environment as it will help waste recycling!
Here is an explanation from me and to avoid all forms of fraud, please look for the correct information and reliably or visit the following link:
Official site - https://swachhcoin.com/
Bitcointalk - https://bitcointalk.org/index.php?topic=3034091.0
Facebook Page - https://www.facebook.com/SwachhCoin-356957991424506/
Reddit Platform - https://www.reddit.com/r/swachhcoin/
In the Telegram - https://t.me/swachhcoin
Project on Twitter - https://twitter.com/swachhcoin
Author: nguyenthachthuat
https://bitcointalk.org/index.php?action=profile;u=2247112
ETH : 0x9fC909f0C91729d8c5440607e23483122D608257