Shengworld's Mobile Disinfection and Thermometry Channel: An Efficient First-line Response Tool Against Covid-19 Cross Infection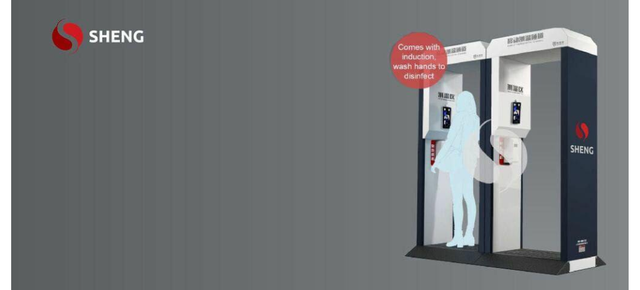 Introduction
With the global outbreak of the Covid-19 and the attendant deaths all over, it has become imperative to step up health and wellness awareness as much as possible in a bid to curb the pandemic. Government's all over the world are trying their best to find solutions but so far, the only viable solution seems to be prevention. To this end, there have been calls for people to maintain some health and social standards, among which are wearing nose masks, social distancing, frequent use of hand sanitizers and basic hygiene generally. And as usual, all these efforts are being put in place by governments and centralized organizations and the profits are still going back to them.
The blockchain technology despite its versatility is not being adequately utilized even in these times that the whole world outlook is changing. Very few, if any, blockchain projects are taking advantage of the times and one of such projects is Shengworld.
What Is Shengworld
Shengworld is the first blockchain powered wellness and lifestyle platform that aims at bringing vendors and users of the industry together on one platform. At Shengworld, users can have access to health, wellness and lifestyle products that help to enrich their body, mind and soul and by extension, enrich the quality of their lives and living standards.
Also, Shengworld is the first platform, both on the blockchain and traditional approach to employ the Business2Business4Customer model (B2B4C), aided with the combination of AI, blockchain and smart contracts to complete a unique design.
Shengworld's Mobile Disinfection and Thermometry Channel (MDC)
The Mobile Disinfection and Thermometry Channel simply known as the MDC is a revolutionary wellness product from Shengworld aimed at helping in combating the Covid-19 pandemic. It is a smart mobile device that has the capacity to accurately sense the temperature of human beings and ascertain if it is within the acceptable range. This is very important as an abnormal temperature is one of the key and early signs of a possible Covid-19 infection which is why it has been recommended that mandatory temperature checks be carried out anywhere that people are likely to gather, to prevent cross infection.
The highly sophisticated thermometry sensors embedded in the MDC are designed to give reliable and accurate results in a non-contact form which is essential in expediting a first-line treatment response to curb the spread of Covid-19 virus.
Other Essential Features Of MDC
Apart from the highly accurate and safe thermal imaging temperature sensor for detecting abnormal temperatures, the MDC has other features that makes it truly unique and efficient as a first line tool in combating the viral spread.
These features include
Surgical Mask Detector: the MDC intuitive interphase can correctly detect if a person passing through is wearing a nose mask or not and also is equipped to raise an alarm if need be.
Automatic Induction and Misting Function: this is a specially designed feature equipped with microwave sensor, one-side sprout electrolyzer, nozzles and UV lamp. The microwave sensor senses and detects movement when someone enters the MDC which immediately activates the Disinfecting UV lamp and the 16 nozzles through which the "Hygieia by Sheng" is sprayed on the person.
The Hygieia by Sheng is the novel non-alcohol sanitizer formulated by Sheng's R&D unit as a safer and more effective option to the alcohol based sanitizers out there. This Hygieia is "a powerful and highly effective non-toxic and chemical free electrolyzed water that is safe for children, elderly, the disabled, and pets", according to the research publication by Sheng team.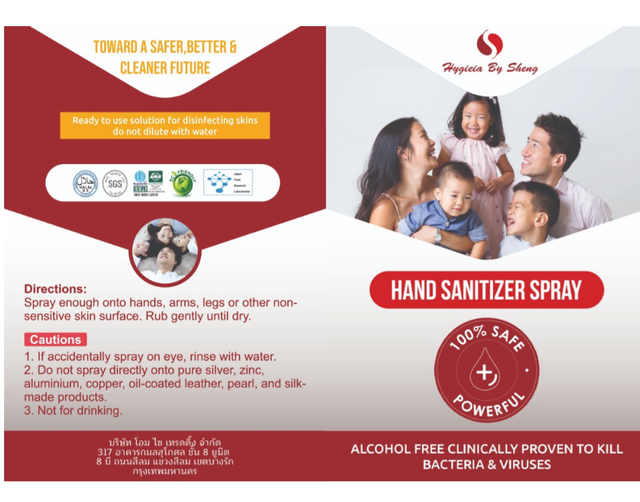 Other notable features of the MDC are high temperature alarm, thermometry record, image storage, face recognition, ID check, travel information, stranger alert and register attendance.
In all, the Sheng's MDC is a highly effective tool that can be easily and safely deployed in places where people are likely to gather so as to check and curb the spread of the Covid-19 virus. It is a veritable instrument with lots of things to offer in the global fight against the deadly Covid-19 virus.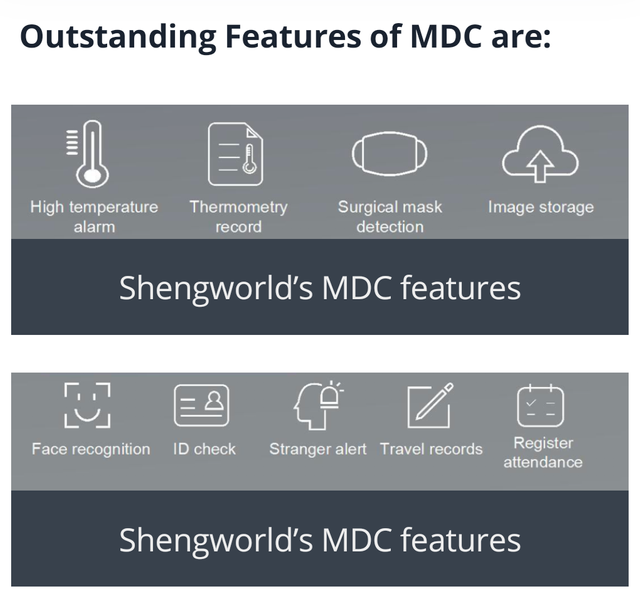 The MDC will soon be made available on the Sheng marketplace and can be bought using credit card, Bitcoin or usdt.
Meanwhile, it is pertinent to note that the 2nd round Sheng IEO is currently running on Probit exchange and here is the link to participate and get a whopping 43% discount https://sheng.asia/
For more information, here are some links for you
Shengworld marketplace
https://sheng.global/
Telegram
https://t.me/sheng_world
Twitter
https://twitter.com/sheng_global
Medium
https://medium.com/@sheng_world
Facebook
https://web.facebook.com/shengworld/
Reddit
https://www.reddit.com/r/Sheng_Global/
BTT ANN Thread
https://bitcointalk.org/index.php?topic=5213429.0
Writer's BTT profile link
https://bitcointalk.org/index.php?action=profile;u=2047938
Telegram Username
Ebykamsi