The SHENG Marketplace and Ecosystem: A Meeting Point for Users and Vendors of Wellness and Lifestyle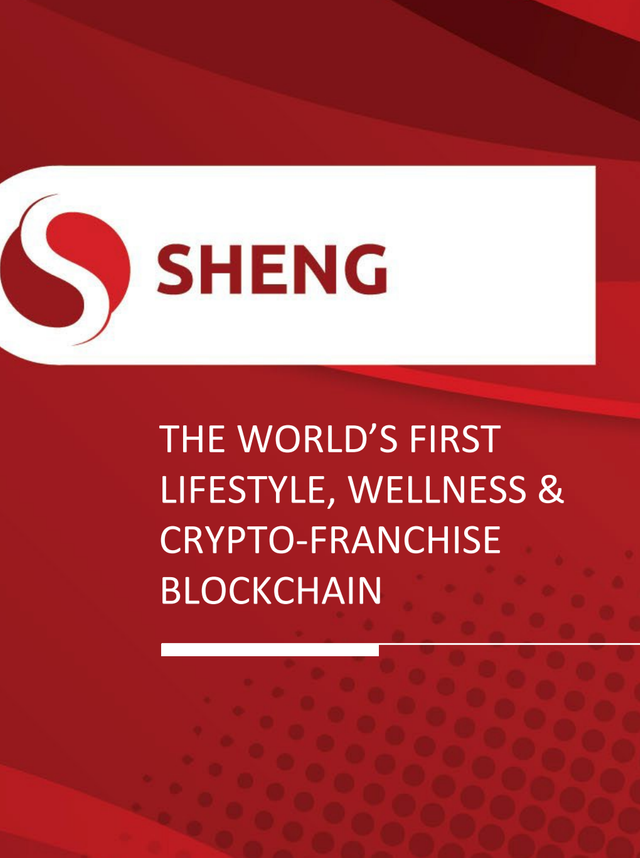 Introduction
In today's fast paced life, people are faced with so many challenges that require their physical, spiritual and mental capacities to resolve conclusively and while this is part of living, there is no gainsaying the fact that this takes a toll on the general health and well-being of individuals. Granted, people occasionally do take time out to relax from the daily grind by embarking on leisure travels, engaging in relaxing sports, splurging on personal treats or just staying back at home relaxing but, all these require a series of plans and arrangements using different mediums to get them sorted. There is little or no concerted effort to bring together these different elements of lifestyle, beauty, wellness and health under one platform for easy access. Oftentimes, people are discouraged from taking a well-deserved rest simply because they do not know where to look for what they really need or the hassles of sourcing from different places appears daunting.
Imagine if there is a single platform where one can easily access all these products and services without stress. A platform where you have different options to choose from, and even get to see those options that you ordinarily wouldn't have considered but you know instinctively that you'd love to try.
It's my pleasure to introduce Shengworld, the melting pot for wellness, lifestyle and healthy living.
What is Shengworld?
ShengWorld is a revolutionary platform built on blockchain technology and designed to bring together users and vendors in the lifestyle and wellness industry. Shengworld is creating a new and vibrant community where like-minded individuals can meet and access products and services geared towards rejuvenating the body, soul and mind, thereby improving quality of life and living. It is the first Business-2-Business-4-Consumers (B2B4C) in the wellness and living industry and its architecture is such that efficiently caters to both vendors and users in such a way that both parties have a lot to gain from the synergy provided by the platform.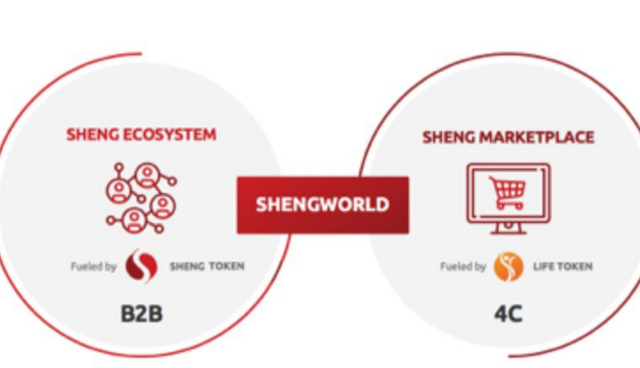 ShengWorld Architecture
Shengworld platform comprises two distinct parts that make up the system. They are:
The SHENG Marketplace (4C) and
The SHENG Ecosystem (B2B)
The SHENG Marketplace is the front end where users interact with each other and with vendors. The Shengworld SHENG Marketplace is a web-based e-commerce platform where vendors list and display their products and services for users' purchase and transaction. It is further divided into 2 parts: the main P2P and B2C marketplace where users interact with each other and the vendors and the B2B marketplace where vendors transact with each other selling in bulk and at discounts.
Leveraging blockchain and Artificial Intelligence technology, SHENG Marketplace offers information symmetry, rewards and convenience in a decentralized manner such that only blockchain verified real users can give reviews and ratings. Also, users get the best bargains for top services.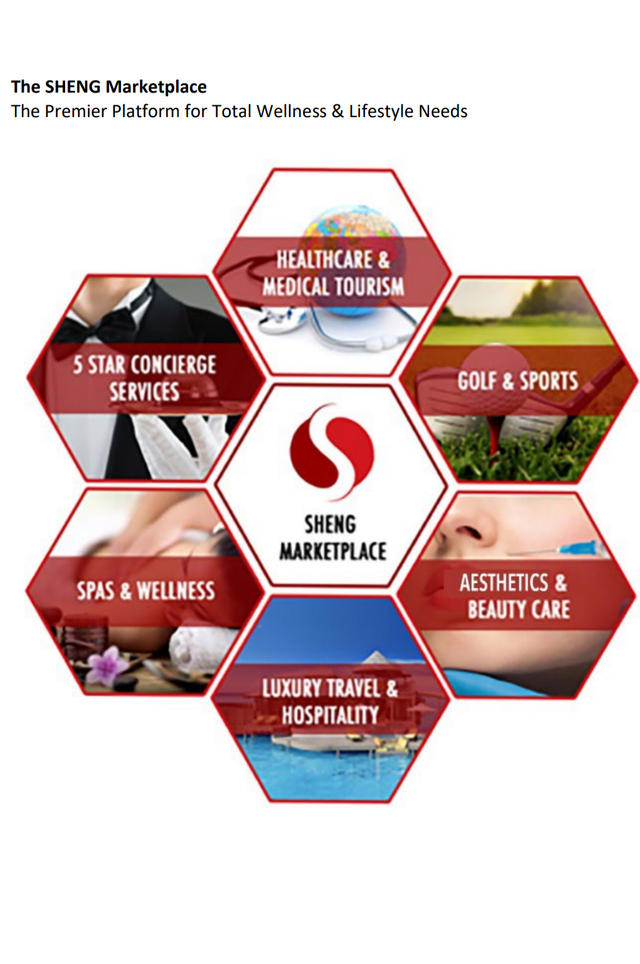 The SHENG Ecosystem on the other hand, is specifically designed as a back end for vendors. It's integrated with special features, systems and suite of tools aimed at helping vendors boost sales, improve revenue generation, get more customers and experience global business growth.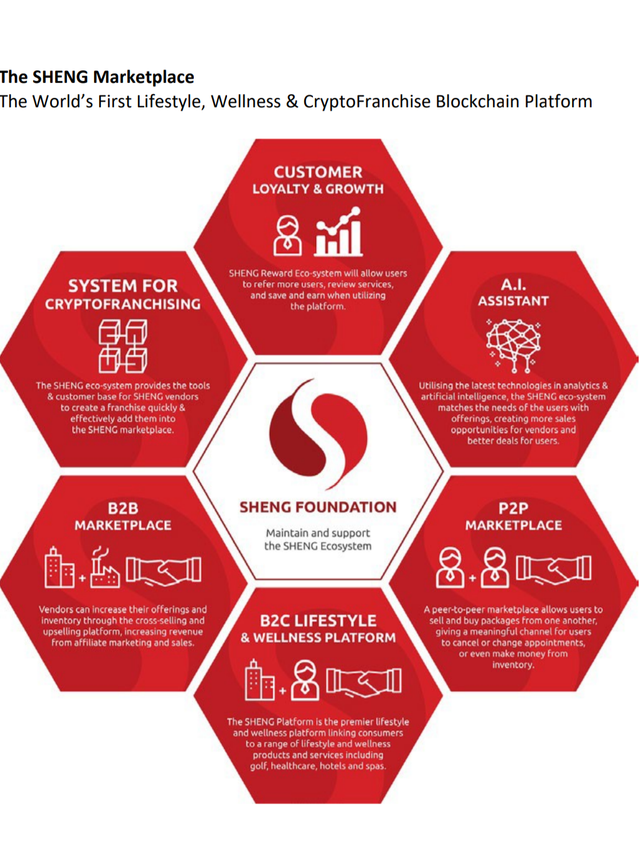 Shengworld Token Design and Utility
ShengWorld platform operates a dual-token system whereby 2 tokens are in play. As seen earlier, the ShengWorld Architecture has the platform divided into 2 main parts and to make operations on both parts streamlined and optimal, each part runs on a different token. The SHENG Marketplace has its currency of exchange as the LIFE token while the SHENG token is used to incentivize on the Ecosystem.
LIFE token is designed for users to use and exchange it for goods and services on the SHENG Marketplace. Also it confers on users, the full benefits of ShengWorld like ability to earn rewards and discounts. The value of LIFE token will be kept stable since it will be used as medium of exchange for services on the marketplace. This will also confer greater appreciative value on the token as against what is obtainable in the vastly unstable cryptocurrency space.
SHENG token fuels activities on the SHENG Ecosystem where vendors use it to stake or buy positions in the ecosystem. To join the SHENG Ecosystem, a prospective vendor is required to buy, maintain and stake enough SHENG tokens according to his transaction needs and size to be able to create a node on the blockchain. Furthermore, to buy an advertorial space on the platform, a vendor will need to have and stake SHENG tokens. SHENG is tradable in the SHENG exchange for LIFE token, fiat or other stable coins.
The total number of SHENG tokens that will be created is five hundred million which will take adequate care of the platform's needs for the next 5 years.
In summary, the Shengworld platform is designed to bring together products and services for all-round wellness and lifestyle upgrade for the body, soul and mind of users ranging from luxury travels & hospitality, Golf & sports, healthcare & medical tourism, 5 star concierge services, wellness & spa, aesthetics & beauty care regimen, among others. Shengworld offers a one-stop platform for users to access all of the above and more at the best prices, discounts and even win rewards using the LIFE token. And for vendors, Shengworld offers an integrated system designed for optimum business growth and access to global customers by simply staking and creating a node on the blockchain using the SHENG token.
To learn more, here are some useful links
Telegram Username: Ebykamsi