# 1076 - Cristina's Coins - Part 25
The info below comes from the Royal Canadian Mint's COA (Certificate of Authenticity) of this coin or https://en.numista.com/ , or https://www.wikipedia.org/.
Due to the coronavirus I cannot travel to visit my daughters and bring back the coins I bought. I asked Cristina, my elder daughter, who lives in Canada, to take some photos and send them to me. These will be the coins that will comprise this series.
The twenty fifth is a 2004 CAD $20 "Natural Wonders: The Hopewell Rocks".
It weights 31.39g with 99.99% silver purity and selectively gold plated Proof finish. Its mintage was 16,918 units and the issue price was CAD $69.95.
When glaciers from the last Ice Age began to melt 13,000 years ago, a valley filled with water. As the seawater rose, it began to move with the daily rhythm of the tides. Every time it flowed in and out of the valley, the water caressed the shoreline, filling the vertical cracks in the cliffs and carrying away bits of rock. After millennia, huge blocks of stone stood alone, separated from the shore.
To this day, 200 billion tonnes of water continue to swirl around the base of these rocks, sculpting distinctive 'flowerpot' shapes that draw visitors from around the world. Every day, the sea retreats from the Bay of Fundy (New Brunswick) to reveal a landscape of unimaginable artistry, a magical place of ancient sculptures that are still incomplete.
The reverse, designed and engraved by Stan Witten, shows a colorful rendition of Hopewell Rocks.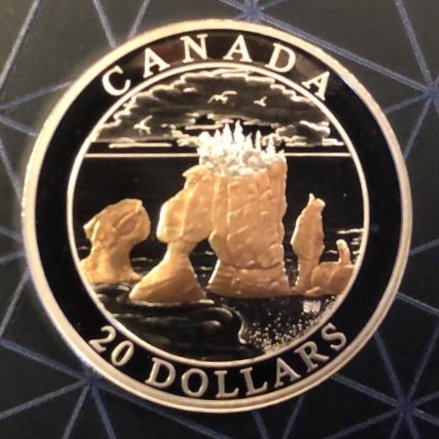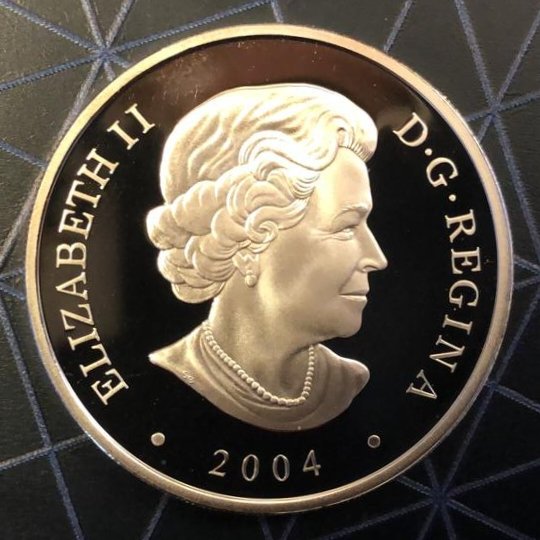 Thank you for reading. Please comment, upvote, resteem and advise me.