Hey Jesslaves
As the saying goes, time is money and with the rising cost of living and wages being flat or even decreasing, and job opportunities are becoming increasingly scarce. Due to automation, your time is starting to become worth a lot less money, and its value is dropping by the second. We were sold the idea that we should develop a skill and then sell it into the market for cash and then use that money to acquire the things we need to live and to me that makes sense.
At a point, we should all be able to okay. I've had enough trading of my skills, be it temporarily or permanently, and we can use our time now for leisure purposes. But sadly, that is not to be for more people these days who cannot afford to retire and quit the rat race. Partly it's due to things not in their control and partly due to matters within their control.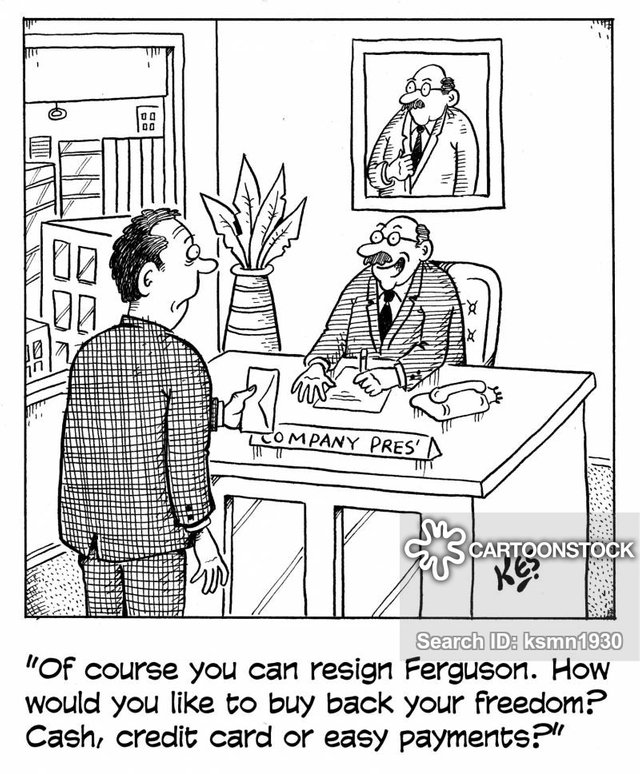 Image path - cartoonstock.com
The slaves choice
Back during slavery, a select few were able to buy their freedom, and in modern-day corporate slavery you can do the same, but people choose not to, they decide to extend their stay in slavery through consumerism. Buying that new car, home, watch and luxury goods which are all rarely worth it extend your stay in the rat race. If you were lucky and hard-working enough to be able to spend on these things and not feel it okay, that I get.
But for the average person, they're either using large sums of their paycheque or leveraging debt to acquire these goods or services to feel successful or that they have achieved something. They fail to see that each time they do so, they extend their need to work and their time in slavery. You can't wholly blame the system if you are complacent in how it works.
"Misery loves company."
If you follow the market and the masses, you will most certainly end up like them, and its time we realise that our time is much more valuable and to stop underselling yourself.
The market is broken, and we're placing value on too many inanimate objects and too little value on people, we're putting too much emphasis on the acquisition that we don't evaluate if its a worthy purchase.
The end game shouldn't be about who acquires the most stuff but who has found value in their time and created value with their time.
Let's connect
If you liked this post sprinkle it with an upvote or resteem and if you don't already, consider following me @chekohler


---
| Buy & sell STEEM | Donate LikeCoin For Free | Earn Interest On Crypto |
| --- | --- | --- |
| | | |