Hello my friends,
This has been defintively the month of the cars.
I feel an irresistible attraction when I see a cars like these. It's as if someone just parked the car there for me and my sketchbook.
This addiction has made me travel lately, near my city, where I live and also abroad. Tomorrow, I will be flying to Athens, to another classical car event this weekend.
I come by surprise to these events. No one is waiting for a car artist. And I think nobody suspects that such a guy exists.
So, without thinking much, I start to draw the car in front of me.
A guy in Mallorca, spain, has an amazing hobbie: He builds 100 % electric cars in old carroseries, like this one: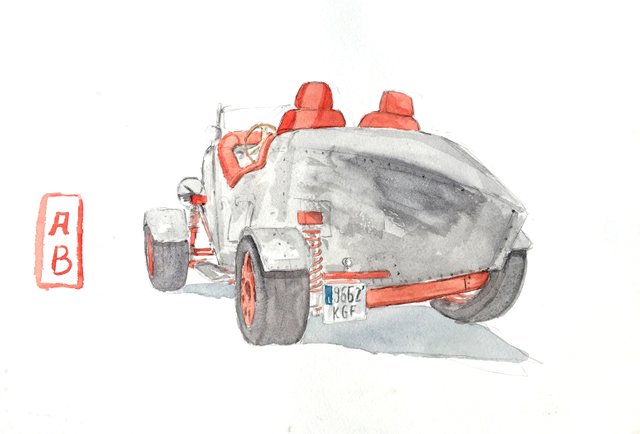 When I was drawing that pot, a guy, who looked like Johnny Cash, asked me to draw his Ferrari Testarrosa. Under an incredible heat, and with the asphalt burning my feet, I drew his car. When I finish the drawing, I ask, "How much do I deserve for this?" and he offered me 20 Euros.
I remained silent and I shoot him with my 1000 miles regard. Ashamed, he tool his car and left the event.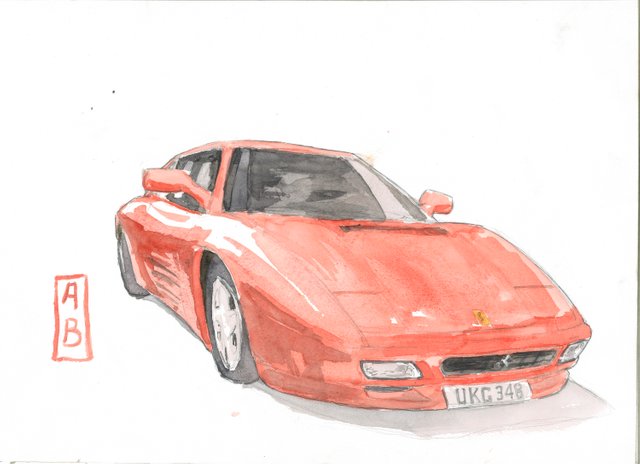 This anecdote helped me to know who my real clients are. Being an art so old, only people with a certain artistic education can value it well.
Mustang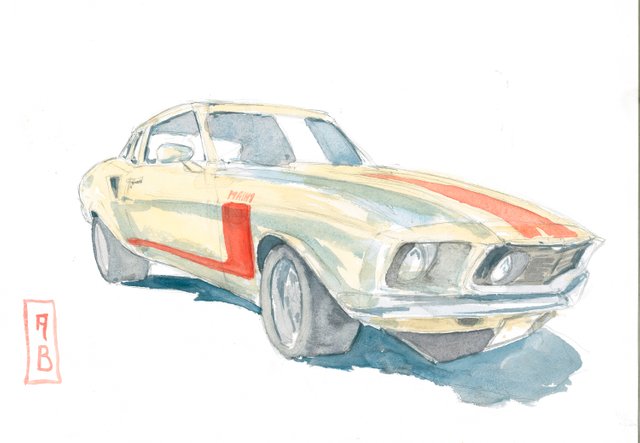 When I saw this MG-A, I could not resist the temptation:
MGA was a car designed for women. Yes, there was a time, where cars had gender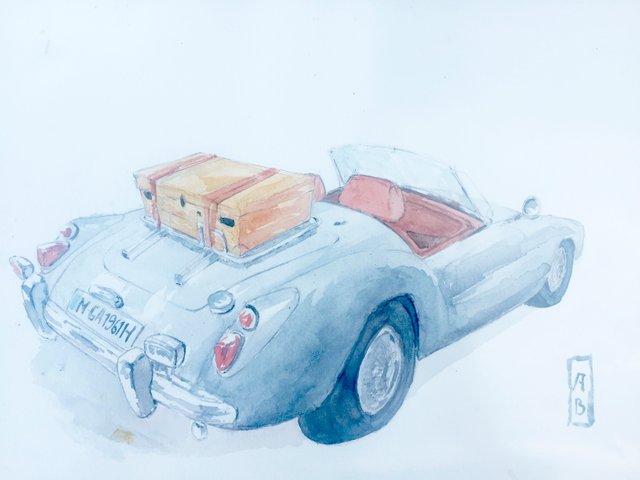 Madeleine surprised me by drawing the Mercedes 170 that I already published. She was the most incredible woman in the whole event. She radiated a very singular elegance. He approached and said:
"Well, well, here an artist!" "I have a green Thunderbird, but it has already been drawn".
"Not that way" I replied.
The next day, I saw the thunderbird in the parking. I sat in front of the rear and began to sketch it. Madeleine arrived just when I was finishing it.
I offered her my drawing, and she invited me to a cup of wine, late in the week.
This addiction to the cars, brings also special people to my life. Something is changing..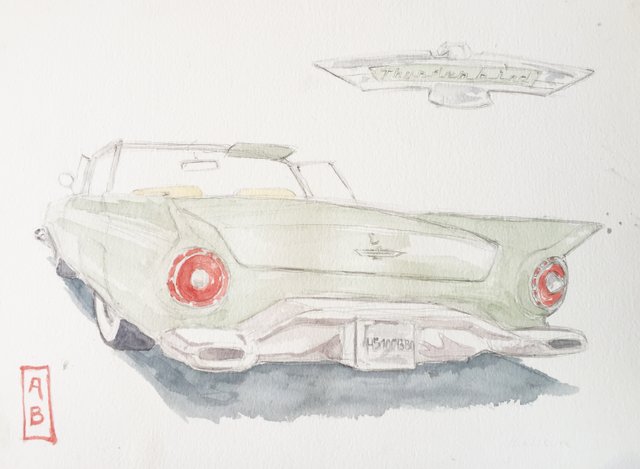 Back to France, I saw an event next weekend not far from my city.
It was held in the court of a Chateau own by a Comte. I was a sunny sunday, and an interesting collection of cars of all kinds.
I started with this Corvette from 1953, as the owner was present.
"Bonjour Monsieur! Est-ce que je peux dessiner votre belle voiture? (good morning, can I draw your beautiful car?)
corvette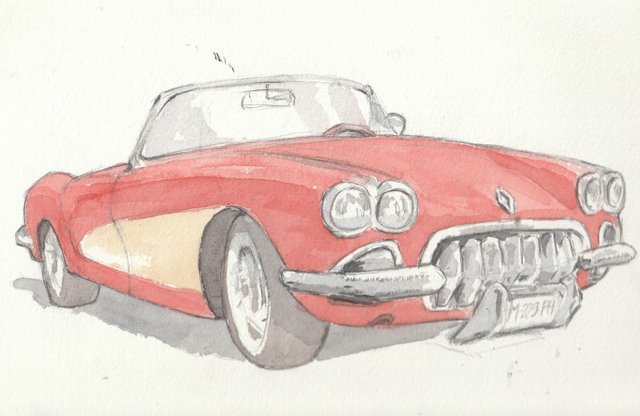 I discovered then a brand of cars that I never heard about. It is called "Dyna" and was a french manufacturer.
The ladies of the car watched the whole process. One of them, had some experience in watercolor and was surprised of my shadowing technique. I usualy add shadows first, in cold hues.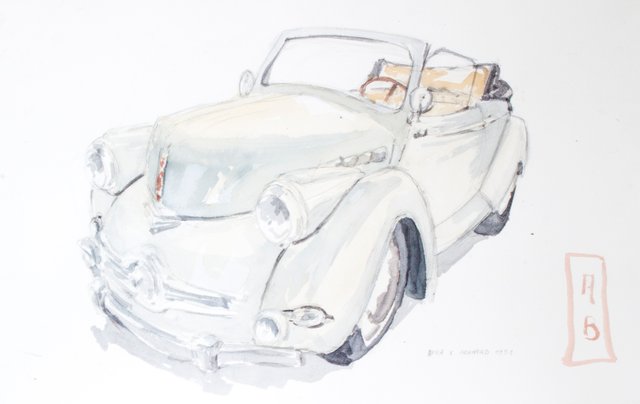 Then I moved to this Jaguar, the owner wanted to have this drawing hung on his wall.
And I keep drawing in drawing, discoving new possibilities with my pencil and my watercolor box.
jaguar XJS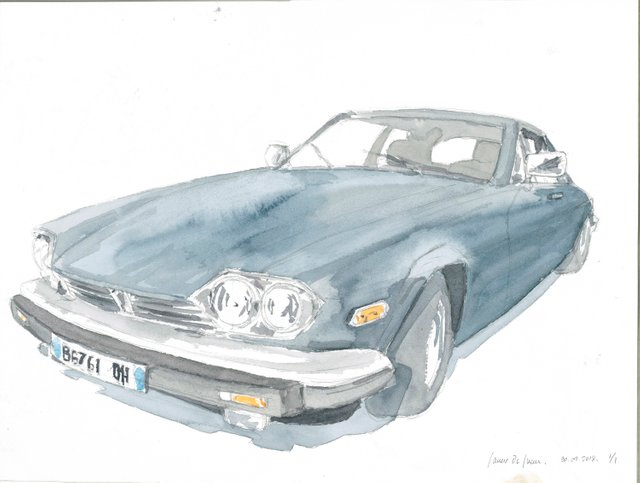 And I keep drawing in drawing, discoving new possibilities with my pencil and my watercolor box.
Mercedes 280 GL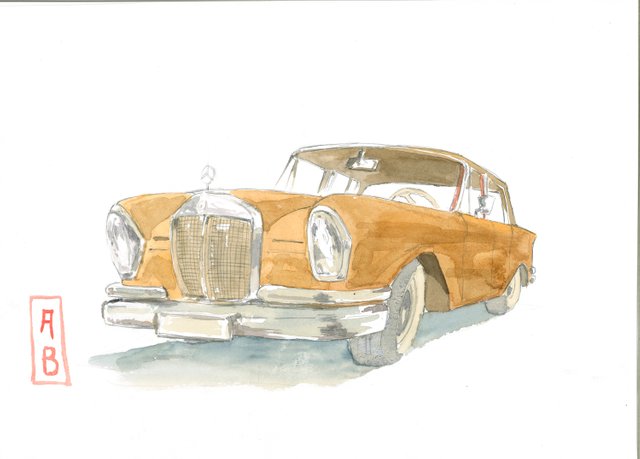 triumph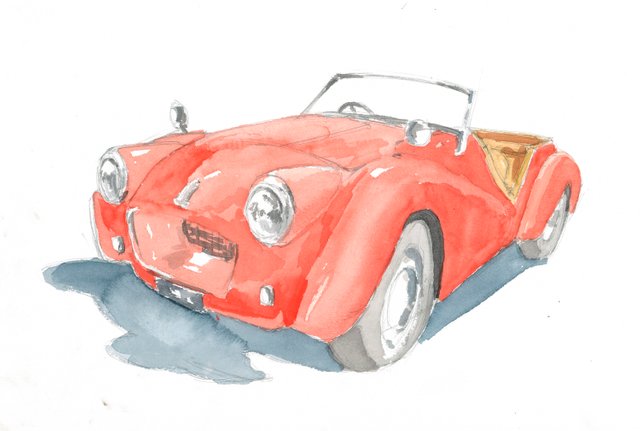 Thank you for reading and have fun!