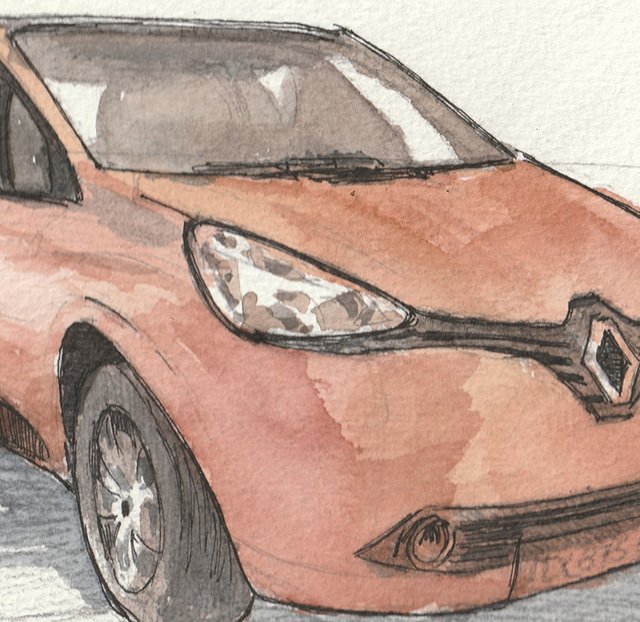 Today I was reading my old bandes dessinees (comic books in french) as part of my routine daydreamer activity. I read somewhere, long time ago, that the secret of a good comic is a blending of real objects with fantastic characters.
Real objects fix our mind to reality, we recognize then objects, landscapes, towns or whatever. However, bringing a human character to the scene suddenly makes our mind think in a different way. I have to admit that I have the curiosity of a gossip. I always want to know! What is going on there! ahha ah.
So, I went to my messy skecth board, arrange some space and let my pen flow.. that is what came to my mind: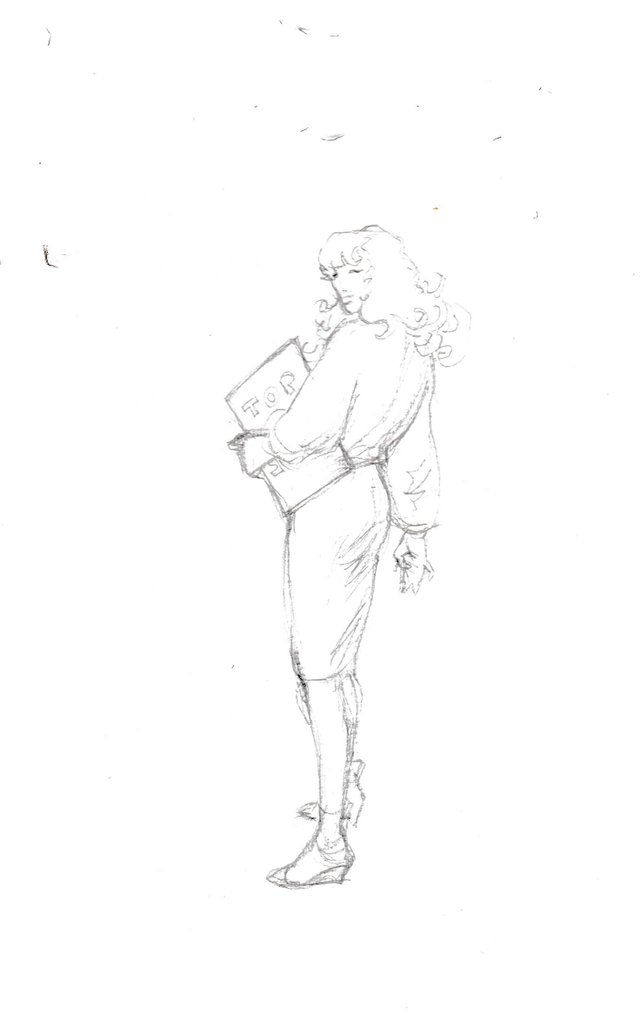 Melissa
I wanted to draw a powerfull woman, beautiful and cold. The kind of woman which cannot be ruled by any boss, because she is connected to another dimension of space-time. She can turn her gaze to you and kill you with her regard. There was a time in film history where these women hipnotized spectators. I'm thinking in Rita Hayworth, Lauren Bacall, Marlene Dietreich and women like that. Perhaps the most awesome of all of them was Katherine Hepburn. I have always thought that she must have been given ballet classes in the Boslhoi. Only Russian Ballerinas can stand up with a straight back like this.
I remember also today that I have watercolors. And also the Yogi advise from this summer was present in my mind. So, I decided to do something different today, mixing the lessons of my last posts togoether.
Then, I added some soft colors to feel the volume and shadows: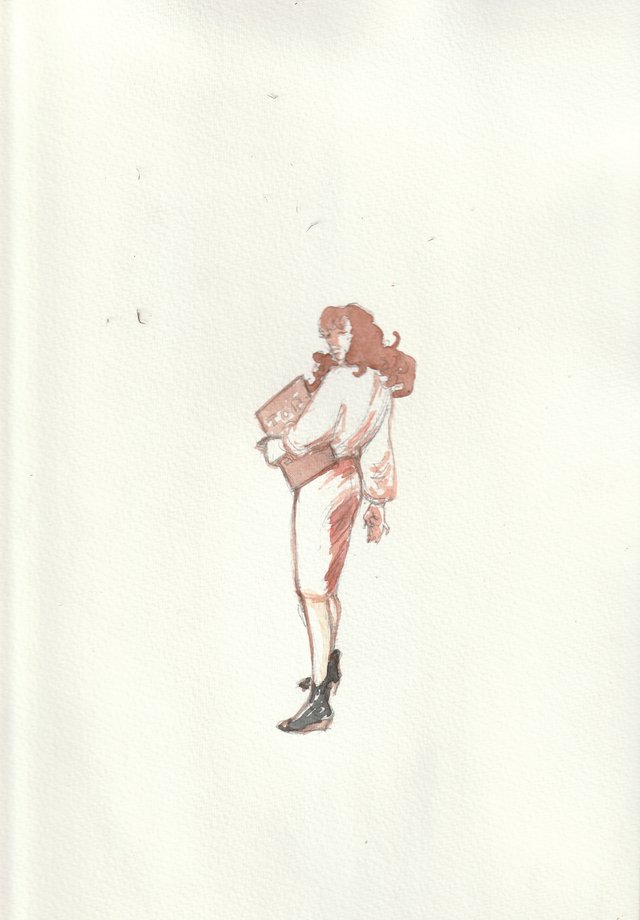 Melissa with watercolor

But her strong personality was not revealed at this stage, so I decided to add some color: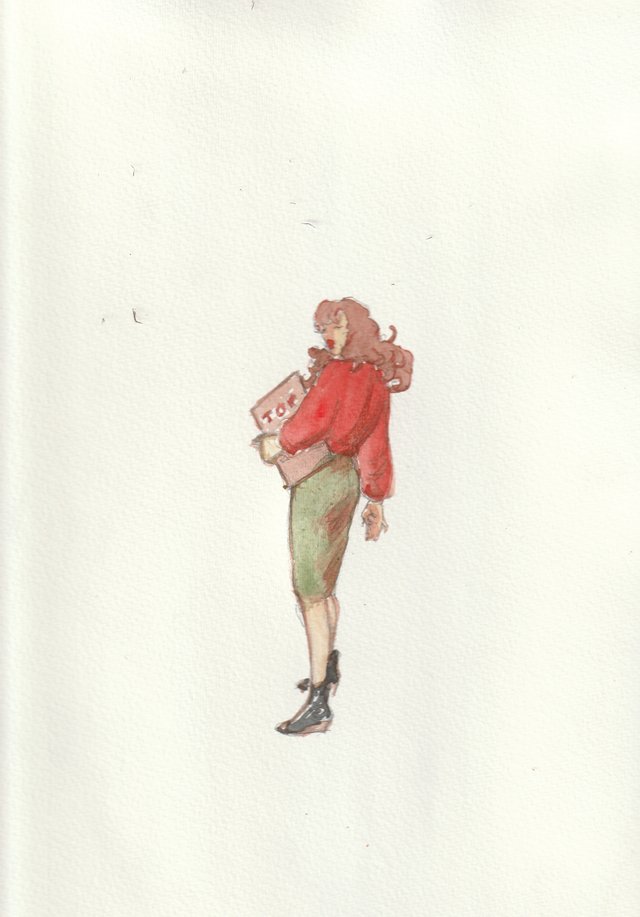 Melissa and her green tweeted skirt
Due to her power, her boss confesses her all his secrets. So she is carrying a folder TopSecret rated.
In honor to Tippy Hedren, I sent Melissa a green Tweeded skirt. Tippy Hedren had one like this while she was shooting fot the birds, this incredible movie where birds went crazy and decided to eat the eyes of the neighbors. Maybe Alfred Hitchcock offered her as he was so in love with her.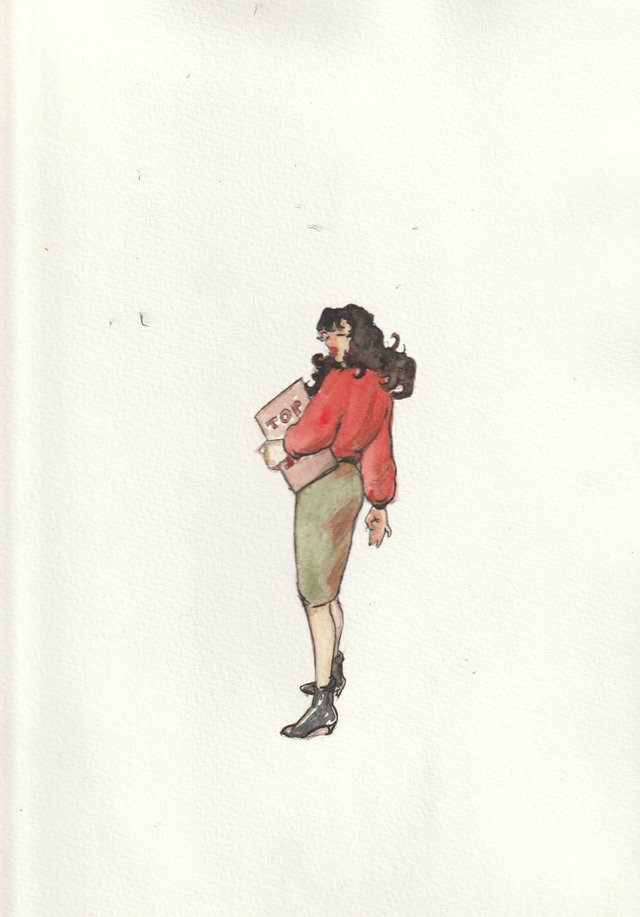 Melissa powerfull
At this point, Melissa was almost sweet and very 60`s maybe Alfred Hitchkock could have gave her a major role, but I decided that she was not going to be blond, sorry Alfred.
So, I took my Pilot Flexible nib fountain pen and turn her hair to dark. I also outlined the figure line. This was more or less the kind of woman I had in mind. But, where is the story?
Next weekend, whe have a major event in my town: Le circuits des remparts of Angouleme which is a car parade and hundreds of old and vintage cars will came just in front of me. I can't miss that! So, I will be dressed like a reporter from the 20's and I will draw as much cars as I can. We will see.
In order to prepare my eye and watercolour for next weekend, I went down to the parking place down my house and practice. I sat down very close to the front side of the car, so I could have a nice wide angle. And began to draw.
I draw this terrific Renault Clio, just to prepare my eye to draw its great great grand fathers and cousins.
FInaly, I decided to put Mellisa next to the car. And now we have a story!
What is going on here? Where is she going? Why her boss does not rise her salary to have a better car?
Who knows...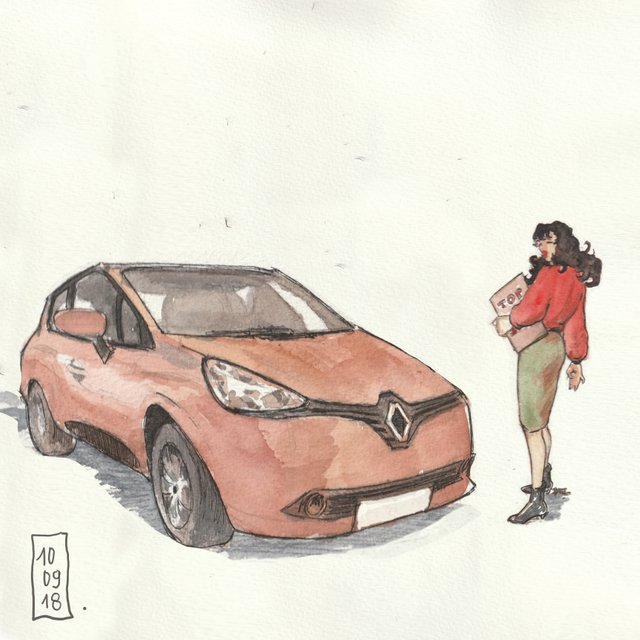 -You know how to whistle don`t you? You just have to put your lips togoether and blow!
Thank you for reading and have fun.