Hello my friends,
This is an excerpt of a big post I am working in. Again, I am focused these days in painting cars in a freehand spherical perspective which gives a beautiful angle. This perspective enhance the beauty of the curved lines of this awesome collecton cars.
I have been travelling around these last week, and I found this awesome Mercedes 170 A from 1953. The owners were a german couple and they were dressed in a fancy vintage styly according to the year of the car.
I begin with an extremely fine line. I need to mentally distort the information that reaches my eyes. This stage of the drawing is extremely delicated and needs tons of concentration. Once I finished it, I need to step back for a while and come again to see my sketch. If I find that everything is correct, and the car can reveal its intrinsic character, then I go to next stage: painting.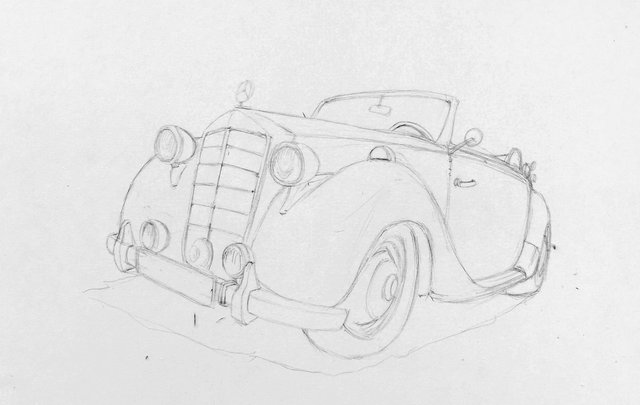 The color of the car was black. Ivory black. As I am very far from Manet or Velazquez, two great painters who mastered black colors, I decided to dive my brush into a mixure of Payne's Gray and black. Just as a recall for watercolorist, Payne's Gray is an extraordinary pigment which can either be used to give some cold shadows strokes or to desaturate other pigment without ruining their initial hue. It's a must in my watercolor palette.
The painting of the car is more complicated. This is a direct painting, with the customer watching you, and it is watercolor, a very wild and anarchic technique. I decided to only give one stroke of brush. So I dive my brush into the palette and tried to do my best. This stroke must reveals same ligtings and the texture of the car. This is extremely hard.
I am not 100% convinced of the final result, but, I am sure this is the correct way to work, some beautiful pencil lines were lost during the process. Fortunatly, I could take a photo of the sketch.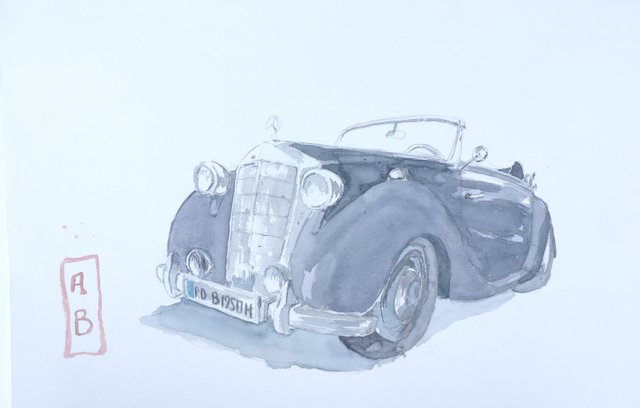 thank you for reading and have fun!