Rare Cars 7 # Closing MgB connection
Hello my friends,
Every day I say: I have to buy my return ticket to France. And everyday I manage a new commission or a new thing happens. Ay ay ay, Athens.. Athens..
Yesterday I delivered to Byron the engaged drawings. The commission was initialy 5 drawings, finally, he got 7 I offered him one, because he is a gentleman, and I love hearing his stories). He has a delicious blog here which I read before going to bed every night. There are plenty of interesting details around classical cars, an incredible passion which links people all around the world. It seems that the Mecca of this activity is located somewhere in England. Byron showed me an incredible workshop which I am egaer to visit. It is called Bicester Heritage. I think it is impossible to find more love density to classical cars than in this place. Take a look at the video, and keep your breath.. pure English hand manufacturers.. and when the Englishmen go pure, be aware to have your shoes clean as if you were a lieutenant of the Bengal Lancers..
Well, before starting a new serial on "Working on Byron Friend's Cars" I would like to close this one with Byron's Mg-MgB. Finally I could not arranged a comfortable price with the guy in Flisvos Marina, so I keep the first Mg MgB for my private collection. But, having choosen to draw this cream Mgb has open me the doors to this amazing man and all his knowledge on beautiful cars.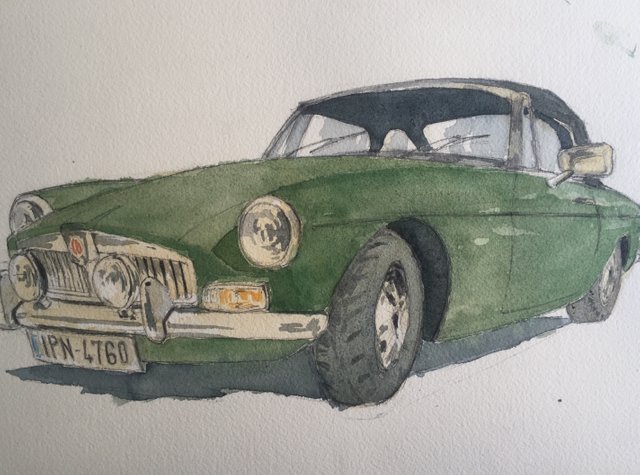 Byron's 1968 MG MGB
New amazing cars to come in the next posts.
Thank you for reading, stay tunned to this account, have fun with a pencil and one day you could also meet your own Byron!