Rare Cars 8# Working on Byron's friends cars
Hello my friends,
Thanks to Byron and his management, most of his colleagues wants me to draw their cars. This is a great new! That means I can keep on researching this nice activity.
More and more I feel comfortable with his Arches 300 gr Watercolor paper. I do not have the compicity I found with Canson's Moulin du Roy, a paper that loves my brushes. But at least, we have sign a kind of Molotov-Von Ribbentrop non - aggression agreement.
In this Mercedes 190 SL from 1954, as usual, I first rendered shades with a soft and light Payne's Gray layer. Before It dries, and in this paper this can take one month and half, I decided to blend this first layer with a mixed of Titanium White and Ocre. Blending watercolors is extremely complicated, so, to avoid,non return mistakes, I have with me a wet brush which helps to define more accuratly the borders. When every single stroke of watercolor is at his correct location, results are extremely rich. This is one of the powers of watercolor: you can get incredible textures just playing around with this "wet over wet" technique.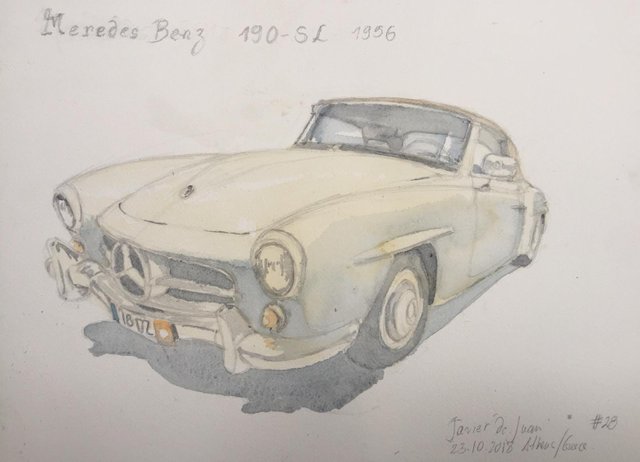 Thank you for reading! More amazing cars to come in the next days. Now, I am taking a break from the cars and hope I will have a nice urban watercolor from Athens to share with you, the oldest capital in Europe, 3700 years of history, the city where everything began.
Have fun with a pencil, draw from observation, be critic with your artwork as your math teacher was with you. One day, the doors of heaven will be opened for you!
regards,
Javier