Smart Trip ICO - Should you invest?
Smart Trip - Revolutionizing travel on the blockchain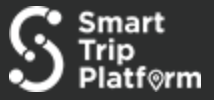 The Smart Trip Platform
One of the big benefits of blockchain technology is that it brings low fee borderless transactions to all its users. So far, we have seen a big part of the cryptocurrency market is purely speculation with a handful of projects now starting to focus on real-world applications. Think of travel for instance - if you're planning to book a trip, you have a plethora of options to choose from, to plan the flights, hotels and activities. Platforms like Booking.com and any other for that matter, tend to charge hotels a 15-20% commission on every booking and you often tend to miss out on traveling to lesser known locations outside of the major hubs where everyone flocks to - further, small hotels, guides and other agencies with lower advertising budgets are unable to reach the travelers.
New paradigm for the travel industry
The Smart Trip platform is one such project which aims to address these issues by bringing travelers and service partners together on a blockchain platform enabling users to plan their trips from scratch - book air tickets, hotels, car rentals, holidays, activities and much more along with a social media functionality that lets you connect with fellow travelers.
Here's a demo snapshot available on the website: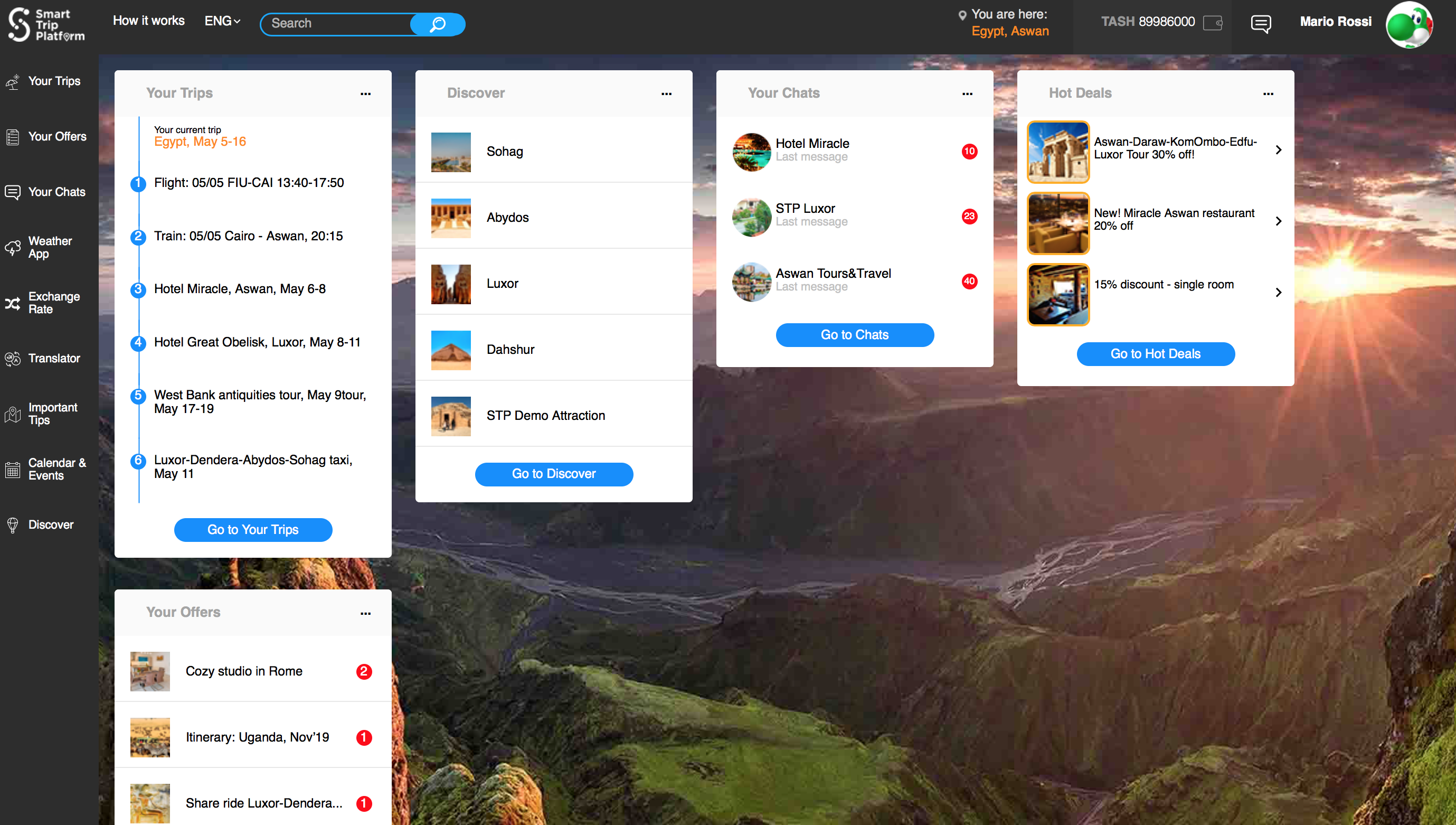 As you can see above, the dashboard provides you a summarized view of the entire itinerary, places of interest, chats with travel agents and hotels, hot deals and various offers in addition to exchange rate info, travel tips, translations (useful in locations where your counterparts may not speak good English) and much more. The project team likens this to a hybrid between facebook and booking.com. As a traveler myself, I think the platform certainly has a strong potential to change the way we travel.
Business model and revenue sources
Membership fees charged to businesses (hotels, car rental companies, tour guides, etc.)
Transaction fees (lower levels to pass on the benefits to travelers and businesses)
Ad revenue (from promotions)
Fees (from Hot deals service)
Conversion fees
Transaction fees on SmartTrip debit cards (future)
Roadmap
TripCash (TASH) will be used for all transactions between users. In the initial stages, payments for integrated outside services (like train and flight bookings) will be made in fiat currency - however, the users will still be able to earn TripCash rewards.
Q2 2018 - ICO and token listing, final version release and development of iOS and Android apps
Q3/Q4 2018 - Platform testing, integration of TASH token and creation of personal crypto wallets
Q1 2019 - Launch of integrated debit cards
By Q4 2018, the platform is expected to be fully operational which is when the extensive marketing campaign will kick-off.
Token Sale Details
ICO Schedule
Pre-ICO 1 - April 16 to May 13, 2018
Pre-ICO 2 - May 14 to June 10, 2018
Main ICO - June 25 to July 22, 2018
Hard cap of USD 25 MN
Max Supply: 5 BN TASH
60% of the tokens will be offered in the crowdsale, 10% will be reserved for team and advisors, 10% for early supporters and bounty and 20% will be part of the reserve fund
60% of the tokens will be used in platform development and implementation, 15% towards marketing, 15% towards operations, 5% each towards legal and security
Links
Read more about the project here:
Summary
For a project like this, a lot depends on execution - I already like how the team has envisioned the platform, key features and benefits of combining social media and travel. But they will need to secure the right partnerships, make the envisioned platform come to life and most importantly bring aboard a large user base. Blockchain technology with a lower fee structure and global user base is bound to attract people to spend their crypto on travel so I suppose adoption should not be a barrier.
I'd love to hear your thoughts on the project. Please share your views on my blog.
Happy investing!