Stop Smoking ( what I wish for xmas from my parents)
Hi Steemit, for a long time now I have  been bugging my mon and dad to stop smoking and they have not listened. They promise that they will but its always an excuse. What should I do? Have you helped any loved ones to stop, how did you go about it?
This might look a little bit Shocking/funny when first see it the picture below of a Spanish cigarette package with labeled warning. And me pretending to smoke  ( I will never smoke ) I just want to use this image to pressure my parents ( who are both on steemit now) to come through with the promise to quit and stop hurting their health.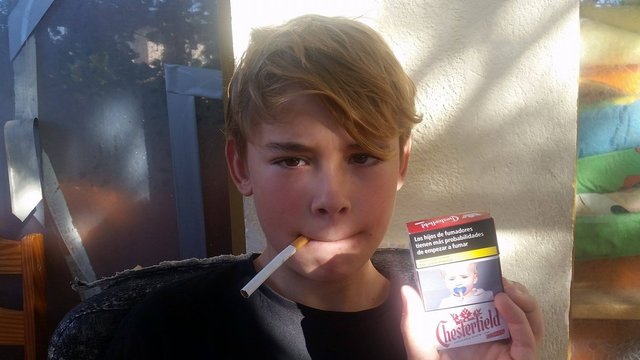 Translated text to English is Children of smokers are more likely to have the same habit.
Wishing all steemians a nice time for the holidays and if you smoke cigarettes please try and quit
If you have a lovely xmas tree and would like to share it with me please do so here :  Show me your xmas tree
Thanks for reading, sharing upvoting and commenting with your ideas and support
This will be my last 100% post for a while, I will be switching to 50-50 after this one to try and earn some steemdollars I want to buy a new laptop for the spring.
Follow @aidancloquell