Part 3 of Our Plan to Onboard the Masses: Smart Media Tokens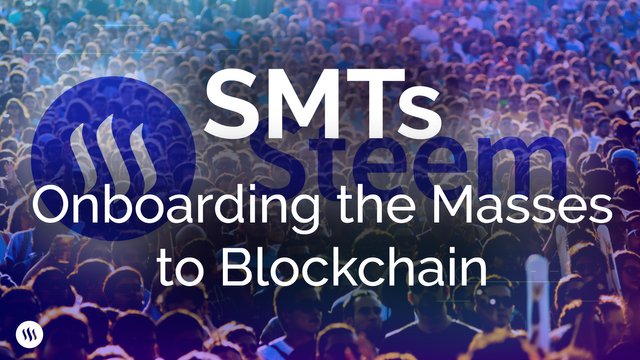 As we explained in Part 2 of Our Plan to Onboard the Masses, we believe the future of blockchain is Communities and you've all probably noticed how "on-trend" the idea of "Community" has become. Every corporation, social media app, and blockchain project is eager to give lip service to their "amazing community" and talk about how they're "all about community." But Steem is the only blockchain ecosystem that puts our money where our mouth is. Literally.
Rewarding Community Members
Despite so many crypto projects claiming to be about community, we are the only major blockchain project that has organized their blockchain protocol around the idea that the vast majority of newly created tokens should be distributed, not to miners or block producers, but to community members.
This is not to say that our approach was without its issues. But the majority of the criticisms are not about whether the blockchain distributes the majority of its new tokens to ordinary users, but how it distributes those tokens to to which users.
There Will Be Bugs
As open source developers, we work under the assumption that every release will have bugs, but by releasing the code to the public and working with our community to produce patches, we can also fix any bug. The question is never whether you can release a perfect product, the question is what problems are you willing to fight to solve.
Have a Stake in Your Technologies
We believe in a future where people have a stake in the technologies they use and we believe that Proof-of-Brain is a critical piece of that future, which is why we continue to fight to make Proof-of-Brain better and better. This is precisely why the Economic Improvement Proposal was added to Hardfork 21 which will occur in 2 short weeks!
Finding Like-Minded People
In our last post we talked about how Steem began as one big community of like-minded people who were passionate about the platform. The STEEM token can be thought of as the "currency" of that community. But that is an inherently limited group. Most people aren't interested in Steem and never will be. They just want to use applications that either entertain them, or help them get their jobs done.
To get those people using Steem, we have to take the lessons we've learned from using this technology to give people ownership over their social information and align their incentivizes, and scale these solutions to satisfy the needs of every community.
Community-Based Value Standards
The problem is that different communities have different ideas of value. Right now STEEM stakeholders (Steem Power holders) determine what has value on Steem. These are people who cared enough about Steem to invest their time, energy, and capital, into the platform. But these are not people who even claim to be good judges of beautiful art or mesmerizing poetry.
It is tyrannical to force one community to conform to the standards of another, and it's even worse to force every community to conform to the standards of one community. So, it should come as no surprise that other online communities have not flocked to the Steem blockchain and steemit.com.
That's why Smart Media Tokens (SMTs) are so important. SMTs will give every community the ability to have their own token which it will use to reward the most valuable contributors based on their own standards.
For these users, the STEEM token will drift into the background. It will be something they might need to power up if they want to perform more activities in their favorite community, or purchase goods inside a game like SteemMonsters.
It will be similar to Gas on Ethereum, except unlike Gas, you will not be paying a fee that you never get back. You will always be able to power down your STEEM and leave the ecosystem if you so choose. This is key to making Steem the best blockchain in the world for powering free-to-use applications.
Why "Smart Media?"
In a way, the name "Smart Media Tokens" is a misnomer. SMTs can be so many things, not the least of which is a "Community Token." But what is SteemMonsters, if not a Community of like-minded people who all enjoy the same game? What business isn't also a Community?
Crypto's Killer-App
If the killer-app of cryptocurrencies is their ability to align the incentives of various people within a group (as we believe it is), then SMTs will be the most advanced, easiest to use, and lowest cost tool for delivering that functionality, ever.
Which is why we're so excited about the protocol, and our recent progress toward making it a reality. We have now completed all the ICO issues and have functional delegation pools. If you'd like to learn more about SMTs, check out the SMT Whitepaper, and be sure to follow @steemitblog for more updates.
The Steemit Team