Everyone loves free Snax
When I signed up to Snax a few weeks ago, there was a bit of a problem with my wallet access so I had to sign up again. It took this time though so that is pretty cool. @svemirac from @crowdmind (one of the block producers and a Steem community witness which hasn't missed a block in 7 months) helped me out a lot to get it up and running, but also asked if I would be interested in distributing some Snax for them.
Hell yeah, sure.
So, this is what I did last night.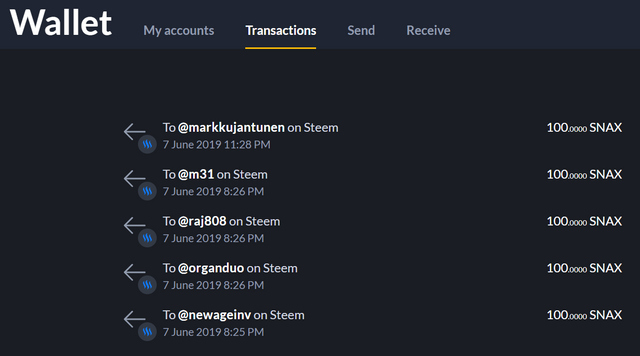 @markkujantunen, @raj808, @m31, @organduo and @newageinv all got a 100 Snax each sent to their Steem accounts.
You don't have to be on Snax to receive them, but to claim them you will have to sign up and create a wallet through https://snax.one/ and to earn them create an account and bind Steem or Twitter to it.
The idea of the token at this point is to be a tokenized layer that can be spread across non-tokenized platforms like twitter and reward users based on their engagement. I have now only been technically signed up a couple of days so I am not sure how the scoring rounds work but, I find the process interesting and one I have spoken about before. I think that having tokenized "skins" is potentially an easy way to tokenize without even needing the platform in question to agree. Pretty funny.
Getting of Snax from me
(oh, this doesn't benefit me at all afaik)
The plan is that over the next 30 days from yesterday, I am going to be selecting 5 people who comment on my posts to get 100 Snax each. The comments I will send to are unlikely to be the "nice post" kind of ones, but I don't care much otherwise as I generally get good comments. Some will go to friends, some will go to people who already have Snax accounts, some will hopefully go to some who don't. The idea is just to spread a few more of these things around and see where it all leads one day.
This means that in total, there will be 15,000 Snax going out from my account over about a month and hopefully people will get on board and have a little fun learning about one of the new use cases for tokenization. Remember that if you are active on Twitter, you are able to bind that account also and earn from both points.
Frequently asked questions
Q: Are Snax worth something?
A: No idea.
Q: Will Snax be worth something one day so I can Lambo?
A: No idea.
Q: What are the technical specifications of Snax?
A: No idea.
Q: Will Taraz choose me?
A: Are you pretty?
So, there you have it. Over the course of the next 29 days, I will be distributing 5x 100 Snax a day to people I think are awesome. I have no other conditions on this and I hope that one day Steem becomes the home of tokenization and crypto innovation and conversation.
Taraz
[ a Steem original ]