I guess comeback is REAL! Got my account linked w/ SNAX -- BOUNTY PROGRAM ON THE RUN 🚀
Well guess who's back guys! It has been a rough 6 months since my very last post here in steemit. Well anyways, Snax is officially now on Steem! time to get some honey from this piece of pie.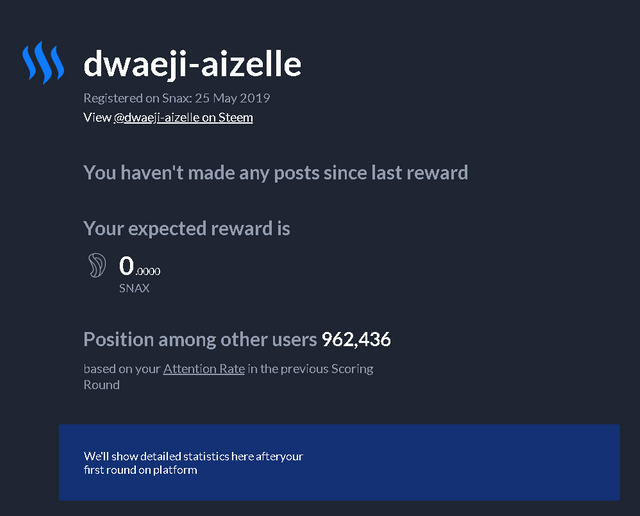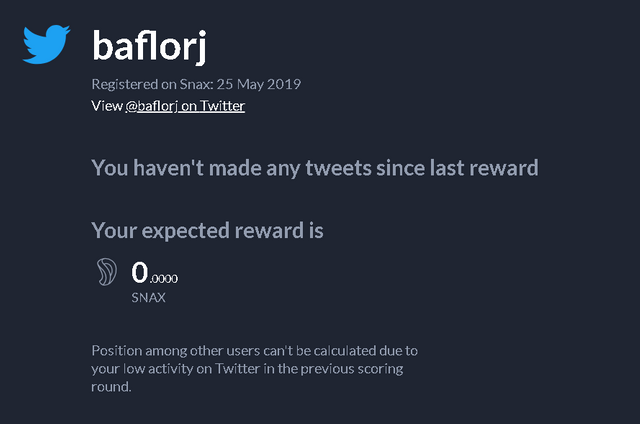 As you can see I already have my own SNAX account, by just linking my steem account and my twitter account, I made a couple of 100 SNAX already.
As far as I know the platform SNAX has a very clever plan indeed of integrating the Steem Blockchain in which it allows the user specifically steem user to earn tokens by simply posting or even sharing contents on steem. But wait here's more, They also made a great breakthrough, they made it possible in social media like twitter too, this can be a great step for the team! So if I were you and with this kind of opportunity, I will be willingly make my self into it, I promise this is a worthy try!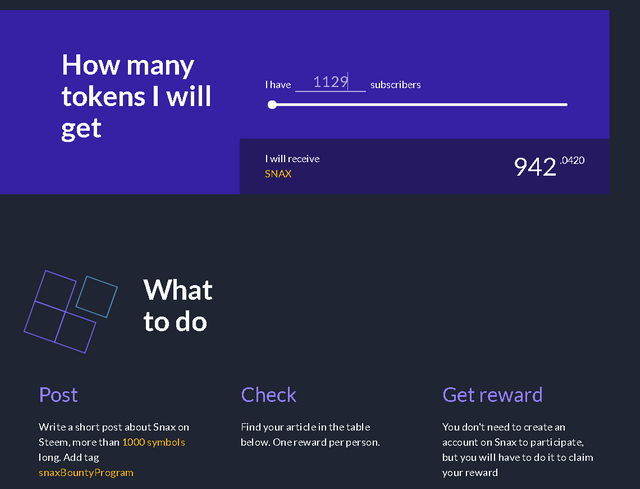 Let's get thing stratight! I am back to blogging because of this jaw dropping Bounty Program, yes you read it right, I also want to promote this to all of my followers and so that I can have my piece of pie from the platform. There are already plenty of steemians out there making their promotional post like this so here I am making mine too. Fun Fact is the more followers you got, the greater your chance of having bunch of tokens from SNAX. Well in my case, since I only have plenty of loyal followers and thanks to them I accumulate promising 942 SNAX Token incoming to my wallet soon. So what are you waiting for? Be part of this great step!
How to join?
Super easy! and Super simple. To be part of this amazing community, You will simply click and link! all you have to do is to link your very own steem account to the Snax Network by doing an auto generated authentication post provided from Snax, and well after that you'll automatically receive free 50 SNAX Token, and by also linking your twitter account you will get another 50 SNAX token as well.
I want to link my Steem account with my account on Snax blockchain using https://snax.one
Please, create Snax account for me!
My authentication hash: b976ea592c2ce87559e2f6228e7b1b8f1dcb715701651de215d154158f868430
That was just an auto generated authentication phrase to post on steemit, you will get yours too from their website. STRICTLY NO EDIT ON TEXTS.
After the clicking and posting, the rewards from the bounty program will be performed by a smart-contract
Rewards will be distributed automatically starting from the date of Steem integration  —  May 14. For posts made after release date, reward will be distributed approximately the day after you post.
For further questions and clarifications, like knowing more about this amazing platform, please don't hesitate to ask on their Discord and you may also visit their Website here