Snax Steem Bounty Program.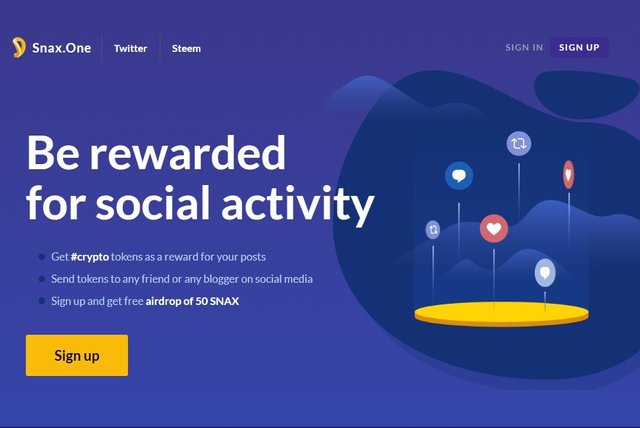 Hey guys. So, i finally got around to creating my SNAX account on here. Well, i didn't exactly create an account today, apparently, i already did in the past and i had linked my Twitter account to it and i got 50 SNAX tokens for it. Yay! This post is for the ongoing Snax bounty for steemians and i'm excited about the collaboration.
Snax is a blockchain-based system that can provide value for any social interaction on any public social platform. Any user, who has an account on Twitter, Reddit, Instagram or any other platform oriented towards the publicity of the posts, can receive SNAX tokens as a reward for their content engagement. It's pretty cool.
Snax provides this value by issuing out the digital social currency called SNAX to social media users. These tokens can only be claimed by creating a free account on the Snax blockchain and linking your social media profiles to the blockchain. Once that is successfully done, users can tip and send these SNAX tokens to other users on any integrated public social media website at zero cost. And the process is as simple as using a smart SNAX browser extension.
Snax Foundation also provides some other interesting features on the web site https://snax.one/. For example, Snax is currently holding a bounty for steem, and there is a slider on the Steembounty page that tells you how much SNAX tokens you may get based on your social weight and subscribers/followers. It also comes with a tool for transferring SNAX to others as swiftly as possible.
Currently, the platform only supports Steem and Twitter, with several other public social media in the works.
If you'd like to participate in this bounty, the steps are easy-peasy.
Create an account at https://snax.one/. Please use chrome or any browser with chrome extensions capabilities. be sure to save your password and your seed words.

Link your steemit account to it. It'll require you to make a short activation post on steemit, which you'll earn 50 SNAX tokens from. Don't worry, this part is simply copy-paste. DO NOT MODIFY THE TEXTS.

Once that is done, you can participate in the special Steem bounty.

Make a post about SNAX. Make sure it's up to 1000 characters long (Not words. Characters. ie: every alphabet should add up to 1000.)

Use the tag #snaxbountyprogram

Done.
For questions and enquiries, please check the team out on Discord at https://discord.gg/qygxJAZ. Also, for more information, please refer to the official Snax links below
Further Research
Whitepaper: https://snax.one/whitepaper.pdf
Twitter: https://twitter.com/SnaxTeam
Steem bounty program: https://snax.one/promo/steem-bounty
Roadmap: https://snax.one/roadmap
Steemit: https://steemit.com/@snaxteam
Medium: https://medium.com/@Snax
This bounty ends on the last day of May. Do it while you can.