Five Things You Can Do This Week to Promote SolarCoin, Quit Your Job, and Do Whatever You Want For the Rest of Your Life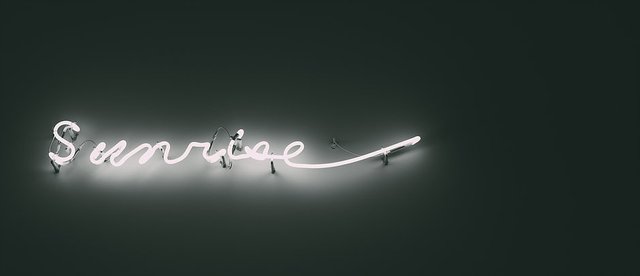 Okay, I apologize for the way that title spiraled out of control, but I am from South Jersey, which means my brain is wired so that something sarcastic has to leave my mouth about every five minutes or so.
But let's be real for a moment. You may have joined #SolarCoin because it's a very cool way to participate in the Global Energy Transition, but you also have a keen interest in its price. With only a little deeper thought, we know these two ideas are not mutually exclusive; as the price of SLR increases, interest in it will increase, and the long-term goal of the Foundation to have a real impact on solar development will be realized. To participate in this mission means you have a vested interest in this.
Before I get into the five things you can do, permit me to take a moment to explain what we are really talking about here. The price of SLR is key to the SolarCoin Foundation's mission. The genius of SLR is that it will increase as more people board, and as strong as that assumption may be, it isn't enough to make this project work. We know that a currency has value because a critical mass of people perceive that it has value. (For more theory on that last sentence, read The Nature of Value by one of our esteemed founders, Nick Gogerty.) The technological design of SolarCoin, like any other blockchain project and corresponding token or coin is obviously the most important part of its success, but we the members of the Community can play a tremendous role in the human side. As I write this, there is a debate happening about whether or not market cap is a valid indicator of a cryptocurrency's strength. At the same time, most coin sites rank currencies by factoring community along with liquidity and development activity. For anyone that is new to this world, our social activity, from writing and upvoting Steemit articles to liking facebook posts, has an impact on the global perception of SolarCoin. But what about the old fashioned social activity that we abandoned when we bought our first smart phones? (Sarcasm?) If we really want this mission to succeed, we also ought to be thinking about our own neighbors, and building community around solar and SolarCoin in our own backyards.
These five ideas are not necessarily complete, but they offer a grassroots plan to participate in a very powerful way in the SolarCoin mission. I write this more as a discussion starter than a finished article. I am in the process of working out my own marketing plan, and I encourage anyone to share ideas. Ideally, if we are really connected on this, we will begin to stumble upon best practices, for things like, say, how to tell your next door neighbor about SLR without his eyes glazing over in 5 seconds. Or much bigger, how to get someone at your local utility to respond to a cold email. What works for a member in Buenos Aires might be the key to success for someone in Boise. Let's give this a try.
1. Use Social Networking as a Tool
I am amazed at how many people seem to misunderstand the true role of social networking in the world today. As a communication professor, I often lead students in group projects that involve some sort of public promotion. I have come to expect when I mention facebook to a room full of 20-somethings that I will get a bunch of groans. College students don't want to admit they use facebook (but some have told me most still do). But the real intrigue is that for all we might assume about people born in the digital age, in general they think social networking apps are really just about socializing with friends, as opposed to powerful marketing tools that work so well because people think they are just socializing with friends. But communication majors are fairly quick to make the adjustment in their thinking, and when they design a campaign that links all their instagram, twitter, snapchat, and, yes, facebook accounts, they realize the power very quickly.
What does this have to do with you? As member of this community you have the ability (although I'd like to be a little more forceful and argue responsibility) to use the tools that are readily available. The SolarCoin Foundation has done a good job setting up a website, along with twitter, facebook and slack entities. The number one thing you need to do right now is join or follow those entities. The very next thing you need to do is like, retweet, and/or comment on posts, especially in facebook and twitter. This is a ridiculously easy way that you will impact the perception, and therefore price, or SLR. There are currently 2,530 members of the facebook group, and 5,806 people following the twitter handle. If you are on twitter, and haven't yet joined the facebook page, please do us all the obvious favor. It doesn't matter if you hate facebook and don't want to use it (aside from not liking posts, but at least you would be counted in the membership.)
2. Develop a 1-Sentence Sell, and a 30-Second Sell (Elevator Speech)
This is basic marketing, and something that if you haven't used already in some capacity might be something you will appreciate reading about it here. Think of the last time you cared about something and wished you could get someone else to pay attention to it. A song that is currently causing your brain to explode. A book that everyone in the world absolutely has to stop doing everything to read right now. Or . . . SolarCoin! In real life, you usually have about a half a second to get someone to listen to you, probably less if it involves anything brand new or technical. My wife told me that simply hearing the words blockchain or cryptocurrency cause her brain to literally shut down for a few seconds. Don't be arrogant here, as such a sentiment will kill your ability to reach new people. The goal to is gently let everyone in your circle know, at some point in the near future, that there is this really exciting thing happening that might catapult our transition to sustainable energy. The 1-sentence sell is like the thesis statement that you may have learned about in school. It is a single, simple, declarative sentence that works as an umbrella for any additional support to come after. Some examples:
The government is rolling back incentives for people to install solar, but there is a cool organization that's working to replace them.
I started doing some volunteer work for an international NGO.
Now that you have solar, have you thought about getting involved in promoting it locally, or even globally?
Have you heard of SolarCoin? It's a cash reward that anyone who produces can get, no strings attached.
The 30-second sell, or elevator speech, is simply a continuation of the thesis. It would be really awesome if members from around the world would share ideas on these statements that have worked for them. It is such a simple idea, but when you go from thousands of isolated people experimenting on their own, and sometimes stumbling onto a good approach, to those good approaches being shared and catalogued so others can try them at will, you then have a powerful, decentralized marketing strategy. I started a sub-channel on our Slack called local_promo_strategy where I invite anyone to share ideas along these lines.
The 1-sentence and 30-second sells are something that really work well in organizations. I once did some consulting with the admissions department of a tiny, women-only liberal arts college that had to fight tooth and nail to attract new students. The young recruiters that fanned out to high schools all over the region and beyond were enthusiastic, bright, and knowledgeable. When I asked them how they opened up conversations with their prospects, their responses were great, and almost made me wish I could be born again as a girl and go to their school. However, there was no connection between them. As representatives of the school, they were all making it up on the fly. We spent some time sharing their tried and true approaches, and the effect was amazing. All of them were good at their job, and they each had solid statements they had crafted for weeks or months, but by sharing them they got the idea very quickly and began a next level of tweaking them. They also created a shared document where they regularly recorded specific examples of statements that worked to engage their prospects in meaningful exchanges. They went from winging it, to a sophisticated collaboration on best practices. Although we didn't have the word or concept at the time, I believe this gamified their work a little, and it made their jobs more fun. But it didn't stop there. Once they had a fairly firm set of quality statements, those statements went right into the training provided to new employees, which helped them get up to speed much more quickly.
3. Develop a Local Community of Solar Home and Business Owners
I installed solar on my home about four years ago, and by the time the project was complete I wanted to do everything I could to help other people make the decision. Over the years I have spoken to lots of neighbors and friends about solar, and a few have actually gone ahead with their own installations. But when I more or less exhausted all of those people, I suddenly felt kind of futile. I knew there were people all over my region who were interested, but how could I know who? Enter SolarCoin! I now see a huge potential for using SolarCoin as means of identifying more people who might just need a little nudge. I live in South Jersey, as I noted above, and it is the US state with the second largest amount of solar production, behind only California. You see solar arrays everywhere you go, and there are more small businesses with solar than any other place I have been.
Create a local Solar Home/Business Owners facebook page and twitter handle (you could also set up a website, and there are plenty of free options).
Try to post at least one interesting article or idea on facebook/twitter each day, or every few days, including regular posts related to SolarCoin.
Invite local installers to join your group, and encourage them to invite their customers.
4. Develop a Super-Local Marketing Strategy
Number 3 will only get you so far, as it is difficult to attract people to social networking entities without a prior event or face-to-face interaction. The idea here is that you may have a very hard time not only finding new people who might be interested in solar, but by bringing existing solar owners into an online community, you can then encourage them to talk to their friends and neighbors. This might take some time, but a quick search of local solar facebook groups will show you that people are interested in connecting in such a way. Here is the plan I've been chipping away at for a couple of weeks.
Make up cheap flyers or postcards advertising SolarCoin and your facebook page (flyers can include your name and wallet address in case someone thinks to name you as a reference if they sign up).
Keep a stack of flyers or postcards with you, in a backpack, in the car, etc, and stick them in the mailbox every time you see a home with solar panels.
Use google maps to easily spot homes with panels, make a list of addresses, and spend an hour or two driving around delivering flyers/postcards.
Work in an ever-widening radius from your own home, and then . . .
Identify businesses with solar in your region, and mail postcards to them. Consider following up a few days later with emails or even phone calls (I know, very old-fashioned of me).
Consider offering a program at your local library where you can answer questions about going solar.
5. Learn and Share; Join the Slack Channel!
My last idea, for now, is to take an active interest in learning more about what is going on. There are many different facets of the solar world that SolarCoin is existing in right now. I suggest picking a specific area. For example, the development of technology that will support a global energy exchange. Read about it, and share the most relevant articles you find with the rest of the community. Perhaps before you can decide on your topic, you might need to just scour what other people are posting, but I can assure you, there are plenty of areas that are not really being touched.
If you end up finding a niche with your topic, add a sub-channel to the Slack channel and see if others want to go there with you. Or at least use the sub-channel as place to store info for others to access. The more you learn about this world of solar, the more you will end up connecting with other people about solar, and you may find new and creative ways to broach the subject with all those friends and neighbors, or the random business that contacts you because you sent them a postcard.
In conclusion, the whole point I am hoping I've made clearly here is that we can all participate in the perception of SolarCoin. We are a global community, connected by a simple, yet powerful idea. With a little bit of coordination, mainly by being active on the social networking channels, and sharing ideas on what works in our own conversations, we can no doubt increase our influence. If every person collecting SolarCoin today took one or two of these ideas seriously, we just might blow SLR to the moon and actually be able to quit our jobs in a few months!
Well, it never hurts to have a dream.