SPACE-IZ - REVOLUTIONIZING THE REAL ESTATE SECTOR THROUGH CRYPTO.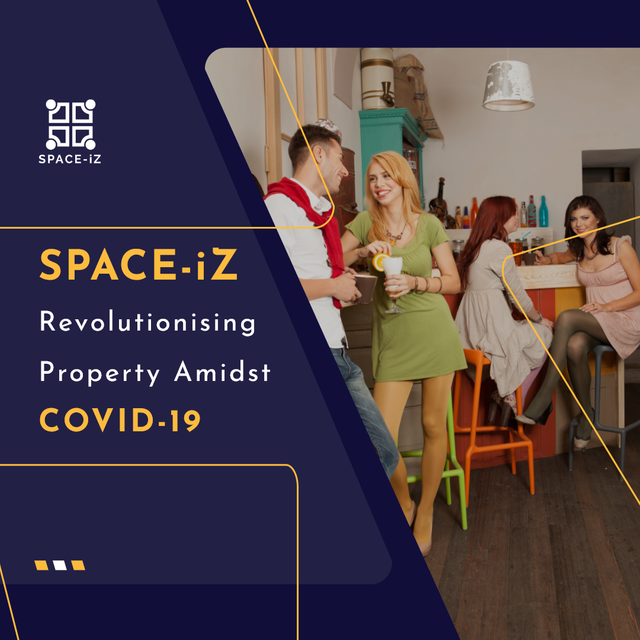 The hospitality sector plays an immense role in improving the quality of life of the global population,this is reflective on its contribution of providing comfortable spaces and accommodations for clients either for work,relaxation,or a mere change of scenery.
Technological advancement, which brought about the concept of blockchain and cryptocurrency usage has fuelled individuals' desire to enjoy the seamless style of living,especially when it has to do with acquiring spaces and renting properties within the globe and more specifically, for the members of the crypto community who wish to co-live/co-work.
Unfortunately, locating comfortable spaces around the globe has been quite difficult due to an unavailability of platforms where property owners could list their properties and clients can locate spaces that best suits their unique needs,meanwhile, the available platforms are quite centralized and do not meet the needs of users.
How about a platform that connects individuals to the most comfortable, low cost and crypto supported spaces?
MEET SPACE-IZ - GUARANTEEING OPTIMAL BENEFITS FOR PROPERTY OWNERS AND TENANTS.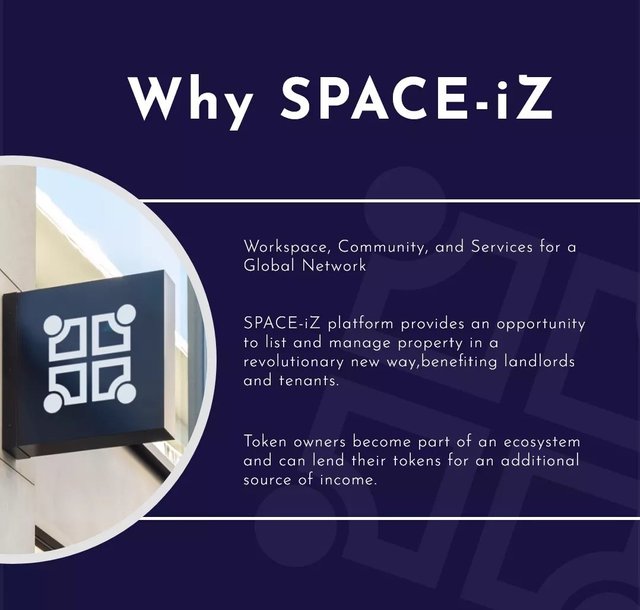 SPACE-IZ is a decentralized platform uniquely developed off the blockchain technology and smart contracts to connect individuals to various professional and private spaces.
This platform is designed to attract both property owners and individuals who have interest in the co-work/co-live and short-let dormain.
On this platform, all available spaces will compete fiercely in this swift growing real estate sector.
For work space, community and to proffer beneficial services for the global network, SPACE-IZ proposes an opportunity to list and manage properties in a rather revolutionary fashion so that property owners as well as tenants would benefit optimally and have the best experience on the platform.For more information, visit...https://space-iz.com/
SPIZ TOKEN
A huge component of this amazing platform is its unique cryptocurrency, the SPIZ token.
In order to facilitate transactions within the space-iz ecosystem,the SPIZ token was developed. It is the native currency of this platform which gives users access to explore the features and perks embodied in the system.
Individuals who possess tokens become stakeholders and part of the ecosystem and by lending their token accumulate more income for themselves.
HOW DOES THIS TOKEN FUNCTION?
In order to have the best experience on this platform, the token is an invaluable aspect for this purpose to be achieved.
Active participation in the platform's IEO(Initial Exchange Offering), presents an individual a slot to become a valid member of the space-iz ecosystem.He receives SPIZ tokens which gives him access to the features and benefits of the platform

These tokens make it possible for the platform to provide co-work/co-live spaces at preferential rate for token holders.

Users can seamlessly and electronically lend out their tokens in the system and make benefits.

With the smart contracts, transactions, payments and transfers of the SPIZ token from one point to another is executed securely without any fear of loss or fraudulence.
CONCLUSION
Due to the centralization of platforms where individuals can locate spaces to co-live/co-work or let for a certain period of time, it has been quite difficult for the crypto community to access rentals and acquire its desirable spaces until the creation of SPACE-IZ. A platform that connects people to both private and professional spaces.
By leveraging the immutable blockchain technology and smart contracts,SPACE-IZ, by deploying SPIZ token, offers optimal benefits and a great experience for members within the ecosystem, with its adoption,it will improve the standard of living and drive the adoption of cryptocurrency further into the real estate sector.
USEFUL LINKS
Website: https://space-iz.com/
Whitepaper: https://space-iz.com/get-whitepaper.html
Telegram: https://t.me/spaceiz1
Twitter: https://twitter.com/Space_IZ1
Facebook: https://www.facebook.com/SpaceIZ1/
Youtube: https://www.youtube.com/channel/UCrlkowlYO5tUA478zfflhJA
AUTHORS DETAILS
Bitcointalk Username- Devotea
Bitcointalk Profile link- https://bitcointalk.org/index.php?action=profile;u=2767689;sa=summary