Hechos Criollos- Revolución Legalista- Español Ingles
HECHOS HISTORICOS DE VENEZUELA CRIOLLOS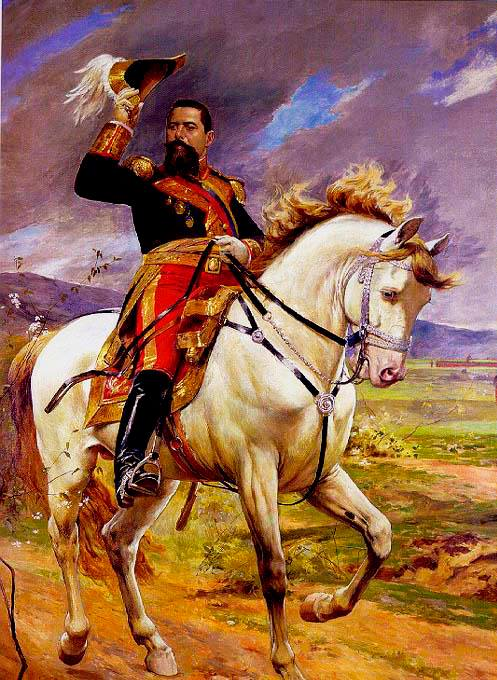 Fuente Imagen.
(Este retrato ecuestre del caudillo guariqueño Joaquín Crespo, es un regalo que le hiciera el gran pintor valenciano Arturo Michelena en agradecimiento al presidente).
(This equestrian portrait of the caudillo from Guarín, Joaquín Crespo, is a gift from the great Valencian painter Arturo Michelena in gratitude to the president)
La Revolución Legalista fue un levantamiento armado liderado por Joaquín Crespo, en contra del presidente Raimundo Andueza Palacio, quien pretendía modificar la constitución para prolongar su estadía en el poder. El 11 de marzo de 1892, al mando de 10 mil hombres, Crespo inicia su campaña hacia Caracas, desde el Totumo, en Guárico.
The Legalist Revolution was an armed uprising led by Joaquín Crespo, against President Raimundo Andueza Palacio, who sought to modify the constitution to prolong his stay in power. On March 11, 1892, commanded by 10 thousand men, Crespo began his campaign to Caracas, from the Totumo, in Guárico.
En apenas siete meses, tras rápidas victorias, Crespo entra en Caracas (6 de octubre) y toma la Presidencia de la República, gobernando por 5 años.
In just seven months, after quick victories, Crespo enters Caracas (October 6) and takes the Presidency of the Republic, ruling for 5 years.
Fue asesinado en La Mata Carmelera, supuestamente por el guerrillero Maisanta Joaquín. Crespo fue el último hombre fuerte del Liberalismo Amarillo, y su muerte significó un cambio en los esquemas del país, que daría origen a la llegada de los Andinos al poder. Este es un Hecho Criollo.
He was killed in La Mata Carmelera, allegedly by the guerrilla Maisanta. Joaquín Crespo was the last strong man of the Yellow Liberalism, and his death meant a change in the schemes of the country, which would give rise to the arrival of the Andean to power. This is a Creole Fact.


Apoyemos el trabajo de @cervantes como #Witness en esta página:
https://steemit.com/~witnesses
#cervantes
#cervantespost