Genio Atrapada / Trapped Genius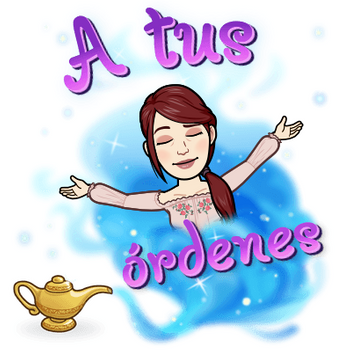 ✨✨✨✨✨✨✨✨✨✨✨✨✨✨✨✨✨✨✨✨✨✨✨✨✨✨✨✨

Un alma complaciente
fabricó para ella una botella,
para que tal como un genio,
pudiera un día ser descubierta.
Esperó y esperó
a que su amo la encontrara,
y de tanto esperar
su luz se empezó a apagar.
Allí dentro pasan las horas,
días, noches y años;
con sorpresa va entendiendo,
que no puede salir ni queriendo.

---

✨✨✨✨✨✨✨✨✨✨✨✨✨✨✨✨✨✨✨✨✨✨✨✨✨✨✨✨

A complacent soul
made a bottle for her,
so that just like a genius,
could one day be discovered.
He waited and waited
that her master found her,
and from waiting so long
his light started to go out.
Hours go by in there,
days, nights and years;
with surprise she has understands,
that she can't get out of there,
even if she wants to.

---

✨✨✨✨✨✨✨✨✨✨✨✨✨✨✨✨✨✨✨✨✨✨✨✨✨✨✨✨

No soy muy buena con el inglés, así que me apoyé con la ayuda del traductor deepl. El emoji fue personalizado con la aplicación Bitmoji.
I am not very good with English, however I supported myself with the help of the Google translator. The emoji was customized with the Bitmoji application.