Prezentacja Versicolor. Versicolor prezentation.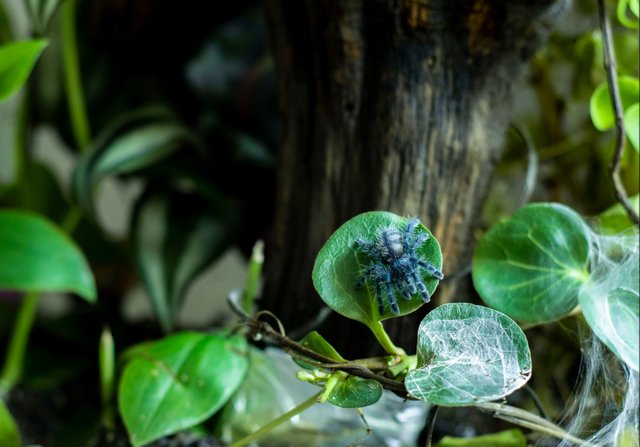 ---
Caribena versicolor jest to bardzo piękny ptasznik za młodu niebieski jak na zdjęciach 😍wraz z dorastaniem nabiera rudych kolorów i wygląda jeszcze ładniej. Żyje trybem nocnym ale wcale jej nie przeszkadza dzienny spacer po terrarium. Zazwyczaj prześladuje w swoim gnieździe które jest naprawdę solidną i skomplikowaną architekturą, która często jej pomaga w zdobywaniu pożywienia. Caribena jest ciekawym ptasznikiem z słabym jadem ale za to nadrabia stoją szybkością i skocznoscia 😂 ale najbardziej zaskakujący fakt to taki że ten pająk potrafi pływać! :O Tak dokładnie on potrafi pływać, może nie jak sportowiec ale daje rady. W naturalnych warunkach jest to naprawdę przydatna umiejętność.
ENG:
Cariben versicolor is a very beautiful tarantula at the young blue as in the pictures 😍with growing up, it acquires red colors and looks even nicer. He lives in the night mode but he does not mind the daily walk around the terrarium. He usually persecutes in his nest which is really solid and complicated architecture, which often helps her in getting food. Caribena is an interesting tarantula with weak venom but it makes up for it with speed and jumpiness 😂 but the most surprising fact is that this spider can swim! :O That's exactly he can swim, maybe not like an athlete but he gives advice. In natural conditions it is a really useful skill.
Your fear is my passion!
See you soon.
---