Spinbot Announcement: Introducing Referrals and Digestion!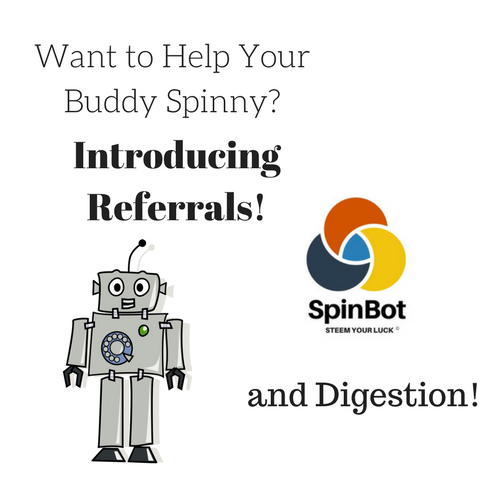 Firstly, we would like to thank you for supporting our project. Without you, Spinny would be a sad and lonely bot!
We'd like to tell you about two exciting developments in the @spinbot project.
Spinbot has made a lot of progress in the past few weeks and has helped a lot of minnows too! One new feature thats been added to Spinny's playbook is referrals!
Want to earn free SpinCredits? All you need is a friend who is not yet a friend of Spinny. He should send SBD or STEEM to @spinbot and use your Steem account name in the memo field!
For you to earn SpinCredits, a new user should add your username with "@" in the memo field when enlisting. (@username)
Enjoy earning free credits for @spinbot!
Did You Know Spinny has a Rumbling Belly?
It is hard work running around up-voting you guys all the time! Spinny can't run on air alone, he is a little hungry fellow and although we all have been feeding him regularly, the food can't remain in his belly forever. It's exhausting work showing all that love to his friends. His belly is rumbling as the fuel burns and he is now digesting 0.2 SpinCredits per day.
He made a promise that he will always remember you and that promise will be kept! Spinny will not digest the food users have given him, once their balance reaches one SpinCredit.
Spinny will always remember you and that is a fact you can count on!
Visit us on the Web!
1.) Go to www.Spinbot.io for general information.
2.) To check your status as one of Spinny's friends, enter the following URL:
http://www.spinbot.io/username (The username is your steem account name)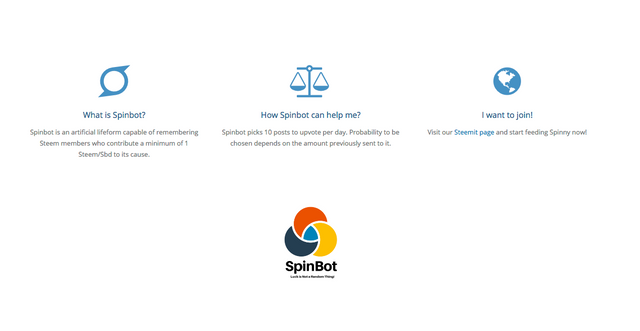 For those of you that don't know what @spinbot is yet, there are some amazing new reviews about our service!
We would like to personally thank @buzzbeergeek for this outstanding review of our little Spinny!
https://steemit.com/steemit/@buzzbeergeek/review-of-spinbot-a-new-kind-of-voting-bot
We like to describe Spinny as an artificial lifeform spreading happiness in the form of up-votes. To join the revolution simply send a minimum of 1STEEM or 1SBD to @spinbot to gain a place in Spinny's heart.
Every user who sends 1 STEEM or SBD to @spinbot will be remembered forever and earns a chance to randomly receive one of 10 Spinny upvotes per day.
---
What can Spinbot do for you?!
| What? | Currency | Advantages |
| --- | --- | --- |
| Upvote Posts | SBD / STEEM | Earn a higher percentage chance of upvote based on total Steem investment. |
| Comment on Posts | FREE | Promote your blog when Spinny upvotes on other people's posts |
---
CURRENT PARAMETERS:
| Parameter | Value | Remarks |
| --- | --- | --- |
| Minimum Feeding Amount | 1 STEEM / 1 SBD | Minimum STEEM / SBD you can send to @spinbot to be remembered |
| Daily Feeding Limits | 1-10STEEM or 1-10SBD | Maximum STEEM / SBD limit you can send to @spinbot is 10STEEM / 10SBD per day |
| Chance of gaining upvote | 10 Random Votes Per Day | Chance of Upvote depends on the amount of STEEM you have fed Spinny with. Two days per week Spinny ignores the amount it has been fed (assuming user has fed him a minimum of 1 STEEM or SBD) and votes randomly regardless of total amount sent. |
---
Provide us with feedback
We are happy to hear your thoughts!
Join our Discord chat
Get support, promote your posts, and connect with many Spinny's fans!