Spinbot Update : Discord Bot Launched!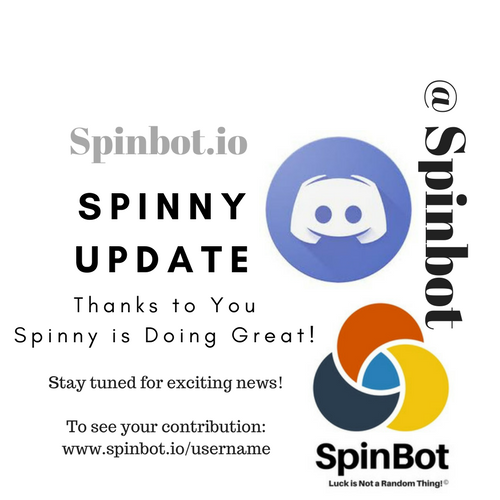 Firstly, we would like to thank you for supporting our project. Without you, Spinny would be a sad and lonely bot!
We'd like to tell you about a brand new feature for the @spinbot project.
Spinny has advanced and now has a brand new presence on SpinnyChat our Discord server.
Spinbot is now a discord bot in addition to a Steem blockchain entity.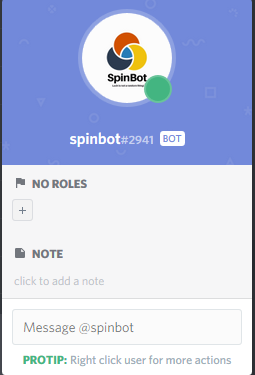 ---
Spinbot (The discord bot) can give you important information about registration, recent winners and the overall number of Spinny's friends using the following features:
1.) $winner - This command prompts Spinny to remind you of the most recent user to receive Spinny's affection in the form of an upvote.
2.) $count - This command prompts Spinny to tell you how many registered users have fed him in total.
3.) $username - This command will result in Spinny telling you how many Spinbot credits you have (Spinbot credits are earned by feeding Spinny SBD or Steem)
Check out the new discord bot today here:


Spinny is now more transparent than ever. Our community has requested these features and here they are! Without friends, we wouldn't be where we are today and for that we thank you.
---
Visit us on the Web!
1.) Go to www.Spinbot.io for general information.
2.) To check your status as one of Spinny's friends, enter the following URL:
http://www.spinbot.io/username (The username is your steem account name)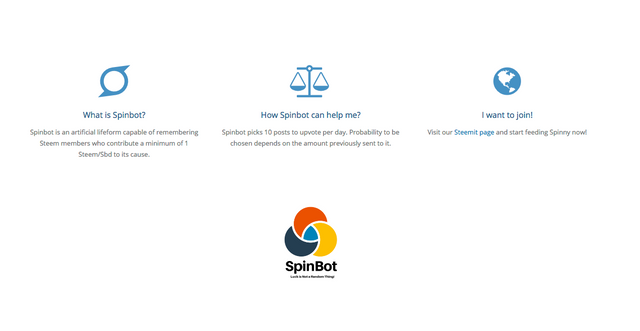 For those of you that don't know what @spinbot is yet, there are some amazing new reviews about our service!
We would like to personally thank @buzzbeergeek for this outstanding review of our little Spinny!
https://steemit.com/steemit/@buzzbeergeek/review-of-spinbot-a-new-kind-of-voting-bot
We like to describe Spinny as an artificial lifeform spreading happiness in the form of up-votes. To join the revolution simply send a minimum of 1STEEM or 1SBD to @spinbot to gain a place in Spinny's heart.
Every user who sends 1 STEEM or SBD to @spinbot will be remembered forever and earns a chance to randomly receive one of 10 Spinny upvotes per day.
---
What can Spinbot do for you?!
| What? | Currency | Advantages |
| --- | --- | --- |
| Upvote Posts | SBD / STEEM | Earn a higher percentage chance of upvote based on total Steem investment. |
| Comment on Posts | FREE | Promote your blog when Spinny upvotes on other people's posts |
---
CURRENT PARAMETERS:
| Parameter | Value | Remarks |
| --- | --- | --- |
| Minimum Feeding Amount | 1 STEEM / 1 SBD | Minimum STEEM / SBD you can send to @spinbot to be remembered |
| Daily Feeding Limits | 1-10STEEM or 1-10SBD | Maximum STEEM / SBD limit you can send to @spinbot is 10STEEM / 10SBD per day |
| Chance of gaining upvote | 10 Random Votes Per Day | Chance of Upvote depends on the amount of STEEM you have fed Spinny with. Two days per week Spinny ignores the amount it has been fed (assuming user has fed him a minimum of 1 STEEM or SBD) and votes randomly regardless of total amount sent. |
---
Provide us with feedback
We are happy to hear your thoughts!
Join our Discord chat
Get support, promote your posts, and connect with many Spinny's fans!