The spiritual life: "Now faith is confidence in what we hope for and assurance about what we do not see", Hebrews 11:1
The epistle to the Hebrews is attributed to Paul of Tarsus, in it the author of the epistle describes in what consists the theological virtue of faith: "Now faith is confidence is what we hope for and assurance about what we do not see. This is what the ancients were commended for.
By faith we understand that the universe was formed at God's command, so that what is seen was not made out of what was visible." Hebrews 11:1-3
The epistle explains that faith is united with the theological virtue of hope: "faith is confidence in what we hope". The hope is the security to inherit the eternal life: "This is the eternal life that they know you the only true God", John 17:3.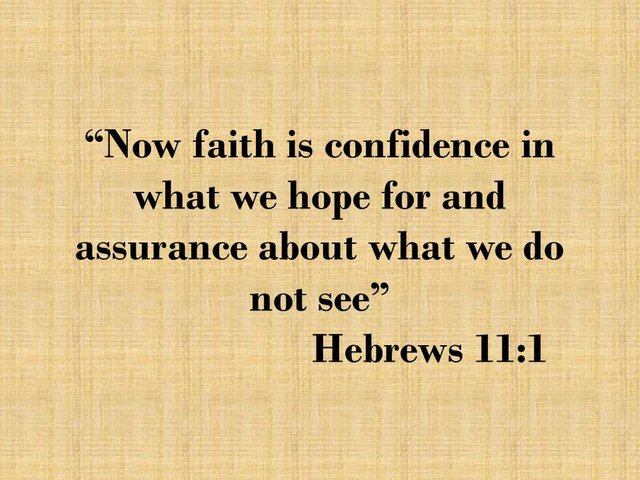 Although formally the fathers of the church (Thomas Aquinas and Saint Augustine) define faith as accepting the creed: "I believe in one God, Almighty Father. Creator of heaven and earth, of everything visible and invisible..."; faith is a certainty about divine and invisible realities: "For since the creation of the world God's invisible qualities - his eternal power and divine nature - have been clearly seen being understood from what has been made", Romans 1:20
This certainty in what is not seen, Paul explains, is what led the prophets in the Old Testament from Abraham to Moses: "By faith Abraham, when called to go to a place he would later receive as his inheritance, obeyed and went, even though he did not know where he was going." Hebrews 11:8; "By faith Moses' parents hid him for three months after he was born, because they saw he was no ordinary child, and they were not afraid of the king's edict" Hebrews 11:23
In other words, faith is man's response to God's providence: "Oh Father, you rule everything with Providence", Book of Wisdom 14:3
This developing of spiritual faith is perfected in Jesus: "fixing our eyes on Jesus, the pioneer and perfecter of faith." Hebrews 12:2.
Because it is Jesus who reveals to us the mysteries of the kingdom of God: "No one can see the kingdom of God unless they are born again", John 3:3
For more information visit my profile, follow the link and download for free my ebook.