UNTAMED Card Design: Death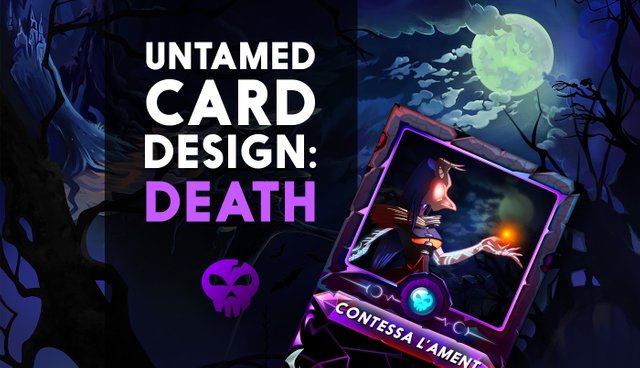 So I'm neck deep in Untamed card design.
We're finishing up what's left in adding the ZING. What's ZING? ZING, my friend, is the extra polish that says "we're not in Beta anymore". It's the secret sauce that tells the world "you better watch out...we mean business!"
Alpha was about tossin' stuff at the wall to see what sticks. Beta was putting all the pieces together. Making things functional.
Untamed? Untamed is the beginning of a NEW AGE.
For the past couple of weeks, I've been putting chocolate and peanut butter together. We've got the new card frames. We've got amazing new artwork that is being further enhanced with color improvements and effects. When it all gets merged together, it looks friggin' UH-mazing.
Our Lore Masters @chrisroberts and @carrieallen have birthed amazing character concepts that have depth and personality. Our artists have pushed themselves to create stylized artwork that exceeds anything we've produced previously. Every aspect of every stage of production has been further refined to give our loyal players an elevated and exciting experience.
I figured that throughout the Kickstarter campaign (https://www.kickstarter.com/projects/526764488/splinterlands-untamed-a-blockchain-trading-card-game), I would offer a taste of what each Splinter will look like in the upcoming new card set known as UNTAMED.
Sorry, no STATs. We're just talkin' aesthetics and design.
So let's start with the new Death card. Here's the evolution of one card frame to the next: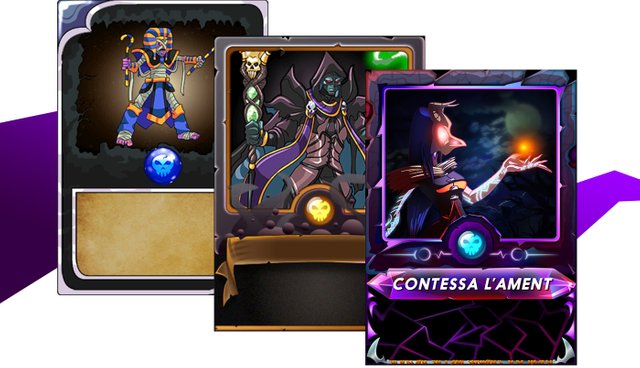 We wanted the new frames to feel wild...tribal...intense...infused with primal energy and ready to unleash monstrous power. These frames have seen battle and have become stronger for it.
The characters within have been carefully detailed with a specific artistic vision. Each has a story to tell, and we want you to imagine the story unfolding as a graphic novel, an animated feature film, or an immersive campaign module. Unlike most other "card games", Splinterlands is working to create layers of gameplay that will pull you into a rich and vibrant world where the characters are more than just art on the card.
Contessa L'ament is one of my favorites.
Every so often, I'll pick a favorite character from a different splinter and toss you a card frame preview to whet your appetite for things to come.
As an added bonus, I'll try to throw in a "wallpaper" of the selected character. I expect everyone to have Splinterlands wallpapers and screensavers on their computer by the end of the Kickstarter!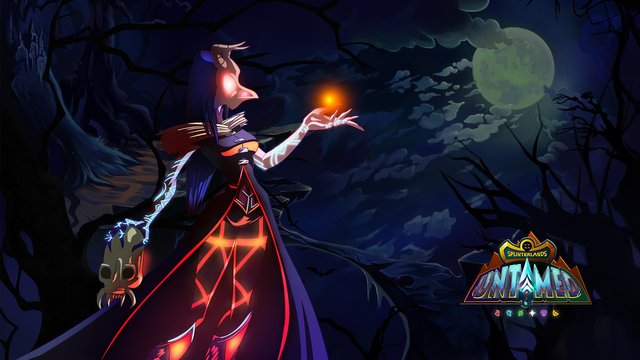 PLEASE NOTE: Any all names, designs, artwork, or concepts are subject to change at any time.