Splinterlands Rewind: Splinterlands OpenSea Auction
Splinterlands Rewind
Welcome to Splinterlands Rewind, in this series of topics we will look back at some of the key moments in Splinterlands short but exciting history.
In our first installment of Splinterlands Rewind we will take a look at the Open Sea auction that left one lucky Splinterlands player owning a Max Level Gold Foil Selenia Sky of the Alpha variant.
What is a Gold Foil Selenia Sky?
It's one of the most popular cards in the game known as Splinterlands. Its a member of the Alpha and Beta collection with the Alpha edition being the more rare / sought after version. Selenia Sky is a member of the Dragon Splinter and the card itself is a Summoner (Summoners call on other monsters to fight for them in battle).
At the time of the Open Sea sale only three Selenia Sky Gold Summoners remained in the official Splinterlands markeplace for sale and they weren't cheap. Combined the remaining three would of cost a total of $27,000 USD.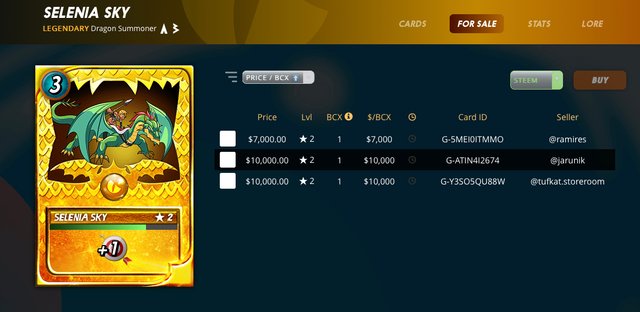 Open Sea Auction Details
On 1/17/2020 the Splinterlands team announced they have bought and combined one of the most sought after cards in the Alpha collection. Three Gold Foil SS were purchased from the market place and combined to create a very rare max level Gold Foil Alpha Selenia Sky that was auctioned on the Open Sea market.

As seen above the total spent on the three cards needed to combine to make a max level Selenia Sky was $2579 USD.
[OpenSea Auction Results]

The max level card sold for 8.4 ETH. At the time of the auction ending 8.4 ETH was worth somewhere close to $1400 USD. Today (5/22/2020) 8.4 ETH would be worth roughly $1710.
The winning bidder was @michealb, some of the other top bidders were @neoxian, @otaru, @fw206, @cryptomancer and someone with what looks to be a newly created OpenSea account with the name StalwartVersatileDalmatianOfWonder.
The winner of this auction ended up walking away with one of the best deals to date within Splinterlands short life span. To put this amazing deal in perspective a max level Alpha gold foil Selenia Sky needs three level 2 (entry level) alpha gold foils to combine to create a single max level Selenia Sky. If someone at this very moment (5/22/2020) decided they wanted a max level Selenia Sky it would cost a total of $8,698 USD.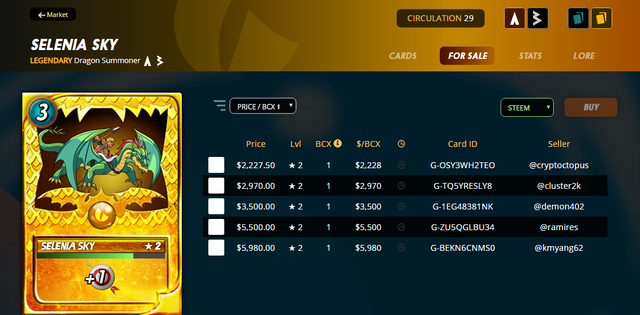 We hope you enjoyed the first installment of Splinterlands Rewind. If you enjoyed this article don't forget to hit that follow button so you don't miss out on future Splinterlands Rewind topics that are sure to be filled with historical knowledge of the Splinterlands Universe.
SELENIA SKY


Selenia Sky is a famed Dragon summoner from Draykh-Nahka. Though she has no scales, the purest of the Fire Blood pumps through Selenia's veins. Most of the flying Dragons allow her to ride them even though she is not an approved Gloridax Dragon Rider. Selenia has won more Mount Mox victories than any other summoner in the Splinterlands, and she knows she is the best.
---
---
Splinterlands (also known as Steemmonsters) is a digital card game created by @aggroed and @yabapmatt. Early game release has launched and prizes are already up for grabs. You can start playing or investing in Splinterlands today by clicking here.
---