Max Level Alpha Selenia Sky for Auction on Opensea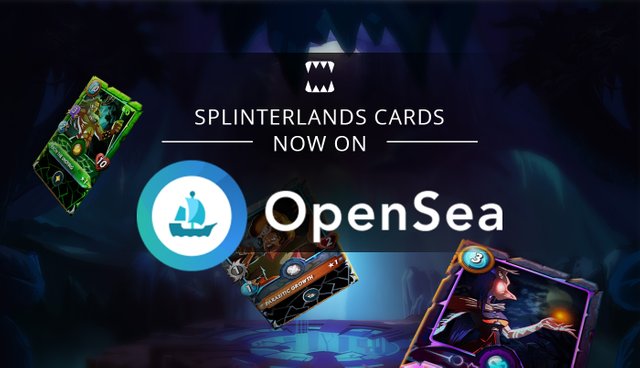 Well, we have an exciting announcement. We've placed one of the most precious and rare cards out there on Opensea. We've purchased 3 Alpha Edition Selenia Sky cards off the market, combined them, and listed it for auction on Opensea!
CLICK HERE TO GO TO THE LISTING
Not only is this one of the rarest and most useful cards in the game, it's also one of only a handful that will ever become MAX LEVEL!

The bidding starts at 0.01 ETH, and there's no reserve. So, get your bids in now because they're just not makin' these like they used to!
OpenSea
In case you're unfamiliar... Splinterlands worked with a talented ETH developer to help write a smart contract so we can bridge our cards onto Ethereum. Then we teamed up with the folks at Opensea.
Opensea is a website that is an open marketplace for Ethereum NFTs. By having figured out a way to port cards from the Steem blockchain to Ethereum using us as an Oracle players now have a trustworthy way to move cards cross platform. That's handy because now Splinterlands players can access the Opensea market and sell cards there. There's already hundreds of cards listed. So be sure to check it out and keep spreading the word about how these two chains and these two projects can work together!
The OpenSea team will also be working to help promote the game and the cards. Here is a post they made on their blog about the Splinterlands integration: https://opensea.io/blog/trading-cards/splinterlands/splinterlands/ as well as the Tweet about it: https://twitter.com/opensea/status/1218295994489720834. Please show them your support!
Get your bids in!
This is one of the most expensive and rare cards in Splinterlands history. It's from the earliest edition. It's currently just 0.01 Eth without reserve. Good luck and it seems time to ready your Snipe ability!
Here's the listing link again in case you missed it: https://opensea.io/assets/0xe3870569f9e1836960bf30b5a45fc743cef0ab0e/666

Stay tuned for more updates from the Splinterlands!
Website | Blog | Discord | Telegram | Shop