Splinterlands Development Update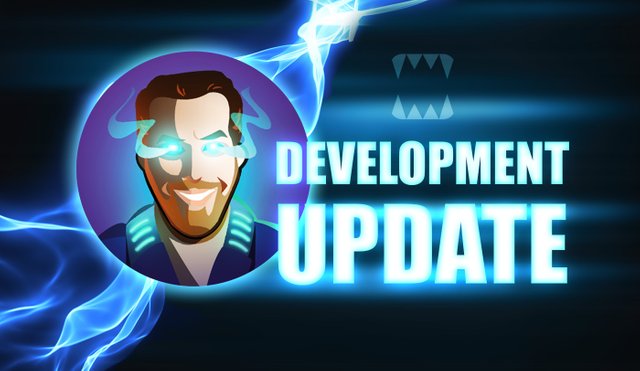 Shaking Things Up
One of the goals of the game since the beginning was to make it so that players have to really think when creating their team for each and every match. We wanted to ensure that it doesn't become boring or repetitive and that more skilled players who really understand all of the different cards and abilities will have the advantage while also keeping the battles quick and fairly simple to play.
That's why we've implemented the system of randomized battle parameters for each match - mana cap, ruleset, and inactive splinters. But even though we try to release new and interesting rulesets on a regular basis, we feel that active players still become familiar with the different variations pretty quickly.
Well, it won't stay that way for long! We want to keep you on your toes. We want you thinking hard. We want you to be racing the clock to try to figure out how to make the best team in a situation you've never seen before. How do we plan to do that, you ask? Like this: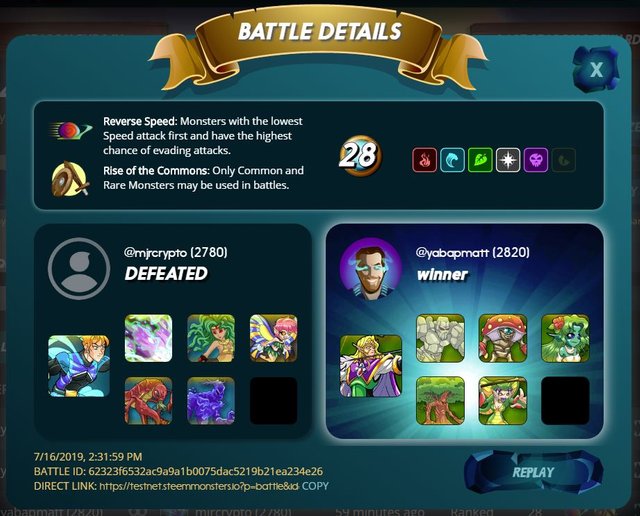 Notice anything in that screenshot? Starting soon, in the Gold League and up, battles can now have two different rulesets active at the same time!
We've split all of the existing rulesets into two different categories:
Rulesets that affect what types of Monsters and Summoners can be played; and
Rulesets that affect stats, abilities, or other things on the battlefield.
Now rulesets from the first category will be combined with rulesets from the second category to instantly provide nearly 100 new and unique situations you will have to deal with, all in under 2 minutes!
We still plan to keep adding new rulesets from time to time, and now each single new ruleset we add will instantly create 10+ new combinations!
Require Active Authority Setting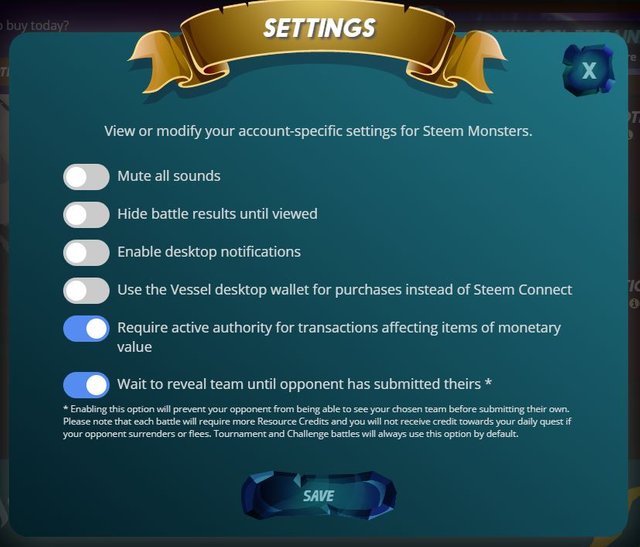 This one has been on the to-do list for as long as I can remember, but it is becoming increasingly important as the value of the cards and now also DEC in players' accounts increases. The posting key is not meant to secure valuable assets, which Splinterlands cards have definitely become, so now players can secure their cards and other assets using the active key as was originally intended.
If this new setting is enabled, then any transactions that affect any items of monetary value in the game will need to be signed with the Active key instead of the Posting key for your account. This includes, transferring cards, transferring packs, opening packs, combining cards, selling cards, burning cards, and purchasing items with DEC.
When you attempt to perform one of these actions through the website, either Steem Keychain or Steem Connect will pop up asking you to sign and broadcast the transaction with your active key. You can turn this setting on or off at any time in the "settings" tab under your player name in the top right-hand corner of the site.
DEC Prize Pool
We are going to take 5% of all DEC spent in the game to date, and going forward, and put it towards a general prize pool to use for rewarding players. This prize pool may be used to fund various different things such as tournaments, guild battle rewards, in-game achievements, and anything else for which we would like to reward our players!
Italian Translation
Some of you may have noticed that there is a new language option available for the Splinterlands website - Italian! The Italian translations were contributed by avid player and valuable community member: @bafi, who did a fantastic job translating the over 15,000 words currently in the site!
Guilds Update
The much anticipated first version of the guilds feature is currently undergoing testing on the Splinterlands test site. While it is mostly ready to release, we have listened to the early feedback from some of the testers and players and we are taking some extra time to change a few things around to incorporate that feedback. We still expect it to be released by the end of the month, however.
P.S. if you're planning to create or be part of a guild you might want to stock up on some DEC now while they're cheap!
Mobile App Update
We are super excited to report that the third party development company we've engaged to build our mobile app and mobile web site have finally begun work earlier this month! We now have an additional small team hard at work implementing the awesome designs created by @nateaguila into a mobile app. We expect the mobile app to be released by the end of the year, if not sooner, but with such a large project it's hard to give a more exact date at this point.

Stay tuned for more updates from the Splinterlands!
Steem Monsters / Splinterlands Contact Info:
Steem Monsters / Splinterlands Blog
Steem Monsters / Splinterlands Website
Steem Monsters / Splinterlands Discord
Steem Monsters / Splinterlands Telegram