How to create a Steem/Splinterlands account with a Tron Starter Pack token
There seems to be no tutorial for this yet, and Tron people are asking, so I thought I'd make one. We start off by going to https://www.steemmonsters.com
Click "Get in the Game" to get the next screen.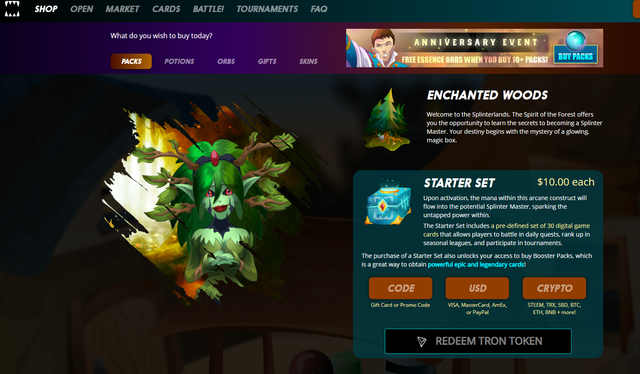 Here again there's a convenient button that says "Redeem Tron Token" so hit it to move along.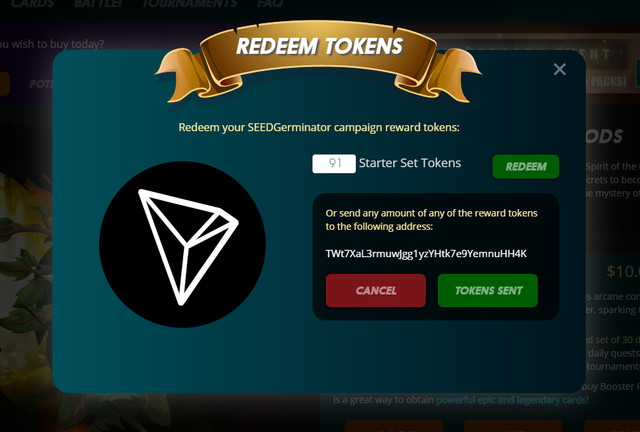 If you have TronLink installed on your browser you'll see this screen; if you don't you won't see the number of tokens and redeem button. If you don't have TronLink, you'll have to manually send your StarterPack token to the address listed on your screen in order to continue. This is a new address for every pack, and it's an unstarted Tron account, which means it will cost you 0.1 TRX as well as the token to send to it. (This might be free if you have enough TRX staked, I'm not totally sure how that works. If you were sending TRX that would be the case.)
If you have TronLink installed just change the number in the box to 1 and hit the redeem button. (I'm not sure what would happen if I left that at 91, and I'm afraid to try it.)
Either way you end up on the new account creation screen: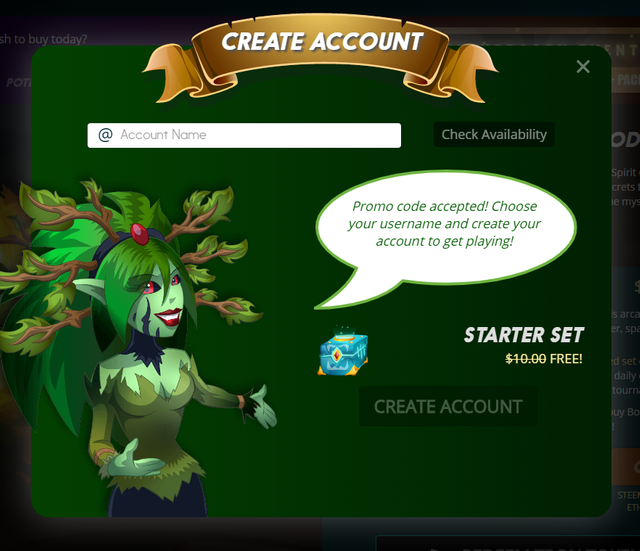 Put in the account name you want and click "Check Availability." Once you've found one that's available the screen will change to give you a password and some things to swear you've read.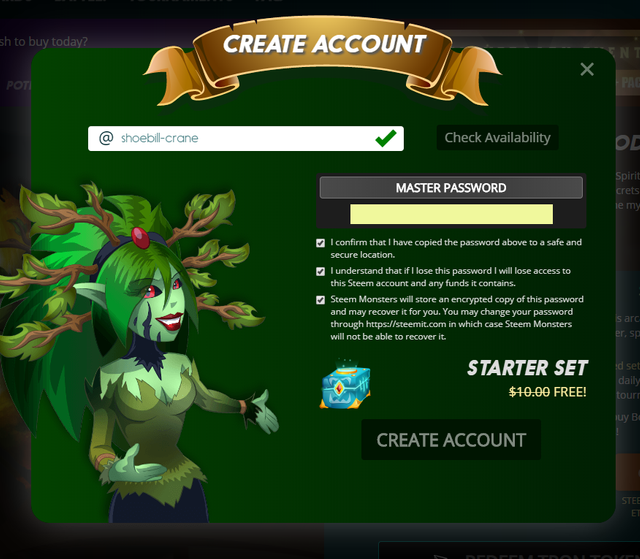 For obvious reasons I put a yellow box over my new master password. You'll have text there. Write it down somewhere. Check the checkboxes and click the Create Account button, wait a few seconds for the transaction to clear, and you're done, with a fresh new account to play Steem Monsters/Splinterlands.
I suppose I should add, I'm willing to sell these tokens for $6 each if anyone wants a Splinterlands account for 40% off. (Or 90 of them.)