Am I one of the luckiest Splinterlands players?
Today I happened to be playing Splinterlands at the exact time that Mystery potions arrive for everyone.
I was playing on my main when the mystery potion showed up. I instantly opened it and got another mystery potion from it, which was pretty lame.
Then I remember I had bought a mystery potion for my alt account also, so I went to check it out.
I opened the mystery potion and saw that I had gotten a Card.
I just thought it was going to be a random Rewards Edition card so I just clicked on it without even realizing it was a Legendary card. I was super confused to see a Prince Julian pop up.
My first reaction was wtf
And then I got really happy and instatly went to share it with my guild.
too bad it isn't golden :D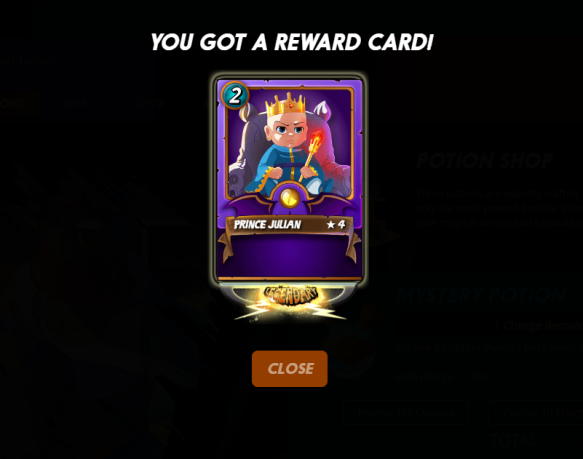 And you might think yeah that's pretty lucky :yawn:
But that's not it.
I was one of the lucky ones to actually get an Archmage Arius aswell back when that was dropping from Mystery Potions. I even made a Post about it.
That was back when we had 25% / 50% / 100% potions to choose from, and I got my Archmage from a 25% potion.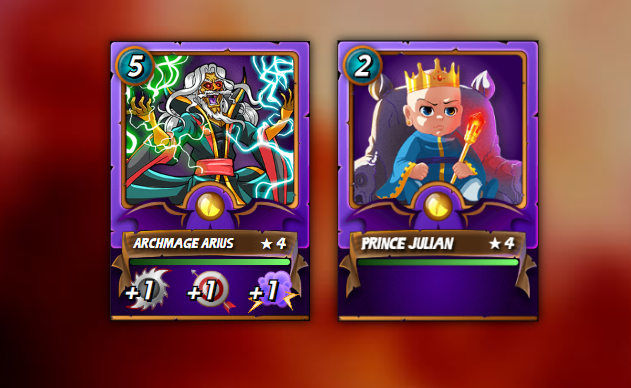 What will I do next with these magnificent cards ?
Well I have tried renting out my Archmage Arius on Peakmonsters, but the competition is too high for me.
So I just use the Archmage myself to catch some players off guard.
For the Prince Julian I am going to try renting it out aswell on Peakmonsters. I have currently put it up for 0.2$ a day with a 1.5$ Escrow price. (10-30 Days)
There is currently only 1 other person renting a Prince Julian and he has successfully rented it aswell.
I am even going a bit lower prices than him, so I am hoping it rents out to someone :)

Anyways thank you for reading my post
I will be handing out upvotes to most people that comment.
I have staked 30K BATTLE tokens, so that should give something :)
Check out other Steem blockchain games like
Holybread
Nextcolony
and obviously Splinterlands