MonsterMarket Why you should use it ?
If you didn't know already that Splinterlands has many marketplaces off of the original website.
2 of the most known 3rd party marketplaces are Peakmonsters and Monstermarket.
I personally have really started liking the Monstermarket, but I will always keep using peakmonsters for their rental system that no other site so far has.
Today I wanna explain a little bit why I like MonsterMarket and why I suggest you to use it.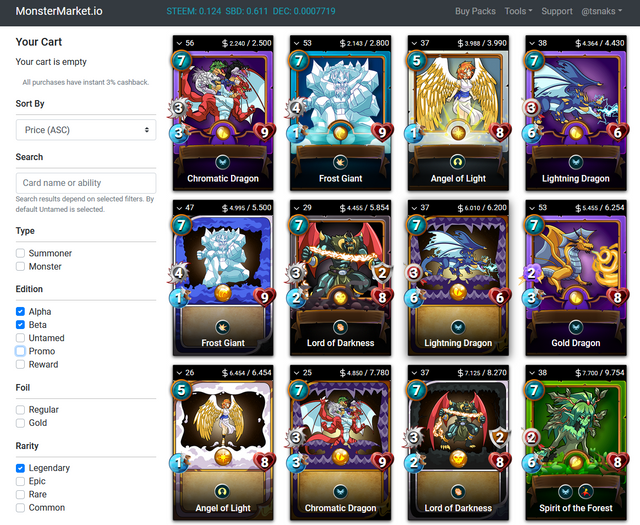 To be honest this is the BIGGEST reason why I like monstermarket.
For every PURCHASE you make on MonsterMarket website you get a 3% cashback instantly.
This means that if you buy 100$ card you will get 3$ back so it effectively would only cost you 97$.
This Cashback works also for pack purchases, and the packs you get are straight from Splinterlands so you still get to particiapate in airdrops and get bonus packs for bigger purchases.
BUT for the packs you only get a 2% Cashback, which is still pretty good.
See from this picture that if you want to buy 100 packs it would cost you 1613 STEEM.
You would still get the Splinterlands +10 bonus packs and you will get about 32 STEEM back from the cashback system. And with that 32 cashback STEEM you could buy 2 more packs :D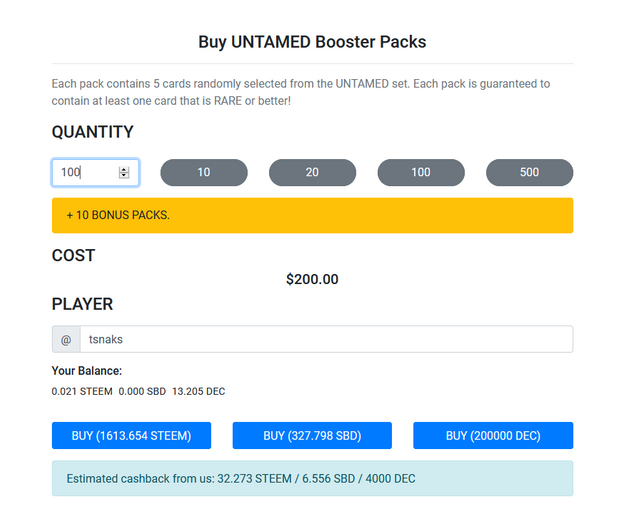 This is quite a cool thing, where you can see how much money you have lost while opening packs (hopefully you guys are in the positive)
It shows all sorts of cool statistics that I check every now and then because it's just so damn interesting.
I don't quite yet understand how it fully works, since I have definetaly opened over 99 untamed packs. It seems to forget olders packs you opened, maybe it only remembers like 2 months old openings or something like that.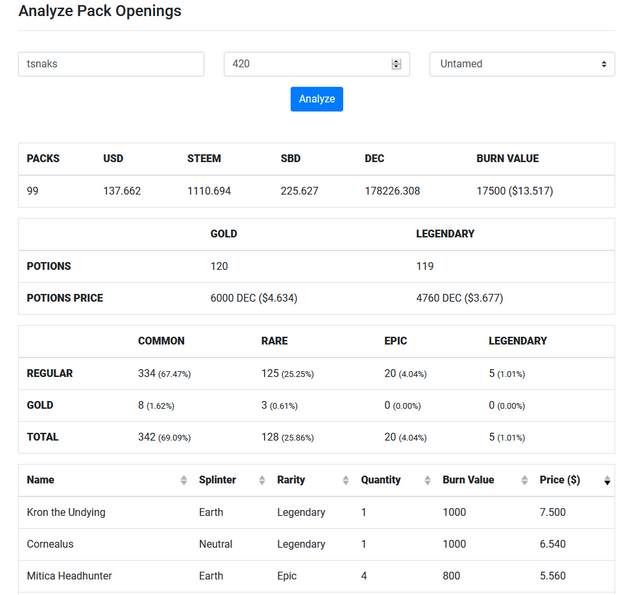 Splinterlands Cost Estimator
I am not really a fan of this, I have never used it before, but it might be a useful tool for newer players to see what amounts of money they would need for a certain league.
How it works is basically you choose an edition of cards (I went with Untamed). Then you choose the splinter you would like to get the cards for (I went with Fire). Then go ahead and choose a league (I went with Silver). And then you have some extra options for summoners and rarities.
So in total if you would like to get a Silver League Untamed Fire Deck.
It would cost you 66,112$ or 533,409 STEEM or 108,357 SBD or 85592.957 DEC (With current prices)
That's quite expensive considering it's only 1 Splinter, and you would need like 4-5 Splinters for a fully functioning Silver League Deck.
(But I think with these cards that it suggests you would easily sustain yourself in gold league)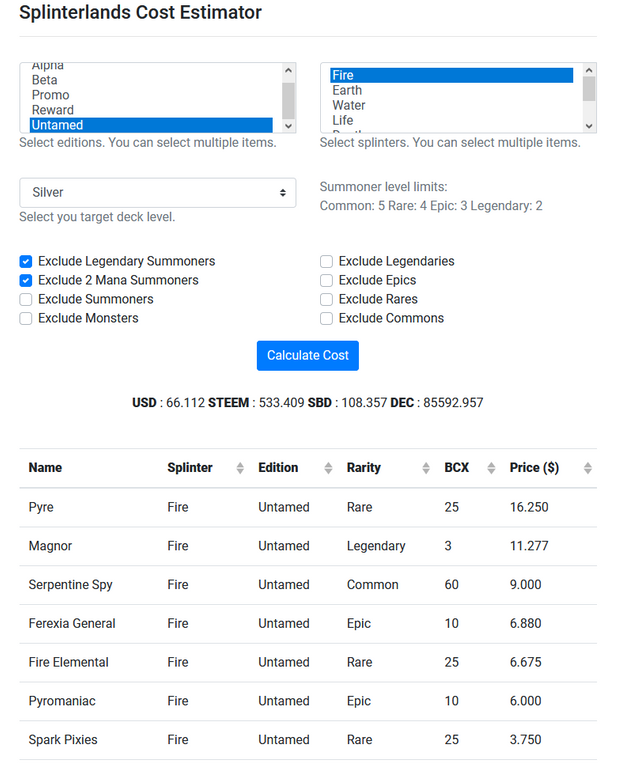 Anyways thank you for reading my post, make sure you also go check out Peakmonsters
I suggest you with all my heart trying out MonsterMarket
And if you are really new then check out Splinterlands