Some future plans for my discord server [Tsnaks's Giveaways]
Hey, I opened my own discord server Tsnaks's Giveaways. The main goal of this discord is giving away Splinterlands Cards and Steem-Engine tokens.
The discord opened up yesterday, and we already have 19 members and have done 4 giveaways with total of 5 winners.
The giveaways are super easy to enter, all you need to do is go to #find-giveaways-here channel and react on active giveaways with the :tada: emoji.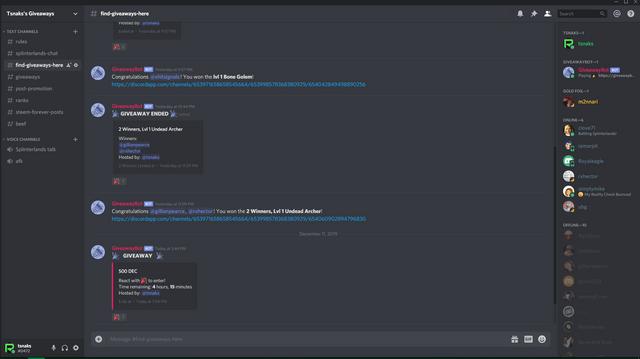 Currently the only ranks that have a meaning on the server are
GIVEAWAYS Rank, which gives notifications about ongoing giveaways
GIVEAWAY CREATOR Rank which allows the creating of giveaways (is gained after hosting 3 giveaways)
GOLD FOIL Rank is admin rank
COMMON Rank is for everyone that plays Splinterlands
TSNAKS Rank is me

SO WHAT ARE MY PLANS FOR THE FUTURE ?


Firstly I have to say, that I would really love to integrate my Steem-Engine token Kroon (EEK) somehow onto the discord server.
1. DAILY REWARDS RAFFLE
This is a really interesting idea I had. Just try to follow.
So the idea stands behind me doing my daily quests and giving away a card from my rewards every day.
So how this would work is that before I claim my rewards I would choose a person from my discord that gets to pick 1 spot, and whatever card is on that spot he/she gets it.
Currently I thought that I would make it so the person that gets to pick a card every day would be determined trough a public giveaway on the discord server.
NB! For the actual thing the cards will not be flipped before the winner chooses his cards.
1 person gets picked trough a giveaway
The person is given (Example: 1 out of 8) cards to choose from
If the person for Example chooses the number 1, then by this reward (Picture below) he/she would get a Hobgoblin card.
The person can choose to reroll (For a price of 25 Kroon) once, whatever the reroll is he/she keeps, and can't choose the first card he/she chose.
(Example: A person chooses number 1, and gets to choose if he wants the Hobgoblin or not, then pays 25 Kroon to reroll, and chooses number 6, then he/she walks away with a Phantom Soldier)
Any Gold Foil cards will be turned into regular ones (A Gold Foil Hobgoblin would be counted as a regular foil Hobgoblin)
Ask questions if something is still confusing about this little minigame, because I really like it, and will probably implement it onto the server.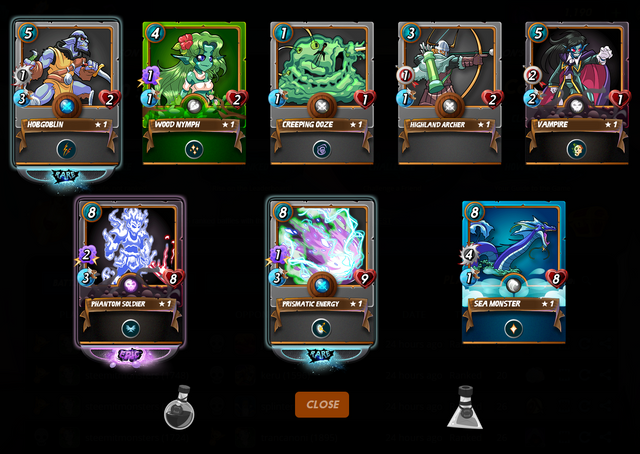 2. HELP FOR NEWER PLAYERS
This is actually available at the moment, everyone that needs help with anything Splinterlands related can do @tsnaks and ask me any questions. There isn't much that I can't give an answer to that is Splinterlands related, I have been connected with this game before it became a game. (At first there were just cards, no battles, so you could just call it a collection not a game)
But for I would like to add for this topic would definetaly be some channels with some basic stats, and brief explanations on some of the more complex things. For example tutorials on how to rent cards from peakmonsters and what cards are worth it to level up.

3. I'M OPEN FOR IDEAS
I am really open for all the ideas you guys might have. I literally created the discord server overnight because I felt inspired by all of the amazing people in the Splinterlands community.
I will read all of the suggestions you guys have and if your ideas make it into the server you could be rewarded with a nice Rank.

Thanks to @flauwy for those awesome dividers you are seeing here.
That's it from me, I hope you all come check out my discord server, and good luck with the giveaways.