After 12 years on Zidane's baton .. The referee of the game tells what happened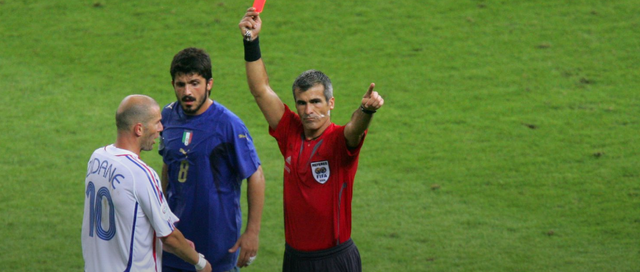 source
The controversy continues over the famous Zidane's baton, although more than 12 years have passed since the 2006 World Cup final against Italy.
After all that was reported about Zinedine Zidane and the Italian Marco Materazzi, the referee Razzio Elizondo came out with a statement about the scene. He said that at one point he saw Materazzi fall to the ground and after consultations with his aides about what happened he decided to resort to the fourth referee, who told him that Zidane By striking Materazzi horribly.
The referee then decided to expel Zidane from the meeting without hesitation.
Zidane said he was not proud of the incident between him and Materazzi in the 2006 World Cup final and that part of his career must be accepted.
Materazzi said Zidane's reaction to the 2006 World Cup final was exaggerated.
And that what he said to Zidane was ridiculous, but not worthy of such reaction and that it can be heard what is worse in the streets of Paris, Milan and Naples.
Materazzi said he did not insult Zidane's mother because he knows the meaning of the mother because he lost his mother at the age of 15.
And that his words were about his sister and not his mother.
Italy won the 2006 World Cup after beating France in the final with penalties.