LA LIGA SURVIVOR COMPETITION # ROUND 6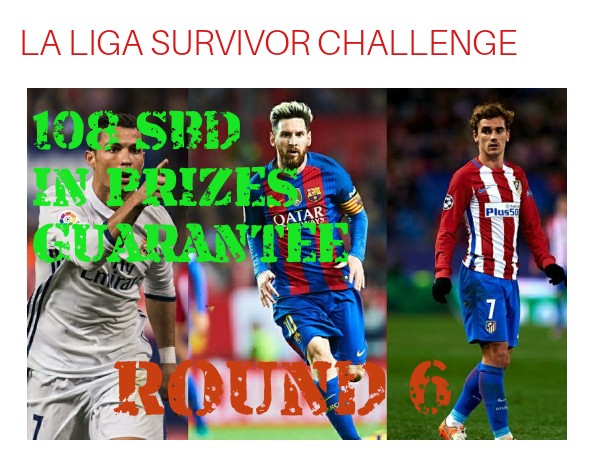 This contest is similar to the NFL SURVIVOR organized by @hendrix22. But thinking about the soccer fans, I've given this challenge.
The contest will run for the 21 last ROUND
GUARANTEE PRIZES (108 SBD)
1st Place $43 SBD
2nd Place $26 SBD
3rd Place $18 SBD
4th Place $12 SBD
5th Place $6 SBD
6th Place $3 SBD
I will increase the pot with 50% of the SBD generated in each post.
How to Play:
Each week you will select one team which you guarantee (think) will win their game. You can only chose each team once for the entire season so do your research.
POINTS
VICTORY 2 POINTS
DRAW 1 POINT
LOSE 0 POINTS
Participation:
Players do not have to play every week. If you miss a week it is ok however you don't have the chance to gain another point but you don't risk the chance of getting one wrong either. If you don't make it in time for week 1 it's no problem you can start week 2 or any other week.
Rules To Enter This Contest.
IMPORTANT:
You need to own at least 50 Steem Power (If you want to participate and you do not have that Steem Power, you can make a donation of 2 SBD to participate all season). Donations will automatically increase the prizes.
Suspicious Double account will get Entry Rejected.
Upvote this post to enter the contest (50% minimum).
WINNERS
The winner is the person who has more points at the end of the 21 weeks. There will be prizes for the first six places in the standings.
Each week I will be running a spread sheet showing everyone's previous picks, if they were right or wrong, the teams they have already used (since you can only pick each team once), the players correct selections, the players incorrect selections and the total score.
Track of Results & Teams choosen.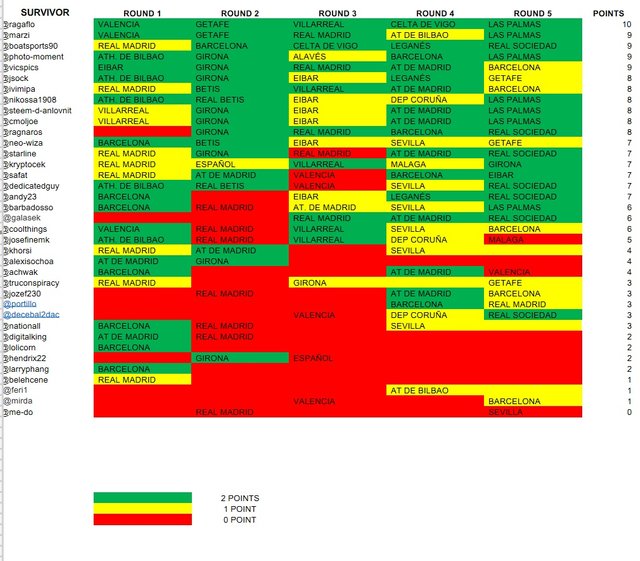 @ragaflo in firts position with a perfect serie.
We also have 6 players with a 8 points. This is a tight race guys.
MATCHES OF THE WEEK:
To participate in this contest, you must make your selection before the match starts.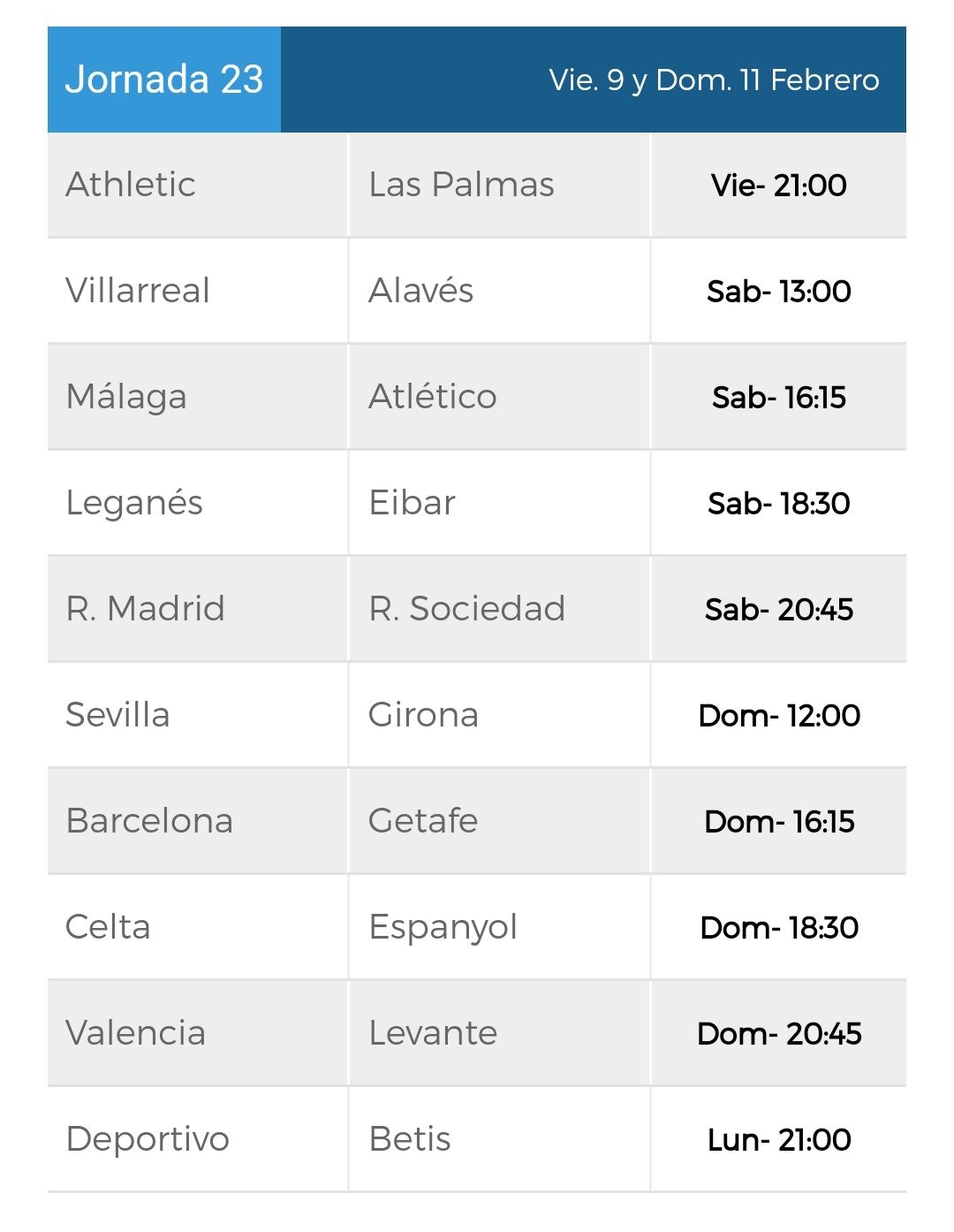 Fuente
FRIDAY:
AT DE BILBAO VS LAS PALMAS (20:00 BTS)
SATURDAY:
VILLARREAL VS ALAVÉS (12:00 BTS)
MÁLAGA VS AT DE MADRID (15:15 BTS)
LEGANÉS VS EIBAR (17:30 BTS)
REAL MADRID VS REAL SOCIEDAD (19:45 BTS)
SUNDAY:
SEVILLA VS GIRONA (11:00 BTS)
BARCELONA VS GETAFE (15:15 BTS)
CELTA DE VIGO VS ESPAÑOL (17:30 BTS)
VALENCIA VS LEVANTE (19:45 BTS)
MONDAY:
DEP. DE LA CORUÑA VS REAL BETIS (20:00 BTS)
GOOD LUCK!!
DONATIONS FOR PARTICIPANTS
@ragaflo (2 SBD)
@barbadosso (2 SBD)
@josefinemk (2 SBD)
@nationall (2 SBD)
@khorsi (2 SBD)
@belahcene (2 SBD)
@achwak (2 SBD)
@ivimipa (2 SBD)
@safat (2 SBD)
@decebal2dac (2STEEM)