Liverpool and Egypt advanced shoes Mohamed Salah entered the British Museum
To end a remarkable season, Mohamed Salah"s has seen his football shoes enter the British Museum as part of an invaluable collection of Egyptian artifacts.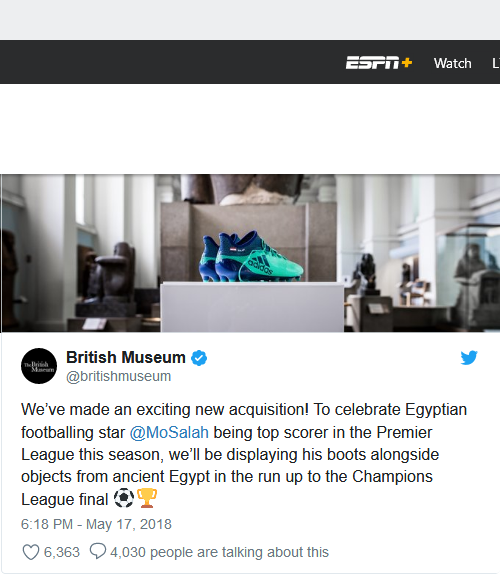 Having scored 44 goals in 51 matches this season and achieved hero status in his native country by securing World Cup qualifiers, Salah's adidas shoes will be on display as one of the "greatest treasures of Egyptian history."
The boots will be on display next week on the way to the UEFA Champions League final, with Salah in action when Liverpool face Real Madrid in Kiev.
"The acquisition brings together the world-renowned Egyptian collection of the British Museum to date," said Neal Spencer, the guardian of Ancient Egypt and Sudan at the British Museum. "Displayed amongst the ancient pharaoh sculptures, we now show the boots with which Mo Salah won the Golden Shoe for Liverpool."
Things are amazing.