Being the Underdog - A Secret Weapon?
What's New
This next weekend, the Eagles will play their third playoff game straight in which they are being predicted to lose. The Eagles have had an amazing year, it may have been the most dominant Eagles team I have ever watched throughout a season and this is with key injuries on every side of the ball. Hicks on defense, Peters (potentially a HOF lineman), and the rising star of a quarterback, Wentz, who was being considered for league MVP before tearing this ACl (he threw a touchdown the play after tearing his ACL, that is badass). This team although many new members playing together for not so long, is full of swagger, confidence, and resilience, with the "next man up" mentality becoming part of the key to their success.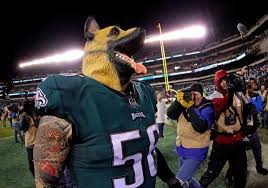 One More Game
The Eagles were doubted as a top tier team at many points throughout the year but after Wentz went down, there was no question people doubted their ability to compete in the playoffs. Though they were the number one seed and playing at home, without Wentz, most felt they had little chance to go far in the playoffs. After their first underdog victory vs the falcons they completely dominated their next one, against a top defense in the league. Now, they are heading to the Superbowl with the chance to take down the GOAT, Tom Brady, while the Eagles have a backup quarterback behind center. Pretty daunting, but I think it is not a greater challenge than any the Eagles have overcame so far.
Being the underdog has only served as an additional motivator for the Eagles. There will be no bigger statement they could make than to win the Superbowl this year and you better bet they know it. As a longtime Eagles fan, I could not be more excited for this game but also nervous, as the memory of the last Patriots/Eagles Superbowl still lingers. If they do win, it will be a team/season I will never forget, and one that I will always think of when facing obstacles and/or doubt at any point in my life.