Statistics Iniesta Barcelona section.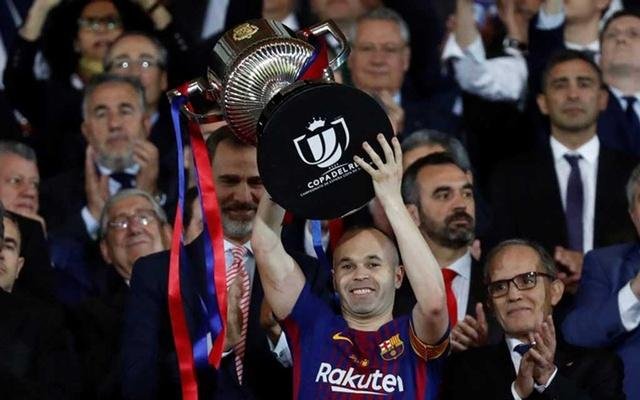 One episode ended on Friday in Barcelona's Andrés Iniesta. The 16-year-old Spanish champions in the 16th season have won 31 of these Spanish champions. The statistics data show that the sports data analyst Opa Opaata
At the age of 12, he came in with the help of his father in Barcelona's youth project La Masia. In 2002, in the main team got the chance. Barcelona, ​​La Liga, Champions League, and possibly all the possible victories Iniesta The Spanish midfielder, succeeded in the national team, won the World Cup in 2010. European championships won in 2008 and 2012.
Intellectual football and defensive passes were fascinated by football fans. Chagy Hernandez and Lionel Messi made Barcelona's unbeatable midfielder Iniesta was one of Europe's best footballers in the club and national team's jersey last 15 years.
Twenty-two years in a short walk, Barcelona took the place in a fashionable form. Over time, Iniesta and Barcelona have become synonymous. Barcelona fans will remember him as one of the best footballers in the history of the club.

The 33-year-old star still does not tell the future destination. However Spanish media claimed that Iniesta joining the Chinese league. Whatever the future, the midfield football wizard will be remembered for the spectacular career in Barcelona. Iniesta's Bright Carrier:
669- Till now all the tournaments have taken 669 appearances for Barcelona. After Chavir (767), he became the most played player for Barça.
456 - Iniesta's 669 matches for Barcelona won 456 times for the team; The victory rate is 68.2 percent. -
18-Iniesta's debut against Club Bruge for Barcelona on 29 October 2002. He was 18 years old, 170 days old.
8-Iniesta won La Liga 8 times for Barcelona Sunday's win against Deportivo La Coruna will ensure the ninth league title in the 16th season.
69 - Iniesta has so far 69 assistants in La Liga. The highest number of 16 assistants came from his legs in the 2012-13 season. He was above the top of the top league in the European league of service.
35- Not well known for the goal, but La Liga has 35 goals in Iniesta
9- Never win the Ballon d'Or, Iniesta has taken 9 places in the best XI of FIFA. Lionel Messi and Cristiano Ronaldo (11 times) have been included in this team more than Iniesta.
116 - Perhaps the brightest moment of Iniesta's brilliant career came in the 116th minute of the 2010 World Cup final. His first goal was to make the World Cup in Spain. Iniesta became the final man of the match
9-La Liga has played 9 different coaches. Among the most played 149 matches under Frank Ricard.