Departing Man City midfielder Toure brands Guardiola 'comedy' act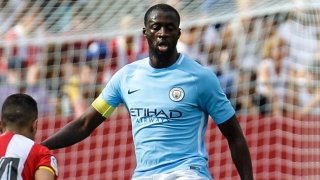 Departing Manchester City midfielder Yaya Toure has branded Pep Guardiola a comedy act.
More of his explosive interview with France Football has come to light, with Toure asked if he would take anything he learned from Guardiola into his own coaching career.
He said: "His theory on the sport of course. But careful, that doesn't mean he's a genius, unlike Zidane.
"Pep wants to come across as a genius. He loves that. But behind that, it's all an act, it's nonsense. He's creating a persona. When I see him scratching his head during matches, it makes me laugh.
"It could be a comedy or PR simply. If we didn't get along well, it's because I had caught him. But unlike my big bro [Samuel] Eto'o, I haven't said anything until now."