Golden Boy Greg Anthony is Born – June 5th, 1981 – Today in Wrestling History
The Golden Boy Greg Anthony is old school. He can talk fans into the arena and entertain them once inside. Anthony is someone that can talk the talk and walk the walk. Born in Centralia, Illinois, it was clear that Greg Anthony had wrestling in his blood. Nearly two decades of experience is behind the trademark golden streak beard. Anthony is billed as "The Best of the Best" and his resume backs this up – he has held over 80 championships. He is nowhere near done either.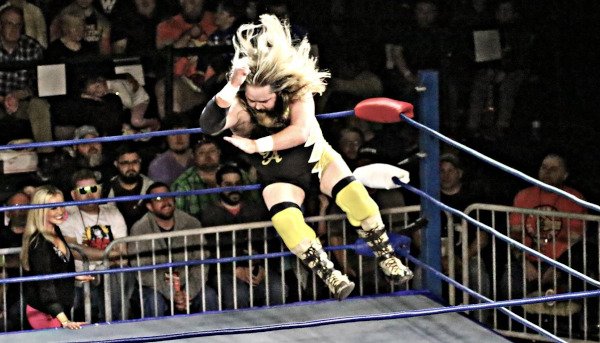 Becoming the Golden Boy
This is not something that can be taught. You are either born with it or not. Look back over Greg Anthony's career and you will see the Golden Boy slowly come forward. From his time with The Empire (with
Matt Riviera
, Steve Anthony, and
Tim Storm
) to his singles career in recent years – the persona has been developing.
Today, The Golden Boy persona is much fuller, much like Greg Anthony's beard.

Sharing the ring with legends
Over a two decade, and counting, long career you are bound to share the ring with a legend or two. The Golden Boy has far surpassed being in the ring with a couple of legends. He has shared the ring with Jerry "The King" Lawler, Porkchop Cash, "Hacksaw" Jim Duggan, the Rock n Roll Express,
DDP
, Tommy Dreamer,
Jay Lethal
, and many more.
As one half of Midnight Gold, Greg Anthony teamed with "Beautiful" Bobby Eaton. Not only has he held gold with Eaton as a tag partner but with "Loverboy" Matt Riviera, Jon Michael, Simon Reed, and Chris O'Neal as well as many singles championships. Total, The Golden Boy Greg Anthony has held over 80 championships so far in his career. The Golden Boy has been mentored by Dr. Tom Pritchard, Flash Flanagan, Sir Mo, and others.

In and out of the ring is a golden experience
Greg Anthony is not just another drawing talent. `He has put his experience and dedication to wrestling to work as a booker as well. From New Experience Wrestling to Lethal Attitude Wrestling, Greg Anthony has helped create quality cards.
Greg Anthony is currently working with Pro Wrestling Mid South operating in the Dyersburg and Ripley Tennessee area.
Happy birthday, Golden Boy Greg Anthony.
This article was originally published on the Gravis Ludus Wrestling website.