Storied Referee Earl Hebner Born Today – May 17th, 1949 – Today in Wrestling History
Earl Hebner. If you do not know that name, then I question your interest in professional wrestling. Seriously, non-WWE programming reference this man. From inside jokes to stating "we do not do that here" type announcements, he gets airtime. Let us investigate why that is, today on his birthday.

Controversial from debut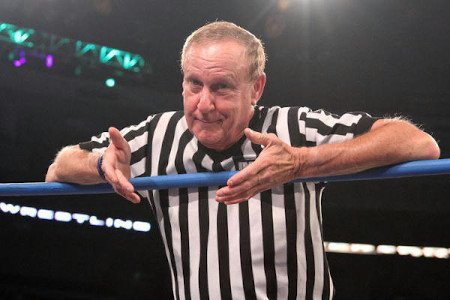 Earl Hebner would spend his early career officiating matches for Jim Crockett Promotions. His debut with the World Wrestling Federation (WWF), foreshadowed his future with the company.
Hebner's first match in the WWF was for NBC's The Main Event in February 1988. Andre the Giant had earned a chance to challenge Hulk Hogan for the WWF Championship. During this period, Ted DiBiase "The Million Dollar Man" was in the ear of Andre. This played out in the ending of the match.
The referee for the match was the infamous Earl Hebner.
The match is embedded below and does contain spoilers.
The Montreal Screwjob defined Earl Hebner
While Earl Hebner has had a long and storied career, no match defines it as much as this one. The Montreal Screwjob, as it is known, pit Hebner in a sticky situation. While he came out of this one better than The Main Event match, this one stuck to his career.
We all know who won and how.
Just bring up "Montreal Screwjob" around wrestling fans and you will instantly have opinions inbound. This match outcome permeated beyond wrestling for a period.
Hebner would be released from WWE with a shadow over his name. This shadow would not last long as Total Nonstop Action (TNA), now Impact Wrestling, would come calling rather quickly. Do you know what match TNA attempted to recreate the "Montreal Screwjob" was? Bonus points for knowing when this happened.
Hebner would spend just over 10 years with TNA before leaving. He is a member of the TNA Hall of Fame, class of 2015. There are no details as to why he left TNA but it is believed it was amicable.

Earl Hebner's road to being Elite
Hebner would spend a year or two on the independent circuit. He would find himself in yet another top level championship match. This time it was for the National Wrestling Alliance (NWA). Nick Aldis and Cody Rhodes would fight in early September 2018 at "All In". The NWA World Heavyweight Championship was on the line. Hebner would reprise the role for the follow-up match at the NWA 70
th
Anniversary Show.
With All Elite Wrestling (AEW) Hebner has been limited to officiating Pay Per View (PPV) events. Other referees on staff handle the weekly matches. This gives Hebner a bit of star billing if you will.
Check out AEW on Wednesday night's on TNT. TNT is great about keeping past episodes available On Demand so do not worry if you miss an episode. AEW also offers a weekly YouTube show on Tuesday nights called "AEW Dark" which is about one hour long.
If you plan on catching an upcoming event featuring Earl Hebner then grab some cool merch. You might get a chance to get it signed.
With all that said, we close with – Happy birthday Earl. Thanks for the memories, new and old.
This article was originally published on the Gravis Ludus Wrestling website.