Wrestlewar 1992 WarGames Fourth Event Invades Florida – May 17th, 1992 – Today in Wrestling History
Wrestlewar may be a foregone Pay Per View (PPV) but WarGames lives on. Utilized in NXT in recent years the dual steel cage match has stood out as a match stipulation. Wrestlwar 1992 was the fourth, and final, event to use the name. This event took place in the Jacksonvill Memorial Coliseum in Jacksonville, Florida. There were approximately 6,000 fans in attendance. Ten matches were contested on this night, three were for titles.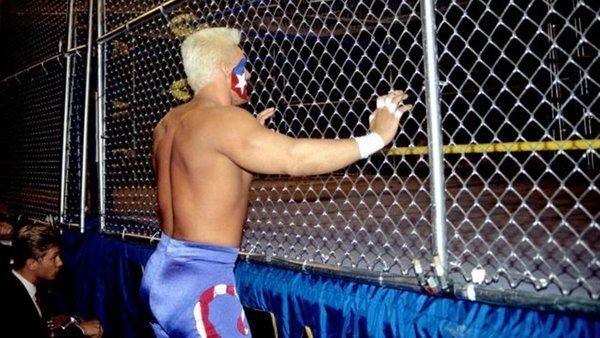 WCW Wrestlewar 1992 WarGames card
The opening match saw
Diamond Dallas Page
& Thomas Rich taking on Bob Cook & Firebreaker Chip
The next match was for the, now retired, WCW United States Tag Team Championships. Participants were the Fabulous Freebirds, Jimmy Garvin & Michael Hayes against Greg Valentine & Terry Taylor
Johnny B. Badd took on Tracy Smothers in the third match of the night
Scotty Flamingo challenged Marcus Bagwell (before he was "Buff")
Ron Simmons, future first black WCW World Heavyweight Champion, would take on Mr. Hughes in a singles match (billed as a tag but well, altercations between partners ended that)
Please note, the above video contains spoilers on the WarGames match.
The Super Invader took on Todd Champion in the sixth match
The seventh match featured Big Josh taking on Richard Morton (better known as Ricky Morton of the Rock 'n Roll Express)
Billed as a match for the WCW World Tag Team Championships, some mistakes were made, and this match became a #1 contenders match for the IWGP Tag Team Championships. Participants were The Steiner Bros, Rick & Scott Steiner versus Takayuki Iizuka & Tatsumi Fujinami
Brian Pillman (R.I.P.) took on Tom Zenk in the lead in to the main event. This match was for the WCW Light Heavyweight Championship
The WarGames match was the main event. Stings Squadron featured Barry Windham, Dustin Rhodes, Nikita Koloff, Ricky Steamboat, and Sting. Their opponents were the Dangerous Alliance featuring Arn Anderson, Bobby Eaton, Larry Zbyszko, Rick Rude, and Steve Austin.

Events are not like this anymore
Maybe it is rose colored nostalgia glasses but, PPV events just do not feature this kind of energy anymore. Could be because I am older now. It also could be wrestling does not have the same magic for me now.
What is your favorite match from this card? Let us know in the comments below why you chose the WarGames match.
This article was originally published on the Gravis Ludus Wrestling website.