TEAM CREOLE BALLS (Equipo de Bolas Criollas)
Hello friends and followers of steemet.



Here I present my team of Bolas Criollas, unbeaten champions for three consecutive years 2014-2016.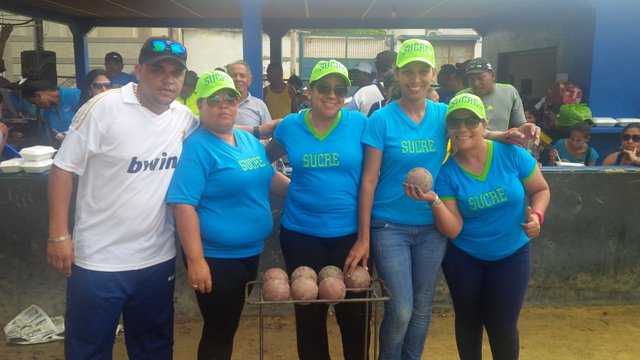 Source: Personal file, photo captured with Blu Win HD phone.

The purpose of the game is to place as many balls of the same color near a small ball no larger than 5 centimeters in diameter called mingo, which has been previously thrown at a distance not less than half the length of the court by any of the players of the team that was favored in a draw. A player of the same team that launched the mingo is responsible for bringing a ball trying to get as close as possible to the mingo. They are followed by a player from the other side who searches by means of a ball to position it closer to the mingo than the other team's play. If he succeeds he will play the first team, but if not, he will continue playing the second one until placing a ball closer to the mingo than the opponent's (in which case the game action will return to the first team) or until his 8 balls are exhausted , at which time it will be the opposite of playing all the balls that remain. When the balls of both teams are finished (after all the players have been thrown), the balls of the same color that are inside a circle with center in the mingo and whose radius ends in the first (closest) ball of the opposite color are counted. . Each set can deliver from zero to eight points to one of the teams.



This is an institutional team, with which we attend annually the regional games, organized by the Institute to which I was a part, now I am retired since December 2017.