Champions league overview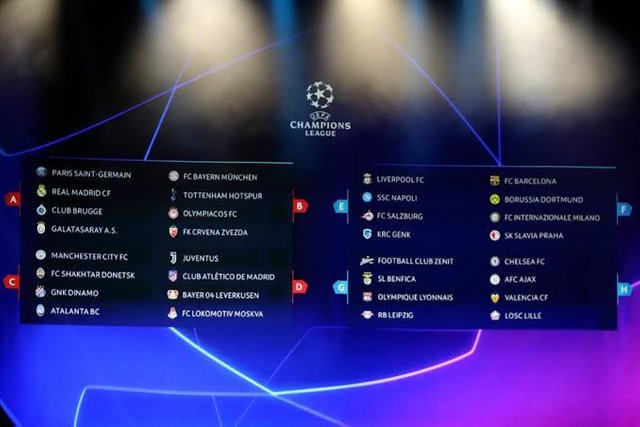 source
We have just two more matches to round up the group stage. At this stage last season, many teams have already qualified to the round of sixteen, but it's looking tougher this season. Only three teams have qualified - PSG, Juventus and Bayern Munich. If they lose their remaining two matches, they still qualify. They will still keep pushing though if they want to retain their first position. The teams at the second spot might come up if they lose.
Juventus is topping group D with 10 points after getting a late goal against Locomotive Moscow to seal their third win in the group. Only Atletico Madrid drew against them and the Spanish team is 3 points behind. They need another win to seal their fate. Bayern Leverkusen and Locomotive Moscow have 3 points each and they can't be written off. Two more wins from either of them can boost them to the round of 16.
Bayern Munich have won all their matches. Lewandowski and Perisic gave them a 2 - 0 win in their last match against Olympiacos. Tottenham is 3 points behind them while Zvezda has 3 points. Zvezda couldn't get a single point against Tottenham and it might cost them the chance of missing out in the round of sixteen.
Paris Saint German has been the best team in this group stage. They haven't conceded a single goal and they scored 10 goals against their opponents. I should have given Real Madrid a qualifying ticket now too, but Club Brugge has 2 points and two wins will get them 8 points. They will qualify if Real Madrid loses their remaining two matches which is almost impossible. Well, time will tell. We will find out soon enough.
Group H is the toughest group so far. Ajax, Chelsea and Valencia have 7 points each, but Ajax is on top with a good goal difference. However, Valencia and Chelsea have the same goal difference. Their remaining two matches will determine who will scale through. It is over for Lille already. Their 1 point won't take them anywhere.
Barcelona and Borussia Dortmund are doing well in group F. Only one point is between them with Barcelona staying on top with 8 points. Inter Millan is in the third position with 4 points and they are still a strong contender. They might give Barcelona a tough drag in the second leg and defeat Slavia Prague. That's their only chance of qualifying.
Liverpool remains on top in Group E with 9 points above Napoli with 8. Lyon is behind Leipzig in group G and Manchester City is leading Group C with 10 points. Shakhtar Donetsk and Dinamo Zagreb have 5 points each in that group which means a lot of things can still happen in group C.
The competition has been great. We don't know who is likely to win it yet which seems good. Let's hope the next matches get better. Until then...