Swiss Super League has started
The Swiss Super League has started. Actually the second round is already over. I provide you a little summary of how the League started.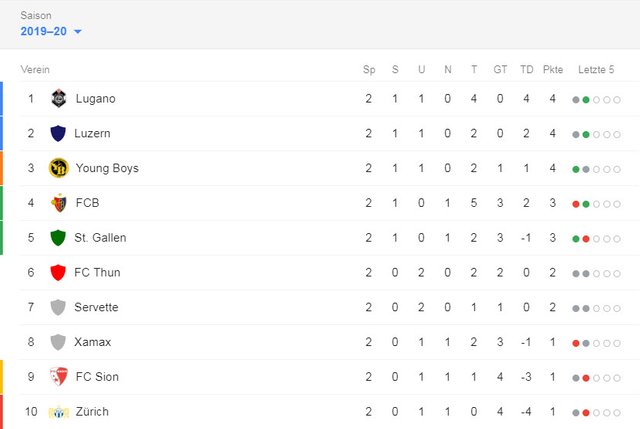 As you can see, no single team was able to win both starter games this year. There are still three unbeaten teams so far on the top of the table. On the lower end there is also a special situation as there is no team left without points.
Today, I will focus on the two top teams FC Basel and BSC Young Boys.
FC Basel
FC Sion 1-4 FC Basel - Opening game
FC Basel's first game was strong. They beat FC Sion away with 1:4. However, this score is a little bit deceptive as Basel was not quite as strong. FC Sion made two horrible mistakes and offered to goals as a welcome gift. The second one will not be missing at the end of the season in the fails-of-the-year video.
This was a bad start for the new star of FC Sion Valon Behrami. After his mistake Basel scored and this was the 1:2 that broke the moral of Sion.
Take note of the new youngster in Sion's team, Patrick Luan dos Santos. He played a fantastic first half and even scored his first goal in Switzerland.
FC Basel 1-2 FC St. Gallen
Basel faced St. Gallen in their first game at home of the season. St. Gallen has managed to become a feared enemy in Basel winning 2 of the 3 last games. Specially the Ex-Basel Player Cedric Itten who had scored 3 goals on two games for St. Gallen in Basel.
So St. Gallen was back in Basel last weekend, and it was the Comeback of Cedric Itten in the starter XI after his horrible knee injury. And of course it was again him that scored both goals and gave FC Basel their first defeat of the season.
FC Basel is playing the Champions League Qualifiers against PSV Eindhoven. As they lost the first game, Coach Marcel Koller decided to give his top-players a break. Basel B-Team was too weak for St.Gallen.
BSC Young Boys
BSC YB 1–1 Servette FC
The Champion of the last two years was very active in this transfer period. Players like Kevin Mbabu, Djibril Sow and Loris Benito were sold, Captain Steve von Bergen ended his career. The new players like Fabian Lustenberger, Saydi Janko, Marvin Spielmann and Martins Pereira need some adaption time.
However, YB could not have started better, as they scored after only 5 minutes. They played excellent for the first 15 minutes, but after that the recently promoted team of Servette was clearly better. Servette scored in the Minute 31. During the remaining hour they had more chances to score and probably had deserved even more than one point.
Xamax Neuchâtel 0–1 BSC YB
In the second game YB played again like the team we knew from last season. They dominated the whole match and had lots of scoring chances. The only difference to last year was the missing efficiency: Only one goal was definitely not good enough. With 24 Shots and 74% ball possession YB usually wins by more than only one goal.