Gameweek 3: Fantasy Premier League Squad
Okay, last week wasn't quite as bad as first expected. As Simpson didn't play any minutes, Lundstram came in clutch from the bench to add 14 points to my pitiful total for the week.
All in all, I netted 37 points. Slightly below the average for the week but I'm still expecting big things from this team in the long term.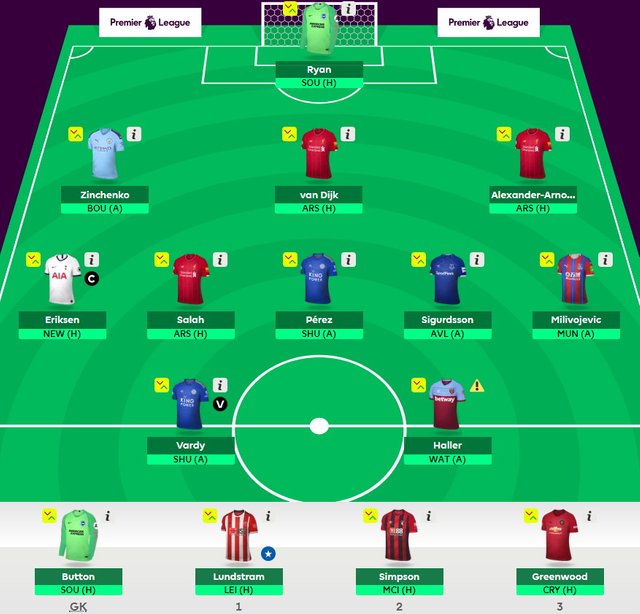 This week, I've used my free transfer to bring in Erikson. Fraser makes way due to the fact that he's been poor so far and has Manchester City to contend with this weekend.
As Erikson will be facing off against Newcastle at home I'm hoping he'll bag me some points. I've taken the gamble of making him my captain for the week as Salah will be up against Arsenal on Saturday. Of course, the more obvious option would have been to try to bring Kane in but I don't like to always take the obvious route. It's a bit of a risk but could be worth it.
Ryan remains in goal as he'll be taking on Southampton. I don't see a need to change him out for anyone else yet but I do have my eye on Pope in the long term.
The backline of Zinchenko, van Dijk, and Alexander-Arnold remain intact. Zinchenko has an easier game on paper as Manchester City take on Bournemouth while van Dijk and Alexander-Arnold have a tricky fixture against Arsenal.
There are some favourable fixtures for my midfield with Perez playing against Sheffield United and Sigurdsson against Aston Villa.
Up top, Vardy will also be up against Sheffield United and Haller will face Watford if he manages to make the matchday squad. As a precaution, I have moved Lundstram to the left on my bench on the off chance that he might come in and do a job for me again.
Fingers crossed for the week!